A warm welcome to all readers of the Classic Movie History Project blogathon, hosted by Movies Silently, Silver Screenings and Once Upon a Screen and sponsored by Flicker Alley! Over the next three days many talented bloggers will be covering every year of the movies, and I'm proud to be part of it. I hope you enjoy my post as well as all the other wonderful contributions this weekend!
—
From Magic Lanterns to "Fred Ott's Sneeze"–Cinema Begins
The Year 1880
Imagine, if you will, a world without cars. A world without electric appliances. A world where the countryside isn't zigzagged with electric wires. A world without computers, laptops and phones (this may be difficult if you're reading this on a smartphone). Try hard to really picture it.
Imagine houses that were much quieter than they are today. Imagine the noise of cities, with hundreds of horseshoes striking the roads. The smell of the horses themselves is too ordinary, too everyday, to comment on.
Imagine you are one of the people in that world, in your clothes that emphasize good posture–maybe you've had your portrait taken in such an outfit, carefully posed. And imagine having no idea how quickly the world was about to change. The change would happen slowly at first, and then gain speed in the coming decades. There would be so many marvelous inventions, so many innovations. And the one that would arguably be most influential on popular culture is something you haven't even dreamed of–the motion picture.
Magic Lanterns and Other Curiosities
Optical illusions had been familiar entertainments for many generations. Long before the Victorian era there were magic lanterns–early slide projectors–which probably dated back as far as the Middle Ages.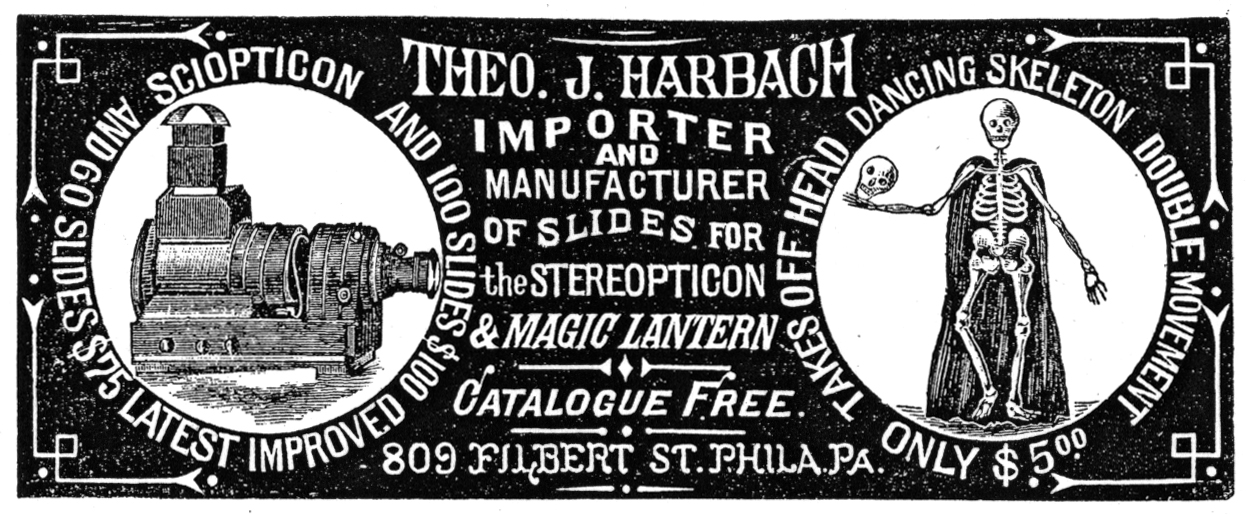 By the early 19th century there were various toys and amusements like the thaumatrope, a spinning disk with two different images on either side which appeared to morph into a single picture, and the zoetrope, a cylinder with images painted on its inside and slits to look through as it spun to create an animation.
All these curiosities knew the secret of mimicking motion: in flip book style. But this motion was isolated to drawings and paintings. Only a photo could ever capture a real life image.
That is, until someone put two and two together and realized that if a series of photographs was taken of a subject quickly enough, the motion of real life itself could be captured. And that's when the game changed.
Muybridge and The Horse in Motion
Now, as we know nothing gets developed in a bubble. Cinema came together in pieces, with many studious people learning from and building upon the discoveries of others–a better quality projector here, a faster shutter there. Average Joe probably knows that Thomas Edison had a big hand in the invention of the moving picture. Less Average Joe might have heard of Louis Le Prince, who took the earliest motion pictures that we have. And Not Remotedly Average Joe nods his head wisely at the mention of Eadweard Muybridge.
Eadweard Muybridge, who shared the same plane as those parents who spell their kids' names Caytlynne and Jourden, spent several years in the 1870s figuring out how to take successive photos of a subject in motion. Supposedly the reason for this was to help businessman Leland Stanford settle a bet. Much like today's debates on whether Batman or Superman would win in a fight, a popular question back in the buggy era was, "Does a horse have all four feet off the ground while galloping?"
Muybridge proved the answer was "yes" this way: he set up a row of 24 cameras along a track with threads attached to their shutters; as a horse galloped down the track it triggered each shutter; he took the images, turned them into silhouettes, and animated them with his zoopraxiscope (a projector he invented himself). And thus Sallie Gardner at a Gallop or The Horse in Motion became the clearest early ancestor of silent films. While its "animated" style wasn't terribly different from other magic lanterns, the fact that it used real photographs to illustrate a real motion was.
A proud Muybridge gave a presentation of The Horse in Motion at the California School of Fine Arts in 1880. Little did he know that he was helping launch something that would transcend its use as a scientific tool and pave the way for an art form.
Chronophotography and E-J Marey
Cinemphiles might know the name of Muybridge, but the name of Étienne-Jules Marey can sometimes fall through the cracks. But the French scientist is an important figure in early (ancient?) film history, thanks to his gun. Chronophotographic gun, that is.
Marey studied blood circulation, respiration and muscle movements, especially of animals and insects. He was a lover of precise details, making very delicate models of insects to show how they flew. Gradually he became fascinated by the idea of capturing real-life, specific movements, such as the flapping of a bird's wing or the way a cat can land on all fours. His theories on whether a horse had all four feet off the ground when it galloped caught the attention of our friend Eadweard.
In 1882, with the help of assistant Georges Demenÿ, Marey created a special gun-shaped camera that could record 12 frames in a second–all on the same picture. This ethereal effect is just as striking today as it was in the 19th century. He used this camera gun in his nature studies in Naples, Italy (the befuddling sight of Marey aiming this gun at birds but never shooting earned him the title of "The Silly from Posillipo" from the Naples locals).
Marey and Demenÿ concocted a way to put chronophotographs on long strips of special paper. These "films" (as we would think of them today) were captured at 20 frames per second. They would later switch to a better base–transparent celluloid film. But another Frenchman would beat them to that punch: Louis Le Prince.
The "Father of Cinematography"
In 1888, the fancily-named Louis Aime Augustin Le Prince patented a stubby wooden box of a movie camera. It used strips of film George Eastman had invented for his Kodak still cameras. In October of 1888 Le Prince made two films that we know of: Roundhay Garden Scene, possibly his first film and definitely the oldest surviving motion picture in the entire world, and Traffic Crossing Leeds Bridge.
The era of cinema had truly begun. D.W. Griffith was only thirteen at the time. Charlie Chaplin would be born the following year, Lillian Gish would be born five years later, and it would be seven years before the birth of Buster Keaton.
Le Prince planned a public exhibition of his marvelous machine, but honest-to-gosh mysterious circumstances intervened. On September 16, 1890, he got onto a train to Dijon, France, intending to visit his brother before heading to the UK to patent his new invention…and was never seen again. This has never been explained, although theories have ranged from fratricide to, uh, death by Edison's orders.
Ah yes, it's time that I tell you about…
Edison and the "Kinetoscope"
So around the time cinema was being developed, Thomas Edison and talented assistant William Dickson were noting all the developments and working on a motion picture camera of their own. Not only were they inspired by Muybridge's work on The Horse in Motion (and possibly attended one of his lectures), but Edison had even visited Étienne-Jules Marey to check out his chronophotographic gun while on a trip to Paris. The only thing Edison didn't do was meet Le Prince, although he was aware of him.
In November of 1890 Dickson perfected the "Kinetograph," using Eastman film and small motor that pulled the film through the machine with gears that hooked onto sprocket holes.
It was used to make the first U.S. films ever: Monkeyshines, 1 followed by 2 and 3, which were purely to test the device. Monkeyshines, 2 was later known as the famous Dickson Greeting (1891), only a few seconds of which survive today.
Edison followed up with the famous "kinetoscope," where a few seconds of a lady dancing or boxers boxing could be viewed in a machine for a few pennies. In 1893, he built the world's first movie studio in West Orange, New Jersey. It was a rotating metal box of a building that was dubbed the "Black Maria."
Edison was not only a brilliant inventor but a smart businessman; he knew motion pictures were going to be huge, and Edison was not only going to get a piece of that pie but bake the whole pie himself. He and Dickson swiftly patented their inventions, along with patents for just about everything motion picture-related.
Back then, the competition for these patents was fierce. So fierce, that there's even a theory out there that Le Prince's disappearance was the work of "Edison's hired goons." This seems paranoid to me–gee, if he was actually that evil why not knock off more competitors while he was at it? Prince's widow apparently had suspicions, but there has never been any concrete evidence that Edison had anything to do with Le Prince's death (and probably never will be, just to be clear). But the fact that this theory even exists does show how bitter the rivalry between the motion picture inventors was, and how aware they all were of the immense importance of cinema very early on.
Cinema is Unleashed
December 28, 1895, is one of the most important dates in film history. That is the date when Auguste and Louis Lumière had the first public exhibition of their moving pictures in Paris.
The brothers, who were given a piece of Kinetoscope film by their father and encouraged to get in the new picture business while it was hot, devised their own camera and went to work making films. They held several private screenings of their work in 1895, which lead up to the anticipated Big Public Screening in December.
There they showed ten films, each roughly 50 seconds long. The most well-known of these was L'Arrivée d'un train engar de la Ciotat (1895), or The Arrival of a Train at La Ciotat Station. People really did shriek and duck at the sight of the train apparently speeding toward them. Another film was L' Arroseur arrose (1895), or, The Sprinkler Sprinkled–the earliest "slapstick comedy" film ever made.
Prior to this, cinema had been an entertaining curiosity, a scientific tool, and one of those fascinating new modern inventions. Both Georges Méliès and Alice Guy-Blaché attended Lumière screenings in 1895, and instantly recognized that it could be something more–mass entertainment. Historic events could be reenacted. Fantasy worlds could be shown. Exciting stories could be told. There were endless possibilities.
After 1895, films would get longer, involve more than one shot, and the art of editing would be discovered. A mere two decades later, there would be epic feature films, comedy series, movie stars, and the inklings of Hollywood. Griffith would release The Birth of a Nation, masterfully utilizing all the techniques that many filmmakers were tinkering with at the time. The "movies" were here to stay.
Early Films Themselves
So far we've discussed some of the important figures involved in creating the motion picture itself, but what sort of films were being made back in this period, 1880-1895?
They were simple, simple films–busy city streets, workers at work, stage dancers showing off their moves, musicians playing their instruments, studies of animals.
The thrill for audiences was seeing a picture that had come to life, like something you might daydream while gazing at family photos on the wall. It was seeing a moment in time captured and replayed, something that had never been done before at any point in history. It was a cutting-edge novelty. Not even the magic lanterns could touch it
These films–usually not more than a minute long, and often far less–were novelties intended for exhibitions, kinetscope parlors, carnivals, and the like. Eventually they would be considered cheap entertainment for the working class before growing in stature to rival, and perhaps surpass, the "legitimate" stage.
What marvelous images there were to come–fairies finding babies in cabbage patches, rocket ships striking the Man in the Moon. Such images had a incalculable impact on the public's imagination.
And what a perfect time it was, back in the late 19th century, for motion pictures to arrive. The world was changing quickly, and cinema was not only a major part of that change but was a firsthand witness to it all, preserving it for future generations–like us.
—
Sources:
Brownlow, Kevin. The Parade's Gone By. Berkeley and Los Angeles: University of California Press, 1968.
Cousins, Mark. The Story of Film. New York: Thunder's Mouth Press, 2004.
Croy, Homer. How Motion Pictures Are Made. New York and London: Harper & Brother Publishers, 1918.
Ebert, Roger, ed. Roger Ebert's Book of Film. New York and London: W.W. Norton, 1997.
http://www.earlycinema.com
http://www.victorian-cinema.net
http://www.stephenherbert.co.uk/muychron02a.htm
http://www.history.com/news/the-renegade-roots-of-hollywood-studios
http://www.filmsite.org/pre20sintro.html
https://en.wikipedia.org/wiki/Kinetoscope
Random facts that stick in my head