We're kicking off Forgotten Comedians month with a look at one of most memorable aspects of silent comedy–those wacky human oddities who made people laugh just by showing up onscreen.
They could've walked right out of the funny papers. They came in every conceivable shape and size: short and stubby, alarmingly tall, skinny as beanpoles or round as beach balls. They wore every kind of mismatched clothing: floppy shoes, enormous pants, tight coats, moth-eaten hats, and out of date dresses. If you touched their makeup, you'd probably leave a dent. Sometimes called "grotesque comedians" (an old-time term), these were people who specialized not just in acting funny, but in looking funny.
A few of the names might be familiar to you: Ford Sterling, Larry Semon, Al St. John. But come on, guys, they're too easy. Let's really dive into the nooks and crannies of '10s and '20s comedy. Who were some of the most outlandish and "out there" characters ever to inspire a cartoonist's envy?  I invite you all to get acquainted with a few of the largely-forgotten names among the finest silent "grotesques"!
5. Frank Hayes
With a face like a dried apricot and a beak-like nose he could nearly make touch his chin, 40-something Frank Hayes showed up in dozens of early comedies, playing old codgers, hick farmers, suspicious-eyed policeman, and the like. Oh, and spinsters. Casting Frank as the ugliest of old maids was too much for many comedy directors to resist.
While he's mainly associated with Mack Sennett's famous Keystone Film Company, Frank also worked for Fox Sunshine and Mermaid Comedies, appeared with Larry Semon and Roscoe Arbuckle, and showed up in several features. Sadly, he died of pneumonia in 1923 at the early age of 52, but left behind a prestigious final role: his thoughtful portrayal of Old Grannis in Greed (1924).
4. Gale Henry
Has anyone looked more like Olive Oyl than Gale Henry? Some say that Olive was based on her. This tall, skinny, arms-and-legs gal was nicknamed the "Elongated Comedienne." She happily played up her angular appearance, wearing tight, out-of-date clothes and a little straw hat garnished with some sad plumes.
Gale was one of the hardest-working and popular comediennes of the 1910s and '20s, appearing in countless comedy shorts–somewhere around 250. She even had her own production company. After retiring from the screen in 1933 she was able to devote more time to raising and training dogs for the movies alongside her husband Henry East. Few of her films survive today, sadly, but seek and you shall find her co-starring in Charley Chase comedies.
3. Joe Murphy
Speaking of comedians looking like cartoon characters come to life, this man was hired to do precisely that. To the folk planning on turning the popular "Andy Gump" comic strip into a live action series (yes, making live actions versions of cartoons goes back a long, long time), Joe Murphy was virtually a gift from heaven. This was partly because the 6′ 3″ actor had just the right amount of chinlessness–a mere fake nose and a mustache later, Joe's Andy Gump was ready to go.
Joe was a vaudeville veteran who had once appeared in a Mutt and Jeff act alongside little Bobby Vernon. From the '10s up through at least the '40s he would play comedy bits in films for countless studios. His period of greatest stardom, however, was during the five years that the very popular Andy Gump series was in theaters.
2. Musty Suffer
Reintroduced to the world in a highly-recommended DVD set recently, the Musty Suffer character was an optimistic hobo forever seeking work in one of the most bizarre, surreal, and cartoony comedy series ever put to film. I don't even know where to start in describing it, only to say that its oddball world is like an infusion of comic strips and the circus, steeped in slapstick.
Harry Watson Jr. was the son of theater veterans and grew up on the stage himself, performing in vaudeville, circuses that included the Ringling Brothers Circus, and the Zeigfeld Follies. He was recruited for the screen in 1915, and after starring in the Musty Suffer saga from 1916-17 he went back to vaudeville and also did Broadway musicals. He died in 1960, although what he did in the last thirty or so years of his life is a mystery.
And now, I invite you all to brace yourselves for one of the most bizarre-looking characters I've ever seen onscreen. Behold, the string-bean marvel that is:
1. Maxfield Moree
A guy who could put Slim Summerville to shame, Maxfield would often exaggerate his skinny frame to the point where he resembled a kind of emaciated praying mantis. I've never seen someone who took such pains to turn himself into a living cartoon character. It's beautiful. A picture doesn't do him justice. Let's see him in action: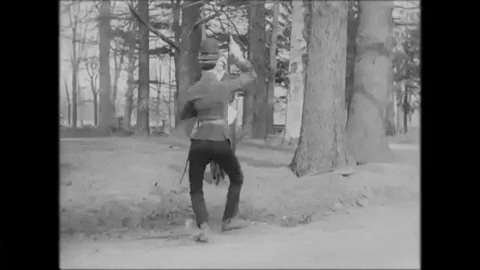 Just think, we occupy the very same Earth that this man once trod upon…!
Maxfield was another former vaudevillian (I'm sensing a trend here) and also had a background in drama and musical comedy. He was a hardworking supporting actor in the Musty Suffer films, turning up in what seems like dozens of bit parts. At any given moment he could be a shrimpy cop, a curious bystander, a suffering patient waiting for the dentist, or a fairy tramp. No, not a fairy godmother…a fairy tramp. You'd have to watch the series.
While the humor behind a clown looking as goofy as possible is about as subtle as a sledgehammer, there's something endearing about it too. It's so blatant and so innocent in its own way that it has a weird charm. I don't know about you, but I like the idea of a time when men with crossed eyes or gals with beak-like noses could become as beloved by filmgoers as any lovely starlet or chiseled leading man.
—
One important source for this article was "The Mishaps of Musty Suffer" DVD set, including its invaluable companion guide by Steve Massa. My other top sources for this article, as well as all the articles for Forgotten Comedians Month, are:
     Massa, Steve. Lame Brains & Lunatics: The Good, the Bad, and the Forgotten of Silent Comedy. Albany, Georgia: BearManor Media, 2013.
     Walker, Brent E. Mack Sennett's Fun Factory. Jefferson, North Carolina: McFarland & Company, Inc., 2010.
     Lahue, Kalton C. and Gill, Sam. Clown Princes and Court Jesters. South Brunswick: A.S. Barnes and Co., Inc., 1970.