For a long time the world knew her as "The Biograph Girl." Family and friends knew her as "Flo." And in time, fans would know her by her full, rhyming name, "Florence Lawrence." And today we also tend to add this phrase–"The First Movie Star."
Contrary to popular lore she wasn't technically the first movie star, but she certainly was one of the earliest. The youngest of three children, Florence was born on January 2, 1886 in Hamilton, Ontario, to George and Charlotte Bridgwood (although her parents would separate when she was four). Her mother was an actress who managed a touring company, and went by the name "Lotta Lawrence." Flo would grow up on the road and make her stage debut at the age of three, and within a few years had earned the title of "Baby Flo, the Child Wonder."
Florence's father died of coal gas poisoning in 1898, and following this Lotta moved her family from Canada to Buffalo, New York where little Flo was enrolled in school. Lotta would disband her touring company around 1906 and she and Florence moved to the bright lights of New York City. While attempting to get roles on Broadway, Florence began to make money by appearing in "moving pictures," which at the time were lowbrow entertainments that many stage actors preferred to avoid. She started with the Edison Manufacturing Company's Daniel Boone or Pioneer Days in America (1907) and then appeared in The Shaugraun (1907) for Vitagraph. After a brief return to the stage, Florence decided her days on the road were over and that from then on she would be a motion picture actress–at a pay of $20 a week, while doing double duty as a costume seamstress.
Her decision would pay off, especially once the Biograph studio noticed her and offered her an acting job (no costume sewing on the side required). From 1908 to 1910, Florence appeared in a bewildering number of shorts, everything from costume dramas to light comedies to western adventures filmed in the great outdoors. She was especially popular in the "Mr. and Mrs. Jones" series co-starring J.R. Cumpson–they were said to be the first film comedy team. She also married a fellow Biograph actor, Harry Solter.
Audiences began to take notice of the talented blonde actress with the little cleft in her chin, who they only knew as "the Biograph girl" thanks to the studio's policy of keeping their actors anonymous. (This wasn't unusual at the time, since studios wanted to keep actors from getting too uppity and since many actors were uneasy about being associated with the "flickers.") Conscious of her growing fame, Florence asked for double her original salary, weekly pay instead of daily, and her own makeup table.
In time, however, Biograph became less willing to accommodate Florence's demands and in 1910 she was let go. She and husband Harry hopped over to the Independent Motion Picture company (IMP) owned by Carl Laemmle. After she had been with the studio a few months, Laemmle decided not only to make Florence a star, but to concoct an elaborate publicity stunt designed to get her name in the papers. First, he got the word out that Florence had been struck by a streetcar and killed. Once the story was properly spreading like wildfire, he placed an ad in Moving Picture World proclaiming "We Nail a Lie," declaring to the world that the reports of Florence's death had been greatly exaggerated.
Florence went on a publicity tour in March of 1910 to further prove that she was alive, and as the cherry on top of his elaborate publicity sundae Laemmle told everyone that fans were in such a frenzy that they tore her clothes. And of course history books have been repeating it to this very day.
While this publicity campaign has lead many to believe this marks Florence as the first recognized movie star, in truth she was probably tied for that distinction with popular Vitagraph star Florence Turner. "The Vitagraph Girl" was making personal appearances and giving out photos at the almost the same time, and was perhaps the first person to actually be called a "Motion Picture Star" (in the New York Dramatic Mirror). But to go even further, the first publicity campaign revolving around a film actor's talents was Pathé's 1909 campaign for Max Linder, making him the first official star of the cinema only a year before both Florences.
After her stint at IMP, Florence worked for Lubin for a year before working with her husband Harry to start her own film company, the Victor Company. It was a small operation but provided Florence with complete artistic freedom and a healthy weekly salary. She also worked with her mother on various business ventures and even invented an "auto-signalling arm" for automobiles. But all was not smooth sailing. Her marriage with Harry grew rocky (apparently after he "made disparaging remarks against his mother-in-law"), and she suffered a horrifying experience when a staged studio fire blazed out of control and she was both burned and suffered a fractured spine. The injury would relapse when she attempted to go back to work, and she divorced Harry, saying he had pressured her into the stunt that caused the injury.
Post-the Victor Company, in an era where the film world was now stuffed with recognized movie stars, Florence began to struggle to regain her previous fame. She attempted a grand comeback in 1921 without much luck, and in 1924 had plastic surgery on her nose in hopes of being more photogenic. The rest of the career of this former mega name would be in bit parts and stints in vaudeville.
While movie fans were enamored with Jazz Age superstars like Rudolph Valentino and Colleen Moore, Florence kept herself busy. In the '20s she married again to Charles Woodring, and they opened a store called Hollywood Cosmetics that specialized in theatrical makeup.  She also became the president of her mother's Bridgwood Manufacturing company.
Times grew tough again. Her mother passed away in 1929, and Florence would separate from and eventually divorce Charles. Much of her wealth would disappear in the stock market crash of 1929 and her cosmetics store would close. She married Henry Bolton in 1933, but divorced after only a few months when he revealed himself to be an abusive alcoholic.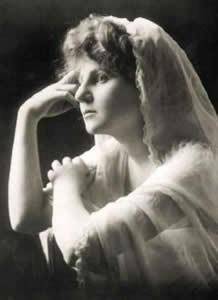 Florence wasn't the only old-time film star who had fallen on hard times. In 1936 MGM hired a number of former silent film actors at $75 a week after their struggles were brought to L.B. Mayer's attention. Florence was one of them, and it would be the last studio she would work for. Her total filmography numbers something around 300 films.
In 1936 she was diagnosed with myelofibrosis, a rare bone marrow disease that was incurable at the time. Symptoms included anemia and depression. A year later, on December 28, 1938, Florence ingested a painful combination of cough syrup and ant paste, leaving behind a note for a friend:
Dear Bob, Call Dr. Wilson, I am tired. Hope this works. Good bye, my darling. They can't cure me, so let it go at that. Lovingly, Florence.

p.s. You've all been swell, guys. Everything is yours.
While people often assume that Florence ended her own life in despair over the state of her career, it seems likely that depression caused by her disease was too blame. She was, after all, a hardworking woman who had already been in bit parts for many years, and even the note she left before she died retains a little of her former spirit.
While many of her early films no longer survive, Florence Lawrence will always have the distinction of being one of our very first movie stars (a distinction that'll surely become greater as the decades go by). She may be remembered by many as a tragic figure, but her available films preserve her talent and vibrant presence–a moving record of the spunky young woman once known across the nation as "the Biograph Girl."
—
I'm proud to be returning to the annual O Canada Blogathon, hosted by the lovely Speakeasy and Silver Screenings! This big event pays tribute to the nation that gave us such cinematic giants as Mack Sennett and Mary Pickford, and Silent-ology's happy to be a part of it!
Sources:
"Florence Lawrence, Star of Silent Films, Suicide." The Lewiston Daily Sun, December 29 1938.
Bowser, Eileen. The Transformation of Cinema: 1907-1915. New York: Charles Scribner's Sons, 1990.
Brown, Kelly R. Florence Lawrence, the Biograph Girl: America's First Movie Star. North Carolina: McFarland & Company, Inc., 2007.
Golden, Eve. Golden Images: 41 Essays on Silent Film Stars. North Carolina: McFarland & Company, Inc., 2000.
https://wfpp.cdrs.columbia.edu/pioneer/ccp-florence-lawrence/