If you have even a passing interest in learning about vaudeville–that hugely influential form of entertainment that today's pop culture wouldn't be the same without–and indeed want to acquaint yourself with early stage shows in general, there's one name in particular that you should know: Bert Williams.
Oh yes, I can sense you raising your eyebrows right now–Williams (who himself was black) is in that cringeworthy blackface makeup, white gloves and all. This was how he appeared on the stage, and how audiences recognized him. But this man was much more than a dated makeup–this was a performer who transcended a stock character appearance by his sheer talent and charisma, and became one of the most successful performers of his time. A performer so beloved, that after his sudden death in 1922 from pneumonia over 5,000 fans filed past his casket. 
Egbert Austin Williams was born on November 12, 1874 to parents Frederick and Julia in Nassau, the Bahamas. Frederick was mixed race, also having some Danish and Spanish heritage. Due to an economic depression, the family decided to leave the Bahamas in 1884 and make a new home in Riverside, California. There young Bert became fascinated with medicine shows, with their wide variety of barkers, singers, dancers, acrobats, magicians, and hypnotists.  He managed to get a job as a barker, someone who stood outside the medicine show tent and piqued audiences' curiosity about the performances inside. Bert's practical, dignified father was ambivalent about show business at first, but after watching his son delivering a confident spiel he knew Bert had a great talent. "I am mighty glad now that that spark was there and developed in spite of us older folk who were so slow to understand and appreciate it," Frederick later said.
Following his experience as a barker, as a teen Bert joined several minstrel shows. (At the time, both white and black performers were in minstrelsy and there were all-black minstrel shows as well.) The combination of songs, dances, jokes, satires and burlesque sharpened his comedy skills and he began to evolve a style of his own.
While working for Martin and Selig's Mastodon Minstrels in 1893 he met fellow performer George Walker. Their comedy styles complemented each other so well that they decided to form a duo act and work their way up to performing in vaudeville and other variety shows on the East Coast. Walker at first portrayed a "fool" type of character while Williams was the slick conniver, but they soon realized that reversing the roles had much funnier results. Known as Williams & Walker, they became two of the most well-known and influential black performers at the time, working hard to overcome the difficulties of segregation and give shows with high-quality production values. At their peak, in one year they earned the equivalent of $3,000,000–each.
While performing in Detroit around 1895, Williams made the decision to perform one of his own original songs for the first time. On a whim, he put on "burnt cork" blackface makeup–a makeup style he had used occasionally in the past, but not often. While this sounds strange to us today, Williams "took" to the look and later said of that night: "I began to find myself." Being a naturally private person, the makeup (which actually darkened his fairly light complexion) concealed the real Williams, allowing him to step more fully into the slow-going, perpetually unlucky character he had developed. "A black face, run-down shoes and elbow-out make-up give me a place to hide," he once said.
Blackface was one of many popular "ethnic" makeups at the time–stereotypical Italians, Jews, Germans, the Irish, and more also abounded on the stage. Williams's makeup included a kinky wig (as his natural hair was wavy), a slightly small top hat, and a shabby suit. In formal portraits, however, he was always immaculately groomed and dressed to the nines, making the difference between his stage persona and his actual self clear.
In 1899 Williams quietly married singer Charlotte "Lottie" Thompson, a widow eight years his senior. The marriage came as a surprise to some, but they would be happy together until his death. They had no children, but adopted some of Lottie's nieces and often welcomed orphans into their home.
In 1903 Williams & Walker wrote the musical In Dahomey, the first full-length Broadway show to have been entirely written by and performed by black actors–a considerable triumph. It also starred Walker's wife Aida, a dancer and choreographer. It was a success to the point where they decided to take the show overseas, performing at London's Shaftesbury Theatre and touring around England. The highlight was a command performance at Buckingham Palace, in honor of the ninth birthday of the Prince of Wales's son.
Following In Dahomey Williams and Walker wrote another, even more ambitious musical with an all-black cast, Abyssinia, which debuted in 1906. Set in the country of Abyssinia (now Ethiopia), it was more of an opera than a musical comedy and daringly included a mild love story. It was well received, although they had to contend with some critics like the New York Evening Post, which said: "a return to the plantation melodies would be a great improvement upon the 'grand opera' type, for which they are not suited either by temperament or by education." Despite this, the musical was another big hit for Williams and Walker.
One lasting legacy of Abyssinia was the comic song "Nobody," which Williams would deliver with his impeccable, doleful timing:
When life seems full of clouds and rain,
And I am filled with naught but pain,
Who soothes my thumping, bumping brain?
[pause] Nobody.
When winter comes with snow and sleet,
And me with hunger and cold feet,
Who says, "Here's two bits, go and eat"?
[pause] Nobody.
The song summed up Williams's established character and hints at his particular, relatable appeal to audiences of all backgrounds. "Even if it rained soup," Williams explained, "[my character] would be found with a fork in his hand and no spoon in sight." But his rueful "Jonah man," wasn't merely someone to laugh at, but someone to laugh with. He had a graceful, inimitable style of delivery that made people feel they weren't merely watching a performer, but having someone confide in them.
His success was even more noteworthy considering his unusual social status. On one hand, he was one of the rare prominent black performers in a highly segregated society, where white audiences often assumed he'd conform to minstrel show stereotypes. On the other hand, although he was an inspiring success story to black Americans his West Indies heritage still made him a bit of an outsider.  His fame was an advantage for him, but also didn't shield him from prejudice–it wasn't unusual for him to have to take service elevators in hotels, or be denied service in certain saloons. In one famous anecdote, he tried to get a drink in an upscale hotel bar only to have the bartender threaten to charge him $50. Williams smoothly pulled out a roll of hundred dollar bills and ordered a round for the entire bar.
Williams strongly felt that the theater could help blacks be accepted as artists, and he weighed the impact of his character carefully. Even while performing in his "run down" clothes and exaggerated makeup he retained an air of dignity, and he looked for humor in universal situations that people of all backgrounds could enjoy: "One of the funniest sights in the world is a man whose hat has been knocked in or ruined by being blown," he once said, "provided, of course, it be the other fellow's hat! All the jokes in the world are based on a few elemental ideas, and this is one of them." In interviews he shared ambitions of performing dramatic roles pertaining to his race. He told The New York Press in 1914: "…I'd like a piece that would give me the opportunity to express the whole of a negro's character. The laughter I have done is only on the surface. Now I'd like to touch deeper, to show there are depths that few understand as yet."
In 1909 Walker, who had been suffering increasingly poor health due to syphilis, had a stroke and retired from performing. Williams adjusted to life as a solo artist–a tough task at first. But good fortune would fall upon him. He continued to perform comic songs and monologues in vaudeville for a time, keeping his ever-popular name in front of the public. After starring in the stage farce Mr. Lode of Koal–which was a flop–Williams accepted an incredible offer: to join the Ziegfeld Follies as a featured star.
Having a black star join an all-white cast of the one of the most famous stage shows in the U.S. in the year 1910 was a gutsy move for Ziegfeld, to say the least. However, Williams was a huge success and would return to the Follies almost every year until 1919. 1911 was significant for being teamed with white comedian Leon Errol–another groundbreaking move, especially since Williams's character tended to be smarter and wittier than Errol's.
In his spare time Williams also recorded many of his hit songs, such as "Nobody," "When the Moon Shines on the Moonshine," "Play that Barbershop Chord," and "Unlucky Blues." Records and sheet music of his work sold hundreds of thousands of copies, and made him one of the top three recording artists in the world.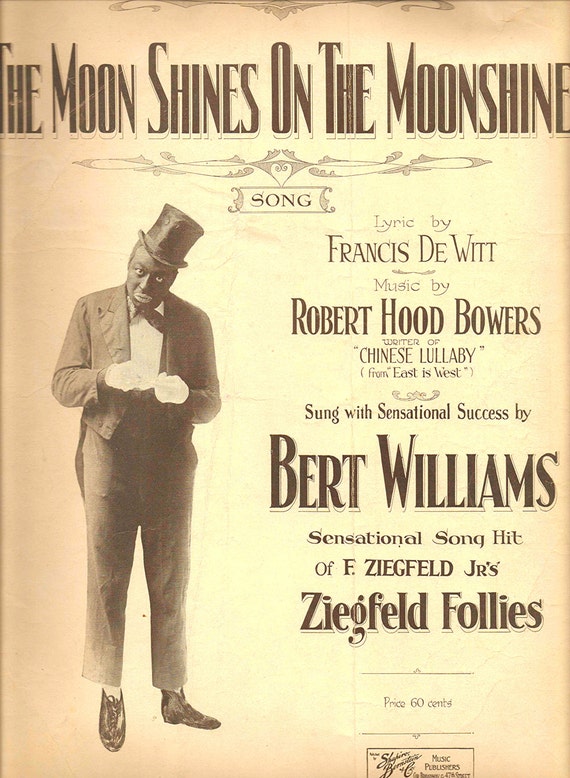 And, like many vaudevillians, he appeared on film. The first was Lime Kiln Club Field Day (1913), produced by both the Biograph company and Klaw and Erlanger, prominent theatrical producers. Starring Williams and co-starring several Harlem performers, it shows a "Lime Kiln Club" enjoying a day of fun at a fairground as Williams's character vies with several rivals for a lady's affections. The film was shelved for unknown reasons* but Williams would return to film in 1916 for a planned series of two-reelers with Biograph. Unfortunately only two had been filmed when Biograph went out of the filmmaking business (A Natural Born Gambler and Fish), but both survive at least partly today.
After his last Follies appearances in 1919, Williams career began to waver. He remained as beloved as ever, but his shows had shorter runs. By the early 1920s his health was sliding downhill  due to poor circulation, periodic depression, and a fondness for drink. During the winter of 1921 Williams developed pneumonia, but continued working. While performing in Detroit on February 27, 1922, he collapsed. Returning home to New York, he passed away at his home on March 4, at the age of 47.
His death was a huge shock to the nation. Newspapers across the country carried obituaries praising his talent and the joy he brought to others. 5,000 fans came to pay their respects at his casket, and 2,000 mourners attended his public funeral service at Manhattan's Masonic Lodge. Williams was the first black man to also be given the honor of a private Masonic funeral by an all-white Grand Lodge–even in death, he was breaking barriers.
Today, many decades later, the once universally-known name of Bert Williams has largely faded from collective memory. Even some of the most devoted theater fans are unaware of him. Pictures of Williams in his stage makeup might show up on the Internet from time to time, usually just serving as uncaptioned stock photos illustrating articles about minstrel shows, racism in the early 20th century, and the like. How many would think to find out the story beneath that controversial burnt-cork image? A century after the heyday of his career, it seems that Bert Williams is still not free of being judged solely by his appearance.
But Williams is not only a vital part of pop culture, but an inspiring figure in history. He was a man who against all odds had the perseverance to make it to the very top of his field. He patiently endured prejudice to lay the foundation for the many black performers to follow. And while we might be tempted to paint him today as another "sad clown," ultimately, he might rather be remembered for being a genius entertainer and a courageous pioneer.
—
*I've heard it suggested more than once that Lime Kiln Field Day might've been shelved due to The Birth of a Nation being released in 1915, but there's a few reasons why I'm skeptical. For one thing, Lime Kiln Field Day was filmed and shelved in 1913, well over a year before The Birth even began filming. For another thing, hundreds of films were being announced, filmed, shelved, reshot, re-released, etc. every day–being shelved wasn't that unusual. And lastly, if fears of The Birth's impact were that strong, it's mighty strange that a series of Bert Williams two-reelers was announced and filmed in 1916–when The Birth was still being shown in theaters.
Here's Bert reenacting his famous poker routine, at the end of A Natural Born Gambler:
And here's a great recording of his biggest hit song:
Many of his recordings are available on YouTube, as well as A Natural Born Gambler and Fish. Go check them out!
Sources:
Forbes, Camille F. Introducing Bert Williams: Burnt Cork, Broadway, and the Story of America's First Black Star. New York: Basic Civitas, 2008.
Stevens, Ashton. Actorviews. Chicago: Covici-McGee Co., 1923.
MacLeod, Della. "Bert Williams Recalls the Old Days When the 'Blind Baggage' Was His Private Car, Now that He Knows How to Make Them Laugh, His Ambition is to Make Them Cry." The New York Press, Sunday, May 31, 1914.
http://lantern.mediahist.org
http://www.fultonhistory.com/Fulton.html
https://loc.gov/item/ihas.200038860
https://www.britannica.com/art/minstrel-show
http://black-face.com/minstrel-shows.htm
https://wp.nyu.edu/orphanfilm/filmography9/categorized-filmography/silent-night/
https://en.wikipedia.org/wiki/Bert_Williams