As part of the ongoing, year-long celebration of his 1917 entry into films, I will periodically review the prominent books on Buster Keaton. Here's my take on two of the more widely read biographies out there: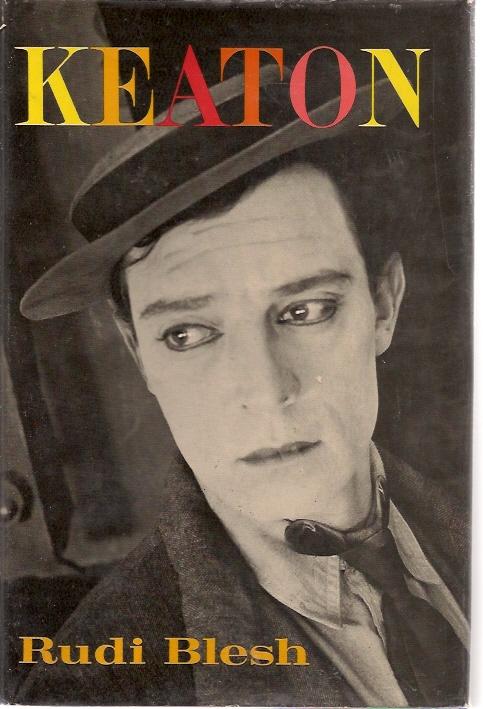 One of the great classic film biographies, Keaton–along with Buster's own autobiography–is an absolute must for anyone looking to learn more about our favorite straight-faced comedian in a porkpie hat. 
Rudi Blesh was not just a biographer, but a close friend of Buster and Eleanor Keaton–and it shows. Keaton is packed with Buster's reminisces, all quoted with his informal speech patterns and old-time slang intact (Joe Keaton is "the old man," homes and businesses are "joints," etc). There are stories in this book that probably would've gone with the great comedian to his grave if it wasn't for Blesh. The prose also seems to be subtly mimicking Buster's speech, while blending it with the author's own artistry. Blesh was quite the word wizard, as in this passage where he describes the eclectic variety of songs, jokes, etc. that comprised the Three Keatons act:
…All these things and more might be cross-stitched into a Keaton sampler of the modes of madness. Not only was it Keystone Comedy long before Mack Sennett met movie camera, it was surrealism before Salvador Dali was even born and pop art before the first Campbell's Soup can sat for Andy Warhol….There was only one such madly virtuoso essay in the serialization of the non sequitur, in nonsense, belly laugh, pratfall, music, dance, farce, satire, and donnybrook.
The overall effect of Keaton is similar to a lyrical, thoughtful novel, balanced with Buster's salt-of-the-earth outlook on life. Blesh's high-quality prose is something that a fan can linger over and savor. And with the wealth of reminisces by Buster, Myra, and several Keaton friends, it has an intimacy that could probably never be recreated again.
Alas, Keaton is not without its flaws. There's quite a few factual errors in the book, particularly in plot descriptions and even in some of the captions. (For some reason, a photo of the cast of Neighbors is wrongly captioned as including Myra and Jingles Keaton, Alice Lake, and…Roscoe Arbuckle!) Blesh at times romanticizes or over-dramatizes events, such as Buster's engagement to Natalie Talmadge. And much of the "psychoanalyzing" of Buster's character can probably be traced back to this book–well-meaning as it may be. I would also add that some fans may have a hard time with Blesh's heartbreakingly vivid description of Buster's darkest alcoholic period.
Still, something within me is willing to forgive Keaton those faults. You sense that Blesh is doing his best to do justice to Buster's extraordinary life, and to elevate his stature in the silent comedy world. Released shortly after Buster's death in 1966, it's a glorious tribute to a great artist and a beloved friend.~
The intro to Buster Keaton: Tempest in a Flat Hat observes: "Even when striking a minor key, a Keaton flick can't help but betray an excitement, an underpinning of joy–the 1920s were a heady time, film was a new art, and society was in a terrible hurry to become something else." It's only one of many fine insights by Edward McPherson, a graceful writer who presents his subject's life with care and respect.
While his 2004 book doesn't really tread new ground in terms of research, and only covers the last decades of Buster's life in a single chapter, it will definitely come in handy for newbies looking for a "first" Buster biography. McPherson wades through the usual dates, figures and plot recaps and presents them in a flowing, easy-to-digest narrative. (Newbies beware, though, that at times some of Buster's gags and plot points are given away.) His reverence for his subject is obvious, too–I deeply appreciated his tasteful writing style, especially when recounting the sadder events of Buster's life. There's none of that pouncing on gossip like a dog on a biscuit in this book.
There are times when McPherson could've taken his analyses of Buster's films a little further–his opinions don't tend to stray far from the norm. For instance, the Comique shorts are described as having plots that are "typically thin," and the short The Blacksmith is described as "something of a disappointment," as per usual. I would love to see some fresher takes on these films, especially placed in the broader context of the prolific silent comedy era. Far too many writers analyze Buster's films in a kind of bubble, and it's time that was burst.
The lack of deeper research also means that some misconceptions are being spread further yet again–although McPherson makes a point of staying away from "sad Stone Face" armchair psychoanalysis. Some, admittedly, are small things that only the hardcore fans would know (Buster did not date Alice Lake, for instance). Others are not, such as the widespread idea that The General was a total flop. (This is actually debated among some historians, and will be addressed in an upcoming Keaton book.) And I definitely would've liked to see McPherson rely less heavily on Marion Meade's infamous, mean-spirited, clumsy biography Cut to the Chase.
But in spite of its shortcomings (which, again, are more apparent to hardcore fans) Tempest in a Flat Hat is a welcome addition to the ranks of classic film biographies. I for one will be recommending it to Keaton converts.~
These books are two sides of the research coin: one was written in an era when not a lot of sources were available for deeper research, and another was written in an era when tons of sources are available but the writer didn't make the leap to deeper research. Both are important additions to the Busterphile's library (especially Keaton), but both should not be taken as the only Gospel you'll ever need, but as starting points for learning more about this inimitable comedian.
—