It was one of the most culturally important films of the 1920s, the one that made Colleen Moore a star and made "flapper" part of every American's vocabulary. Her delightful performance is arguably the highlight of the film…or so we can assume, because sadly only a fragment of the influential Flaming Youth (1923) still remains. But thank heavens for that fragment–not all lost films are as lucky.
So here's the story behind it: In 1923 author Warner Fabian released the sensational novel Flaming Youth, about the bold "modern" lifestyles of the Fentrisses, three flapper sisters. It included running commentary from character Dr. Osterhaut, a friend to the Fentriss family who helps looks after the girls after their mother dies.  (He was likely included so there'd be a voice of moral authority in the novel.) In that era the book raised quite a few eyebrows, especially since it dealt with the girls' unconventional sexual behavior.
"Warner Fabian" was actually the pseudonym of Samuel Hopkins Adams, a muckraking journalist from New York known for his exposés on patent medicines. He wrote a number of novels, several of which were risqué (for the time) and subsequently released under the "Fabian" name.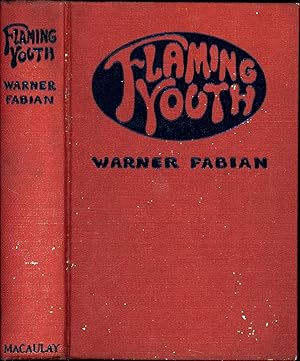 The shocking Flaming Youth became a best seller, surprise surprise, and Colleen Moore ended up reading a copy. She immediately became intrigued by the main character, Pat Fentriss, who ends up being sympathetic despite her bold behavior. At the time, Colleen had been feeling dissatisfied with her fairly standard "ingenues-with-long-curls" roles and was looking to rev up her career: "I knew that here was my chance for stardom. Sweet young thing I was not. Pat, the heroine of Flaming Youth, I was."
Colleen later recalled how she managed to snag the role of Pat with the help of her then-fiance John McCormick and her very perceptive mother:
I begged for the role, but the New York office said I wasn't the type. I was a dramatic actress, better in costume parts. Frantic for fear they'd give the part to somebody else, I said to John, "Get that part for me for a wedding present, or else." Apparently I spoke more sharply than I meant to, because he gave me a strange look and said he'd do his best.

But it was my mother who came up with the answer. She said, "Why don't we cut your hair and then make Hudson give you a test for the part?"

I was elated.

She picked up the scissors and, whack, off came the long curls. I felt as if I'd been emancipated. Then she trimmed my hair around with bangs like a Japanese girl's haircut–or, as most people call it, a Dutch bob.
The film version of Flaming Youth toned down some of the scandal from the novel, but it was still regarded as "only for the mature mind." Trade magazine ads capitalized on that, of course, some proclaiming: "This is the daring society exposé to which the author refused to sign his real name!" And the like.
The plot is as follows: Pat Fentriss, raised by pleasure-seeking parents (her mother "turned her home into a neighborhood," as the film puts it), has little guidance, dating various men and going to jazzy parties. When Pat's mother falls ill and is on her deathbed, Dr. Bobs, a family friend, promises to look after her and her two sisters. At the dying mother's request he periodically writes letters analyzing Pat's conduct, placing them in a safe for the girl to read. When an old flame of her mother's calls on the Fentrisses, Pat immediately "goes for him" even though he's older and married.
Reviews of Flaming Youth were a bit mixed, but all agreed that Colleen turned in a terrific performance. For instance, Photoplay's review was mostly positive:
And this analysis from Screen Opinions (a magazine touting unbiased independent film reviews) mentioned the film's flaws and questionable morals but praised Moore's expressive acting:
Many reviewers (and audiences) probably would've agreed with The Educational Screen's wry opinion: "The story may, in some obscure fashion, have been intended as a lesson, but the lesson got lost in the whirl of jazz and 'petting parties.'"
Despite its weaknesses, the film was a hit. There had been flapper-themed films prior to 1923, but Flaming Youth was the most elaborate and kicked off a trend. It probably also helped make fellow actress Clara Bow's "'It' Girl" image possible. (Bow would in fact be cast in a supporting role in Moore's Painted People before leaving to find a better part.)
Fortunately for us today, a clip of Flaming Youth does survive. In it, we get to see a cute comic scene of flapper Pat getting dolled up for a night out, scenes with Colleen's co-star Milton Sills, and the famous "skinny-dipping" scene that doesn't actually show skinny-dipping but does show silhouettes of people running around a pool in their underwear, which was close enough I suppose:
I probably don't even have to mention this, but–these scenes seem pretty innocuous to us today. Note how our main characters, in this footage at least, tend to observe the wacky proceedings rather than partake in them. Likely the rest of the film is similar–implying naughtiness rather than outright showing it, which was common in 1920s movies.
It's unfortunate that so much of Flaming Youth has vanished, especially since we're missing out on one of Colleen Moore's most-praised performances. But unlike other lost silents (such as the lamented London After Midnight), we at least get to see a decent sample of the film that the Exhibitor's Herald once described as: "A jazz picture de luxe–that's Flaming Youth."
—
Sources:
https://www.britannica.com/biography/Samuel-Hopkins-Adams