Are you looking for some fun, frothy movies showing Jazz Age partying in fabulous Art Deco mansions? Are you in the mood for sparkling jewels, immaculate tuxes and flowing champagne? Do you want to see some of those swirling, kaleidoscope shots of musical instruments and dancing couples? Then Our Dancing Daughters (1928) and Our Modern Maidens (1929) are the films for you!
And if you're among the multitudes who are familiar with Joan Crawford from her 1940s dramas and Whatever Happened to Baby Jane?, then get ready to see the strong-featured, oft-shoulder-padded star as you've never seen her–as a sparkling flapper who can beat anyone in a Charleston contest. F. Scott Fitzgerald himself even described Crawford thusly:
Joan Crawford is doubtless the best example of the dramatic flapper. The girl you see at the smartest night clubs–gowned to the apex of sophistication–toying iced glasses, with a remote, faintly bitter expression–dancing deliciously–laughing a great deal with wide, hurt eyes. 
In fact, it was Our Dancing Daughters that propelled Crawford to stardom. Prior to working for MGM she had spent years as a chorus girl in touring revues. After moving to California in the mid-1920s and spending some time in bit parts, she decided to get her name out there by frequenting Hollywood parties and dance competitions. She won so many competitions with her energetic Charleston and Black Bottom dances that MGM finally noticed her potential and starting giving her leading roles. The smash hit Our Dancing Daughters was the film that made her a star, as well as a rival to fellow film flappers like Clara Bow. Who'da thunk it?
The film's plot is nothing too original. Crawford's Diana, a flashy society girl who loves to dance, falls for handsome heir Ben Blaine (Johnny Mack Brown). She's a moral gal at heart, but Ben doesn't know this and assumes she must have a "reputation." Her conniving rival Ann (Anita Page), a gold digger With A Past, decides to woo Ben away from Diana by pretending to be a sweet and virtuous girl. Ben decides to marry the supposedly "suitable" Ann, in spite of his attraction to Diana…and so on and so forth. (I sometimes run across modern reviews complaining how "old-fashioned" the plot is, which makes me chuckle. Put the same plot in a 1950s film and no one bats an eye, but see it in a film from thirty years earlier and people think it's somehow a surprise.)
Ah no, the real reason to watch Our Dancing Daughters (as well as Our Modern Maidens) is because it's gives us the high-society Jazz Age culture of our dreams, where endless fancy parties take place in huge modern mansions and the fringes on beaded dresses fly as "bright young things" dance the Charleston. It's the quintessential Roaring Twenties, as only Hollywood could create it.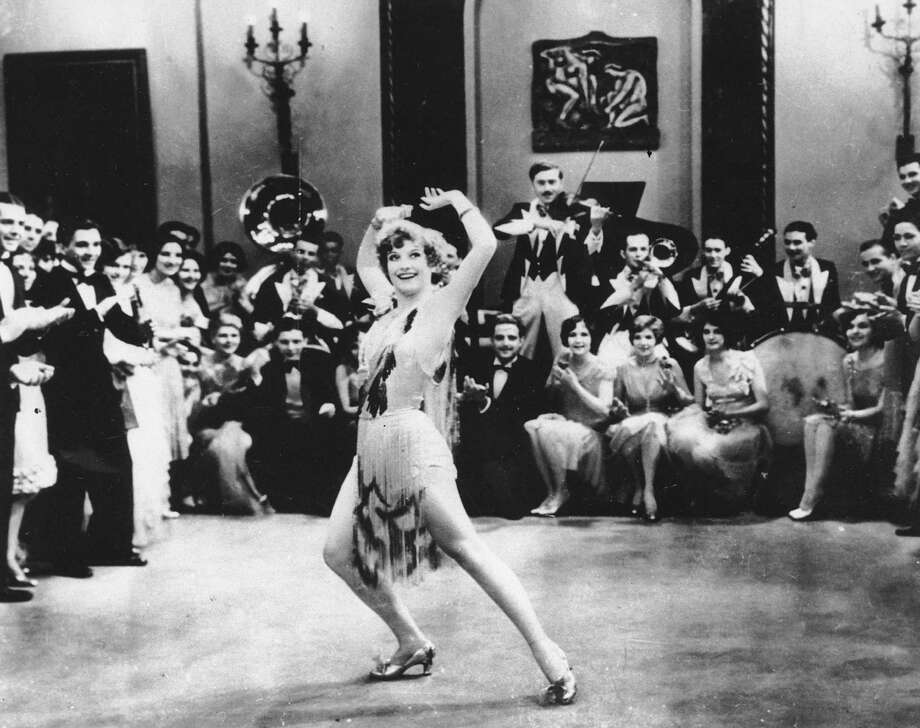 I think this was also one of the earliest films to showcase Art Deco architecture as the up-to-the-minute trend in modern mansions (rather than as an avant-garde backdrop, as in L'Inhumaine). The sets were designed by the prolific Cedric Gibbons, who became one of cinema's (all of cinema's) most important art directors. The vast ballrooms, tall arches and stylized staircases of Our Dancing Daughters are truly eye-popping. The sheer size was certainly Hollywood fantasy, but you wonder if any (smaller) real-life Art Deco homes popped up as a result of films like this. (My practical side assumes they wouldn't have aged well unless they were kept scrupulously clean and lit just so! Imagine the lines and angles of that one staircase getting little scuff marks over the years.).
Our Modern Maidens is a sequel of sorts to Our Dancing Daughters–or maybe we should called it a follow-up. Joan Crawford and Anita Page are the leading players again, although this time Anita is a girl-next-door type longing for romance. Joan is another dancing socialite, going to the gigantic Jazz parties of our imaginations. Love triangles ensue in another fairly predictable plot, although it does get more daring than its predecessor (of course, it's nothing that would make us bat an eye today, although it might make some folks incredulously say: "why, this 90-year-old film is kinda old-fashioned!").
As with Our Dancing Daughters, it's worth seeing for those zesty flapper culture scenes (this time we even see people actually drinking from hip flasks), and Douglas Fairbanks Jr., who was newly-married to Crawford at the time. (This naturally resulted in lots of extra publicity for the film.) One of the best scenes has Fairbanks imitating several famous actors–including his superstar father, Douglas Fairbanks Sr.
Of the two movies, my favorite is probably Dancing Daughters, both for the sights and the surprisingly dramatic ending. But both are well worth watching, and make for a fun and satisfying double feature. They do include those late silent-era soundtracks that include sound effects, which might take a bit of getting used to. But it's worth it to get to kick back and enjoy a few hours of glamour, as those onscreen flappers and sheiks dance their way through an era we all wish we could visit.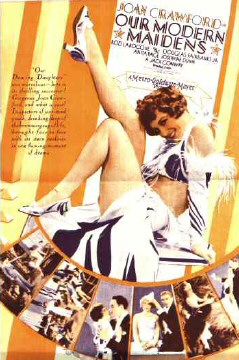 —
A third film in this "franchise" of sorts is Our Blushing Brides, a talkie from 1930 that once again stars Crawford and Page. It may be available on YouTube if you want to check it out!
The Fitzgerald quote (which is often misquoted) is taken from the 1927 article "Has the Flapper Changed?" by Margaret Reid for Motion Picture Magazine. It can be read here.