Let's all take a minute and look at this marvelous photo:
If I asked you to picture a daring pilot from the 1910s or 1920s, this is exactly who you would picture, am I right? The leather aviator helmet, the goggles, the cool jacket, the air of cheerful self-assurance…he's the very personification of the flying ace Snoopy always aspired to be. And yes, he's the real deal. This is the forgotten barnstormer Ormer Locklear, achiever of mind-boggling aerial stunts, and yes, of course he has a fantastic name, I would expect nothing less.
Really, all he needs is a tiny 1920s mustache and…stop the presses. 
This fearless stuntman of the air was a native of Texas, born in Greenville and raised in Forth Worth. (And yes, Ormer Locklear was his real name.) The Locklears were a large family and the father supported them with a carpentry and contracting business. Ormer had a zest for adventure from an early age. He loved jumping his bicycle off of ramps, trying to clear the widest gaps he could. The second-long sensation of soaring through the air was endlessly exciting for him.
In 1910 an air show came to Fort Worth, making a big impression on Ormer (this was when airplanes were still a very new technology). The following year he met Calbraith Perry Rogers, a heroic aviator who was in the process of making the first transcontinental U.S. flight (Rogers had stopped in Fort Worth to unclog a fuel line). Officially fascinated by aviation, Ormer worked with his brothers to construct a glider out of fishing poles and linen, demonstrating how well it worked by jumping off the roof of their high school. He further satisfied his appetite for thrills by learning how to do trick motorcycle riding, getting a taste for show business when Harry Houdini himself hired Ormer to drag his body through the Forth Worth streets as he worked to free himself from restraints (as usual, Houdini was successful).
In 1915 he made the slightly inexplicable decision to marry Fort Worth native Ruby Graves, who wasn't nearly as fond of daredevilry as her new husband was. Her disapproval kept Ormer earthbound until the advent of World War I, when he learned that combat pilots were needed. Eagerly enlisting, he was put in the flight training program in Texas. He instantly took to the thrill of flight, and (being Ormer) took the thrill to the next level by nonchalantly teaching himself how to wingwalk (this was before parachutes were commonplace, by the way).
When officials heard of Ormer's exploits, instead of punishing him they decided his daring would be a good way to advertise their planes' safety. He was made a flight instructor and eventually became a lieutenant, but never saw fighting overseas.
When the Great War ended the young pilot stuck with the Air Service so he could keep on flying. He was not only fully proficient at wingwalking, but had figured out how to drop from one flying plane into another–the first person on record to do such a feat. At the time many former war pilots were making a living "barnstorming"–putting on eye-popping aerial stunt shows. Ormer knew he could perform stunts crazier than the ones he saw at those shows, and when he happened to meet the well-connected show promoter William Pickens he decided to dive in and become a professional stunt pilot.
Military friends Milton Elliott and Shirley Short were brought on board to what Pickens dubbed the "Locklear Flying Circus," which began performing at fairs around the country. As Ormer pulled out all the stops, topping previous stunts whenever he could (one involving a transfer from a car to an airplane almost killed him), his fame began to grow. Pickens spared no expense at marketing his new star, who adored the attention and the excitement of performing.
Soon Pickens had pulled off the best publicity feat of all: he had caught Hollywood's attention and scored Ormer an offer to star in his own film at Universal. And thus, the young Texan left the fair circuit and took a train to Los Angeles.
Hollywood was buzzing with news of Ormer's arrival–he was then one of the top names in barnstorming, an almost larger-than-life figure who was tall, athletic, and dashing to boot. He easily ingratiated himself with the stars, frequently offering them rides in his plane. In time he began dating popular Metro actress Viola Dana. A daring young lady herself, she often rode in Ormer's plane and giddily enjoyed every kind of stunt, from loop the loops to diving under telegraph wires. Later in life she liked to recall how she and Ormer would swoop over Hollywood Boulevard, pelting friends with Viola's old lipsticks as they rode in their fancy cars below.
Rumors began to swirl that the exciting new couple had eloped, or were about the elope, but Ormer patiently denied them. He likely didn't want word to get out that Ruby wouldn't grant him a divorce, even though they had been separated for some time.
His first film, The Great Air Robbery (1919), was about an air mail pilot trying to thwart the plans of the criminal "Death's Head Squadron." In the pancake makeup, with his hair slicked back, clean-cut Ormer looked a bit like a cousin of Charles Ray. He made personal appearances in Chicago to help promote the film, and a Moving Picture World writer reported: "When seen last week, Lieut. Locklear stated that he was infatuated with moving picture work and that he has made more real friends and has had greater happiness than he ever dreamed of since entering this field."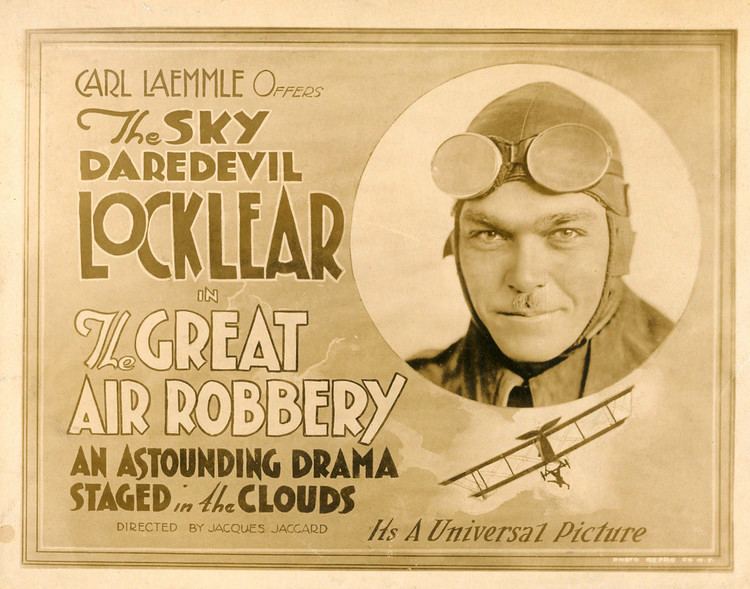 The Great Air Robbery was a big success, but Universal scrapped plans to make more Ormer Locklear pictures (perhaps because he was almost arrested for mischievously swooping over the streets of L.A.). But then William Fox made him an offer to make The Skywayman, about a pilot with amnesia who's hired to track down some Russian jewel thieves, and Ormer gratefully accepted.
Moving Picture World wrote on March 13 of 1920:
[Ormer] appeared to be well satisfied that his future is assured in the moving picture business and he has fully made up his mind to remain in it. When he makes his next appearance on the screen he promises to surpass his feats in "The Great Air Robbery" by still more daring exploits, some that have never before been attempted by any other flyer.
The Skywayman was supposed to feature less stuntwork than normal, minimizing risk by using miniatures whenever possible. But Ormer bristled at the idea of faking stunts, insisting (essentially) that he be allowed to risk his life as usual. Studio head Sol M. Wurtzel finally gave in, but told Ormer he had to save his most dangerous stunt–a nighttime nosedive with magnesium flares simulating flames–for the very last day of filming, just in case something went wrong.
That day arrived on August 2, 1920. Ormer wanted to actually do the stunt at night–even though it could be shot in the daylight and the scene tinted to simulate darkness. At 10 p.m., as Viola and other friends and coworkers looked on, he took off from the DeMille airfield with assistant Milton Elliott. Once they reached 3,000 feet, Ormer did several stunts while lit by spotlights and then began the last, most thrilling stunt of all–the climax of the picture. As everyone watched, he put the plane into a spinning nosedive as the magnesium flares on the wings burst to fiery life.
In an interview in her old age, Viola vividly recalled what happened next:
…He had said to the director, "When I get down to the level of the oil wells, take the lights off me, the sunlight arcs, take those lights off me, and I'll know where I am. I can come out of it." And he went into the tailspin and they never took the lights off him…I guess there was practically nothing left of him, 'cause those Jennys, you know, are very fragile…Somebody picked me up, I started to run for the plane and somebody said "Grab her, grab her and take her home." I guess I was kind of crazy, I couldn't believe what had happened. And when you're young, those things are very shocking. I don't even like to talk about it.
For whatever reason, the spotlights that were supposed to be turned off to signal when Ormer had reached 500 feet had stayed on. Disoriented and unable to pull out of the nosedive, Ormer and Milton slammed into an oil well sump. Thrown violently from the crashed plane, the two died instantly.
The Skywayman was released in September 1920 and 10% of the profits were donated to Ormer's and Milton's families.  Incredibly, the footage of the fatal crash was included in the finished film. It seems to have done reasonably well, although it was less well received than The Great Air Robbery.
Unfortunately, neither of Ormer's two films survive today, and the name of the restless, energetic, adventure-seeking young man has largely faded into the mists of time. But he hasn't been entirely forgotten, thanks to the efforts of historians. And thanks especially to the memories of a spirited young actress who had once soared in a fragile plane with her dashing lover, and who after that terrible day in 1920 would not fly again for 25 years.
—
I thoroughly enjoyed this well-researched piece on Locklear by Fort Worth historian Mike Nicholls–it was very helpful: https://hometownbyhandlebar.com/?p=3663
Other Sources:
Golden, Eve. Golden Images: 41 Essays on Silent Film Stars. Jefferson, North Carolina: McFarland, 2001.
Petty, John E. and Smith, Grey. "A Life Among the Clouds." Classic Images, May 6, 2008. http://www.classicimages.com/people/article_8777ce26-43eb-5949-9292-63ca25e36439.html
https://www.utdallas.edu/library/specialcollections/hac/general/Locklear.html
http://www.century-of-flight.net/Aviation%20history/daredevils/lunatics.htm