If I tell you to picture a child star from the silent era, two that will come to mind are likely Jackie Coogan or Baby Peggy. Likewise, if I tell you to picture an actress famous for portraying flappers, you'll probably think of Clara Bow or (I hope) Colleen Moore. But one actress who probably won't occur to you is Virginia Lee Corbin, a former child star who also managed to transition to flapper roles as she matured. But happily, writer and researcher Tim Lussier is determined to get you acquainted with this overlooked actress with his fine biography "Bare Knees" Flapper: The Life and Films of Virginia Lee Corbin.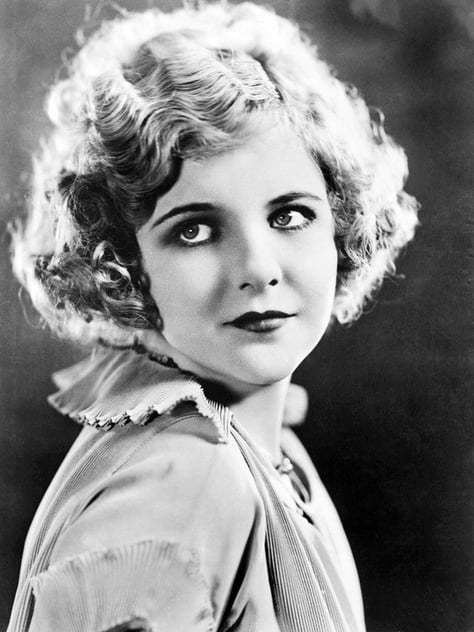 Lussier, the man behind the popular SilentsAreGolden website, has a touching story about how he was inspired to write this book. After publishing an article about Virginia on the now-defunct site The Silents Majority, he received a phone call from a gentleman named Bob Krol. Bob explained that he and his brother Phil were Virginia's sons, and they were looking for information about her. When Virginia and their father went through a bitter divorce in 1937, the father won custody of Bob and Phil and they never saw their mother again–they didn't even have memories of her. Lussier decided to do some deeper research on the life of this forgotten star, and eventual result–of twenty years of poking through newspapers, magazines, books and other documents–is this biography.
The golden-haired Virginia had entered the movies at the tender age of four, prompted by her ambitious mother (who was also her manager). Thanks to her natural acting skills and angelic face, by the late 1910s she was one of the most famous child stars in Hollywood, acting in such hits as Jack and the Beanstalk (1917). In the early Twenties she took a break from the screen and appeared on the vaudeville circuit, and then returned to films. Now an attractive young lady, she became adept at flapper-type roles in classics like Bare Knees (1928), and was often support to stars like Raymond Griffith and Colleen Moore.
She married Theodore "Teddy" Krol when she was 17, and in the early '30s they had their two children, Bob and Phil. By this time Virginia's acting was less in demand, and she also had personal troubles with her mother and then her husband. After the ugly divorce she was basically retired from the screen, although she talked about making a comeback. She married again, to Charles Jacobson, and in 1942 she would pass away from tuberculosis, at only 31 years old.
Lussier's biography fleshes out all this information as best as possible, scrounging up reviews, newspaper clippings and magazine articles for each step of Virginia's busy career. To say this was painstaking work is an understatement, but he managed to piece together a surprisingly detailed–and nicely readable–examination of her life and work. Kevin Brownlow Himself said in the foreword: "I can appreciate why it took so long and how difficult it must have been; I had to research Virginia Lee Corbin's early career for a biography of one of her directors–Sidney Franklin–and I came up with hardly enough for one chapter, let alone 26!"
I always enjoy reading about overlooked or obscure actors from the silent era–names that were once "up in lights" but are now forgotten. It opens new windows into a time period that you think you know pretty well, illuminating films and studios you hadn't considered much before and revealing forgotten trivia. For instance, the fact that in the 1910s Fox Films made lavish, feature-length fairytales where all the characters were played by children was a new one to me–I'd known about "kiddie comedies" and even "animal comedies" but somehow missed the memo about serious features revolving around pint-size actors! And while I had heard of Bare Knees before, I'm now interested in adding it to my DVD library, as well as seeking out other films with Virginia.
Bob Krol passed away in 2002, and had been in regular contact with Lussier as he researched what would become "Bare Knees" Flapper. Phil Krol, happily, is still with us at age 86, and no doubt is excited to see such a long-term project on his mother come to fruition at last. It's these kinds of film history books that remind us they aren't just about long-gone names in dusty books, but real individuals who can still have an impact on us today. Lussier should be proud.
The fine "Bare Knees" Flapper: The Life and Films of Virginia Lee Corbin was published by McFarland and can be bought on their site here.
—