Well, whaddaya know? Today, Silent-ology turns five years old!
We've been celebrating the unique, beautiful, quirky, inspirational silent era together for half a decade! This is all thanks to your continued visits, comments and support, which makes this huge, multi-year project such a fulfilling labor of love. I couldn't ask for a more good-natured, appreciative audience, and that's a fact.
And now, a respectable selection of 1924 silent film stars will join me in saying a very sincere:
to all!
By the way, I'm extra excited this year because…well…five is my favorite number. 😀 SO LET'S PARTY!!!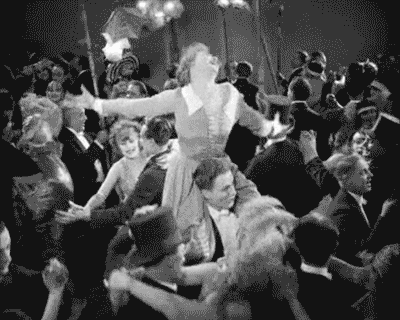 Whew, getting tired from all that partying? Let's take a break and recap some of this blog's highlights from 2018.
Firstly, here are the Top Five Posts Published in 2018:
5. My Experience At The 2017 Buster Keaton Convention
This was my first time at the Damfinos' lauded convention, and truly my experience could not have been more flawlesss. If you're a Buster fan, put this con on your bucket list pronto!
4. Colleen Moore, America's Favorite Flapper
Colleen is one of my favorite actresses of the silent era, and she's quite important to film history–so I was happy this article got plenty of views!
3. 7 German Expressionist Films You Probably Haven't Heard Of
We tend to hear about the same handful of German Expressionist films over and over again, so it was a fun challenge to compile a list of these Weimar rarities.
2. The History (And Mythology) Of 1920s Flapper Culture
Few cultural trends have had such long-lasting appeal as Jazz Age flapper culture, so it was enlightening to finally study it in all the depth my heart desired. I'm happy so many people found it helpful!
And here is the #1 most-read post published on Silent-ology in 2018:
1.How To Throw An AUTHENTIC Roaring Twenties Party
Heck yes! Here's to hoping this post will be useful to many a 1920s Party planner for years to come. Down with thigh-high dresses and plastic tommy guns! Up with toy balloons and jellied stuff!!
And here is the list of Top 5 Posts That Could Use More Love. These are posts that flew a little under the radar at the time, but I'm happy with how they turned out. Feel free to see if any pique your interest!
5. Thoughts On: The Big Parade (1925)
My review of the biggest blockbuster of the whole silent era came and went pretty quietly–oh, the irony! If you haven't seen this magnificent film yet, feel free to check out this review.
4. "Wake 'Em Up!"–A Look At 8 WWI Propaganda Films
Okay, this wasn't that under the radar, but it was very interesting to research so let's see it if catches a few more glances. It's not every day you read about a film called To Hell With the Kaiser!
3. Thoughts On: Peter Pan (1924)
I've always had a lot of fondness for J.M. Barrie's Peter Pan stories, from The Little White Bird to Disney's cartoon version, so this was a nostalgic joy to research. The silent version of Peter Pan is the most faithful to the spirit of Barrie's original play–which was certainly a cultural milestone–so hopefully a few more readers will be moved to check out this film!
2. 6 Silent-Related Locations Still On My Bucket List
Have you such a bucket list, too? Maybe some of the places in this post will wind up on it–that's my goal!
1.Ormer Locklear, Hollywoodland's Daredevil Of The Air
While he's mostly forgotten today, stunt pilot Ormer is one of the most colorful and very 1920s characters in Hollywood history. He was a dashing figure of romance, whose fearless life was unfortunately–well, you'll just have to read the article. *wink*
Other Highlights of 2018: Silent-ology participated in a few blogathons as usual, although not as many as in previous years. Guys, there's just so many blogathons now, I can't keep up (and half of them are devoted to, say, films from the '40s-'50s, which isn't my blog's oeuvre). But I'm for sure looking forward to joining more in 2019! February was Silent-ology's own 4th annual Buster Blogathon, which is always a blast (blogathon 5 is coming up later this month!). It's a fun design challenge coming up with different banners every year. 2018's had a touch of Warhol:
I like having a couple theme months each year, which are not only fun to research (and give me an excuse to study certain topics more closely) but shake up the routine a bit, too. March 2018 was dedicated to all things flapper culture, and proved to be very popular. (Stay tuned for this March's theme, by the way–I already have it planned!)
And having followed the World War I centennial pretty closely the past few years, I couldn't let 2018 slip by without some commemoration. Thus, August was respectfully devoted to WWI in Film:
As you might know, I'm part of the Classsic Movie Blog Association, which has its own awards for members each year. I'm happy to say my Conrad Veidt article nabbed an award for best performer profile *blush*. I feel like Connie's fascinating life story is mainly responsible.
And now, let's close this anniversary post with my usual list of Top 5 2018 Posts That I'm Particularly Proud Of:
5. From Pie Throwing To Polished Farce: How Silent Comedy Evolved In Under Two Decades
While many fans and historians enjoy studying silent comedy, there's always plenty of fresh ground to be uncovered. Plus, what cheerier research subject could there be? I think this article flows nicely, and the images were fun to find, too.
4. Thoughts On: Nanook of the North (1922)
Not only was it a pleasure to review this classic, but after seeing the umpteenth modern "takedown" of this documentary as being "staged," it was high time to introduce a little perspective.
3. Clara Bow–The Eternal "It" Girl
You can't have a Flapper theme month without paying tribute to one of the most famous flappers of them all. Our sparkling Clara's life has been frequently mangled by folks eager to jump all over the sadder details, so I tried my best to be respectful.
2. Lost Films: Private Peat (1918)
This was unique research rabbit hole, especially since the subject seems to have been almost completely forgotten. Little did I know what fascinating history was contained in my brother's chance Goodwill outlet find! (That's a good teaser, eh?)
And while it was hard to pick one this year, I'm probably the most proud of:
1. The History (And Mythology) Of 1920s Flapper Culture
As I said previously, this was a great research project, and definitely a topic of wide interest. I'm pretty tired of the whole "sad meek women were oppressed right up until the '20s rolled around–oh, and then forgot everything by the '50s" idea of history (even the most well-meaning people seem to automatically believe this) so piecing together a fuller picture of the early 20th century was a good challenge. And there's always much more to discover! History never stops giving, guys.
And now…*drumroll*…just for the heck of it, what is the #1 Silent-ology post of all time?
Silent Film Makeup: What Was It Really Like?
Give this grand champ a round of applause!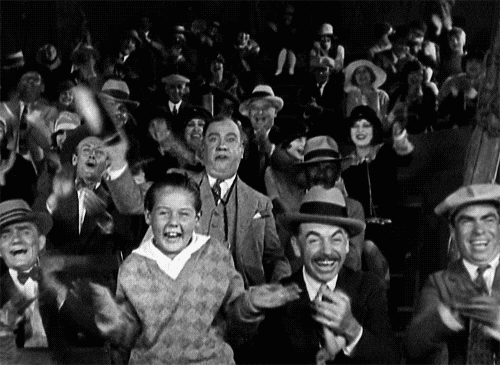 And now…back to partying!!
(And again…THANK YOU!!)