"The woman from fourteen to ninety loved him, because he made romance come riding home to her dreams. He was not the individual she craved, he was the symbol of what she craved." —From a letter to Photoplay, January 1927
What does it mean to be an icon? In the case of film actors, we assume this means their image has instant recognition. Across the world, people belonging to every culture and race will recognize Marilyn Monroe or Charlie Chaplin. Their very names have symbolism–"Chaplin" calls to mind laughter and old-time slapstick, while "Marilyn Monroe" stands for glamour and sensuality with a touch of vulnerability. (Interestingly, many people I've encountered who mention admiring Marilyn have never seen one of her films.)
So let us consider "Rudolph Valentino." Of all the screen icons, his legacy is perhaps the most obscured by mythology, fantasy and cult status. The mere mention of his name–and how fortunate he was to adopt the elegant "Valentino"–recalls the kind of old Hollywood romance involving soft lighting, perfectly tailored suits, glimmering jewels and long, thrilling kisses. It calls to mind the stories of sobbing, fainting fans at his funeral bier–for he died young, as everyone remembers.
But how many people today know what Rudolph Valentino looked like? How many have watched one of his films, or even a single clip? Who was the living, breathing human being behind the romantic name–the romantic dream?
He born in Castellaneta, Italy, in 1895–just when "moving pictures" were first being exhibited. He was christened Rodolfo Alfonso Raffaello Pierre Filibert Guglielmi di Valentina d'Antonguella–a decidedly long name for those future movie marquees. But to his genteel, middle class family of five (his father was a veterinarian who dabbled in medical research) he was little Rodolfo, a very active boy who much preferred the great outdoors to school and who was a bit doted on by his mother.
When Rodolfo was eleven his father passed away from malaria–tragically, due to his time studying the disease to find a cure. As a result, young Rodolfo and his siblings Alberto and Maria became very close to their mother.
Although he was bright and would learn to speak several languages, it was clear by his teen years that Rodolfo was not destined for scholarship or the sciences. He enjoyed sports and working with his hands; after a dismal experience at a boarding school he went to the more enjoyable Agricultural Institute of Saint Ilario of Liguria, studying professional landscaping. But in the end he would decide, "Italy is too small for me."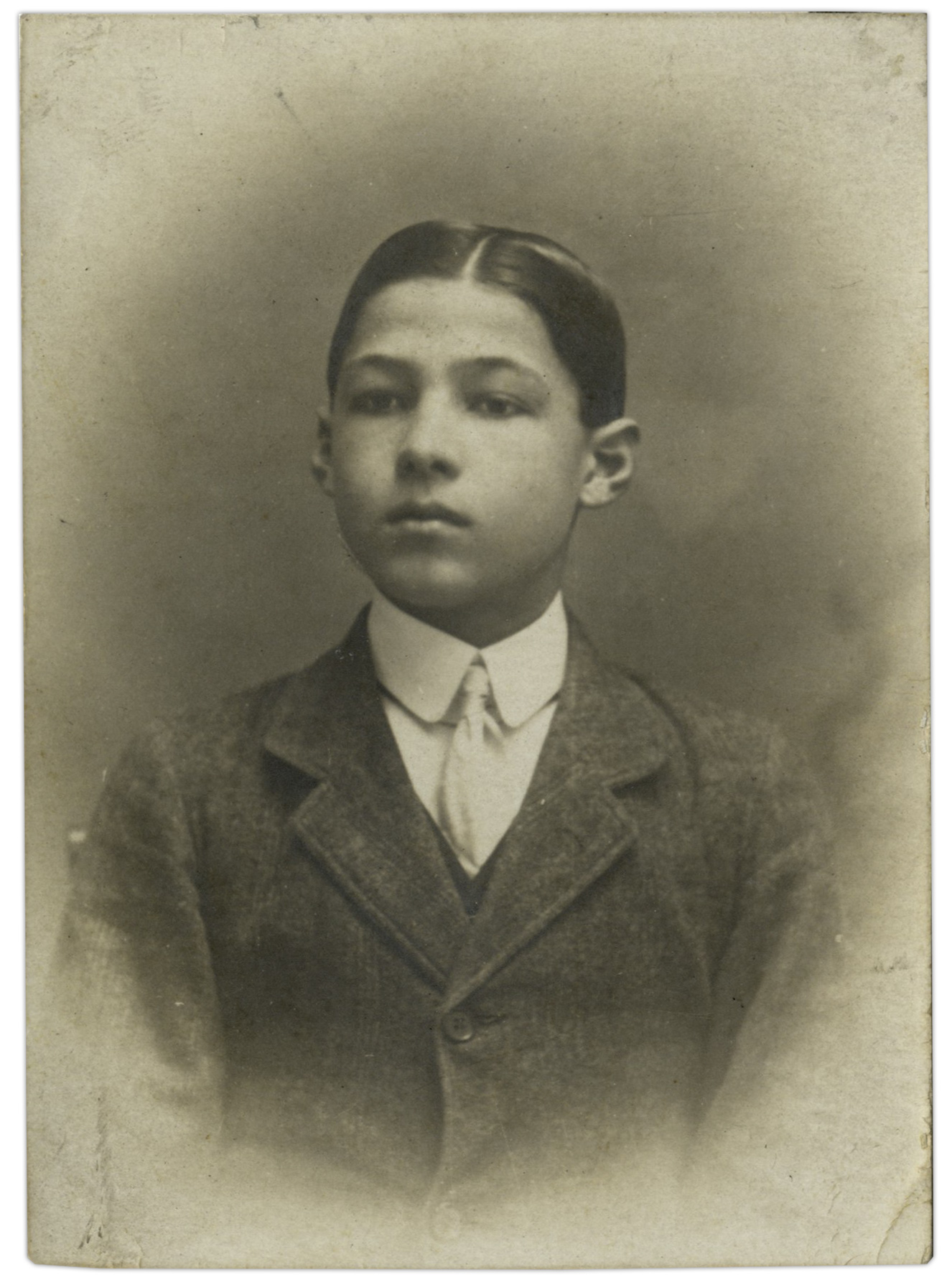 And where would an adventure-seeking young man go in the early 1910s, but America with all its opportunities and thriving economy? At age 18, Rodolfo Guglielmi boarded the S.S. Cleveland and sailed to New York City, happily paying extra for a first-class cabin.
Once in New York, after a brief period where he rented a comfortable apartment and tried his best to hobnob with the upper class, he (predictably) burned through his money and worked a series of odd jobs. Noticing the current mania for dancing and being blessed with natural grace, he became a dance instructor and "taxi" dancer (a "for hire" dancing partner).
In a movie-plot-esque turn of events, after being a witness in the sensational divorce trial of heiress Blanca de Saulles–after which Blanca shot her ex-husband over custody of their son–Rodolfo thought it prudent to burn his New York bridges and head to the West Coast. After a few stints with theatrical troupes he ended up in Hollywood, and like many young hopefuls he decided to try and break into motion pictures. He took to dressing in bright, flamboyant clothes to stand out and hung around movie studios hoping to get work. Samuel Goldwyn would recall the shy young Italian asking questions about casting: "These questions…were made more touching by a very naive manner…He always looked so eager when he put the question and so disappointed when he got the answer."
Finally he was hired to be an extra in the film Alimony (1918) for five dollars a day, which lead to other small roles. Knowing his "foreign" looks would frequently peg him as a Latin screen villain (the era's tendency), he labelled himself a "New Style Heavy" and tried to make the most of it. He would sneer his way through films like A Rogue's Romance (1919) and The Wonderful Chance (1920). He had a chance to work with D.W. Griffith, but the famed director dismissed Rodolfo as "too foreign looking" and added, "The girls would never like him."
His screen name became a bit of a conundrum. The hard-to-remember "Guglielmi" was shed in favor of "di Valentini," but that was put through a veritable wringer of different spellings: "di Valentina," "De Valentina," "Volantino," "Valentine" and "De Valentine," all of which might be paired with "Rodolfo," "Rudolpho," "Rodolph," or "Rudolf" with careless abandon. Eventually he settled on "Rudolph Valentino," which certainly had flair–and asked that his friends call him Rudy.
Two major events affected Rudy just as he was carving out a dependable career. His beloved mother passed away, leaving him devastated and lonely. A supportive ear appeared to come from Jean Acker, an actress who was part of artsy Alla Nazimova's inner circle. After a two month courtship, Rudy and Jean were married. Ironically, a regretful Jean locked the future Great Lover out of their hotel room on their wedding night, likely because of her secret lesbianism. They would divorce in 1923, but eventually renew their friendship.
In 1921, the actor many knew as "mild-mannered" and "rather shy" won a breakout role: as the fiery libertine Julio in The Four Horsemen of the Apocalypse (1921). He had been personally chosen for the production by prolific screenwriter June Mathis. "Many people said she was crazy to give me the part," Rudy recalled. "I was a heavy, they said, and would never be anything else." But Mathis's instincts proved impeccable. Rudy's charisma shone like never before, and his brooding stares and deft tango moves took feminine audiences by storm. This handsome young man was something new–and undeniably alluring. Constance Talmadge remembered, "Everywhere I went, I seemed to hear the buzz of girls wishing to each other that they would be lucky enough to dance a tango with that hero."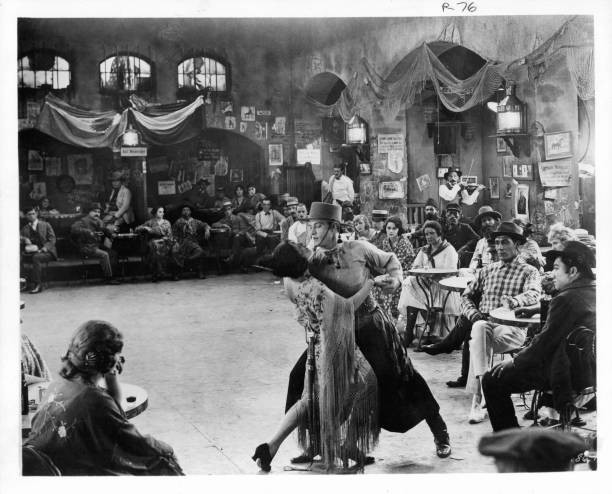 Rodolfo Guglielmi from sunny southern Italy had "made good" at last. Followup films included the stagey modern drama Camille (1921). Star Alla Nazimova had most of the spotlight, but the film did introduce Rudy to Natacha Rambova, an attractive and somewhat frosty costume and set designer. While her legal name was Winifred Hudnut and she was from Salt Lake City, to the public she was the theatrical Natacha Rambova, a specialist in Erté-like designs. At first she found Rudy annoying, recalling: "[He] was forever telling jokes and forgetting the point of them, and I thought him plain dumb." Once she realized he was just trying to be friendly she warmed up to him, and soon the two were in love.
In 1921 Rudy made the bold move of signing with a new studio, Famous Players-Lasky. His first Lasky film would change his career into a "Before" and "After"–the campy desert romance The Sheik (1921), based on E.M. Hull's popular novel. Rudy's role as Sheik Ahmed Ben Hassan, who captures an impetuous young Englishwoman, is the one he's most identified with to this day. The film was a huge hit–in one week in New York alone, over 112,000 flocked to see it.
Rudy was praised by some critics, although others complained about him "constantly showing the whites of his eyes." Despite Rudy's occasional eye-popping (likely the director's idea), women were thrilled by this new, "exotic" lover. As a Picture-Play article put it, "He does not resemble the man your mother thinks you ought to marry." The film also influenced American slang–young men with glossy Rudy-style hair were dubbed "sheiks," and young flappers their "shebas."
Post-The Sheik, Rudy's favorite role was the red-blooded toreador Gallardo in Blood and Sand (1922), who he strongly identified with. Natacha recalled him going quite "method," "leering at me the way he looked at Dona Sol or else gazing at me with the great beseeching eyes he used in the film toward his little wife…He never dropped the part for a moment."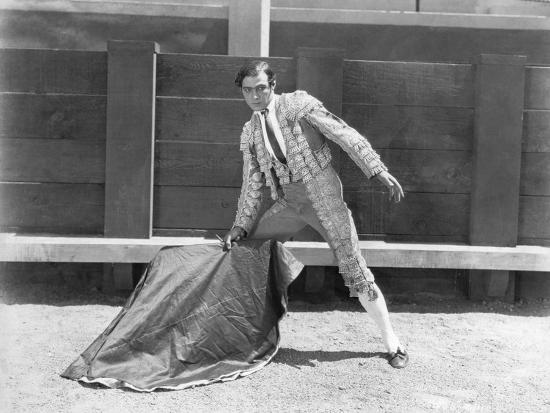 Offscreen Rudy was gentlemanly and a bit shy, and loved horseback riding and working on cars in his garage (he'd always had a mania for fast automobiles). He enjoyed working on his physical fitness, collected antique weaponry and took snapshots and home movies. The Gish sisters recalled him coming to their house and cooking with their mother, and actress Patsy Ruth Miller remembered him as "a lot of fun, more like an older brother." Actor Stuart Holmes would joke about the "truth" behind Rudy's Great Lover image: "All he thought about was Italian food. He'd turn those big slumberous eyes on some woman and she'd just about swoon with delight, but he couldn't have cared less. He was usually thinking about the spaghetti and meatballs he was going to have for dinner that evening."
Once he had megastar status, Rudy gained confidence in his drawing power–and perhaps a few ideas from the strong-willed Natacha. He began asking for a higher salary and more artistic control over his films. The studio balked at his requests, especially when he made headlines by impulsively marrying Natacha before his divorce from Jean Acker was final. All the drama lead to Rudy famously declaring a "one man strike" from films, and to keep their income flowing, the Valentinos would embark on their famous Mineralava Dance Tour (sponsored by Mineralava beauty clay).
Dashing Rudy and elegant Natacha's tango demonstrations were attended by massive crowds. Everywhere Rudy went he was thronged by female worshipers, sometimes getting the buttons torn from his coat. At one over-packed theater in Chicago a young woman fainted and was carried to the Valentinos' dressing room to recover. She came to, beheld Rudolph Valentino himself standing nearby in all his gaucho-costumed glory, and promptly fainted again.
Rudy would return to films in Monsieur Beaucaire (1924), a bit of a head-scratching choice considering its setting of lace-and-wigs 18th century France. For years many men had rolled their eyes at the Valentino craze, joking about his lacquered hair or supposedly "dandy-ish" clothes. Beaucaire was hardly a contradiction. Rudy's adventure drama The Eagle (1925) included plenty of romance and action, and seemed to boost his popularity: "The best Rudolph Valentino picture I have seen since The Four Horsemen," one Minnesota exhibitor reported. "It pleased the men besides the women."
But cracks were beginning to show. The strain of Rudy's career was growing overwhelming, and in 1926 his marriage with Natacha crumbled, leaving him devastated. While he had worked his way to immense fame and fortune, his life began to feel strangely empty. In one interview he would deny wanting to marry again, in another he would confess to wanting a "domestic" wife and, especially, children (Rudy had always adored children). "It's all too terribly fast for me," he told one reporter. "A man should control his life. My life is controlling me."
In 1926 he decided to star in The Son of the Sheik, the sequel to The Sheik. More lavish than the latter, it contains what might be Rudy's most magnificent performance–and a dual role, to boot. The menace and sexual allure just hinted at in The Sheik were more fully displayed in its sequel. Rudy's more mature features–despite the mere five-year difference–were strikingly handsome, and his love scenes as steamy as the pickiest fan could desire.
While on tour promoting Son of the Sheik, Rudy read the now-infamous "Pink Powder Puffs" editorial in the Chicago Tribune. Written with the typical sarcasm of the era, it decried the appearance of talcum powder machines in a men's restroom–containing pink powder. The writer jokingly groaned, "Why didn't someone quietly drown Rudolph Guglielmo [sic], alias, Valentino, years ago?" Rudy had always had a playful sense of humor, but for whatever reason, he was unable to let slights of his masculinity roll off his back–and especially not this new "powder puff"' slight. He wrote a fiery response to the editorial and even challenged the journalist to a boxing match. Critic H.L. Mencken recalled a troubled Rudy coming to him for advice, and trying to convince him to let the matter slide. Studying the distraught actor before him, Mencken realized: "It was not that trifling Chicago episode that was riding him; it was the whole grotesque futility of his life…Valentino's agony was the agony of a man of relatively civilized feelings thrown into a situation of intolerable vulgarity…"
Not long afterwards, in mid-August, news came that shocked the world. Valentino had fallen seriously ill at a party and was taken to a New York hospital; the virile young man so many had seen lovemaking and swordfighting through The Son of the Sheik was now battling for his life.
He had complained of stomach pains for some time, and his butler had noticed how much bicarbonate of soda he was taking. Doctors soon discovered the cause–a perforated stomach ulcer the size of a dime. An operation seemed to ease his pain, but tragically, peritonitis set in, making every breath an agony. On August 23, 1926, Rudolph Valentino passed away at 12:10 p.m. His last words from that morning were thought to be: "Don't pull the blinds! I feel fine. I want the sunlight to greet me."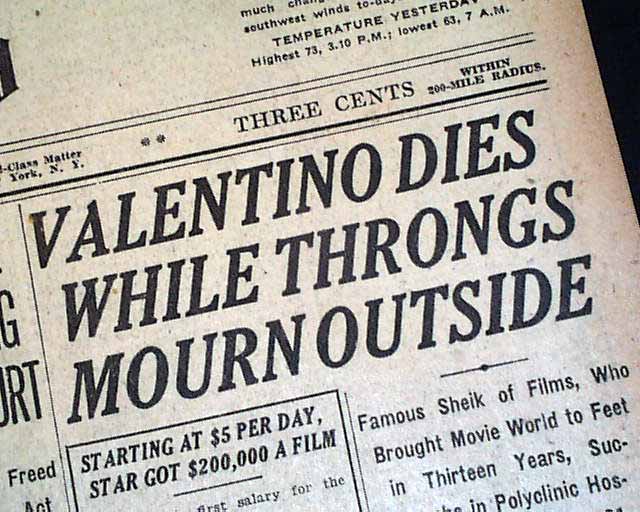 Much has been made of the hysteria that resulted from his death–it's almost as legendary as the actor himself. Thousands crowded to get a glimpse of Rudy's body lying in state at Frank E. Campbell's Funeral Church, leading to a riot. Elsewhere in the country, a few troubled women cited Rudy's death as the reason for their suicides. His funeral train, bearing his body back to Hollywood, was greeted by thousands of mourning fans at each stop along the way.
Rudy rests today in a quiet corner of the Cathedral Mausoleum at the Hollywood Forever cemetery, in a chamber donated by June Mathis. A stained glass window glows nearby, and the vases next to his plaque usually bear fresh flowers. His 1920s mansion no longer stands, and his various belonging have been scattered among museums and collectors. His films are sought out by few, and his name is perhaps more familiar than the actual face that millions had once adored. But those who do watch his films can still sense his charisma. As Rudy's manager S. George Ullman once noted not long after the actor's death: "The appellation 'personality' is too weak…But to sway multitudes by a mere gesture or a glance means much more."
—
Sources:
Ellenberger, Allan R. The Valentino Mystique: The Death and Afterlife of the Silent Film Idol. Jefferson, North Carolina: McFarland & Company, Inc., 2005.
Hill, Donna. "The Man Behind the Myth: A Look at Rudolph Valentino's Varied Hobbies." The Silent Film Quarterly volume I, no. IV (2016). 31-37.
Leider, Emily W. Dark Lover: The Life and Death of Rudolph Valentino. New York: Farrar, Straus and Giroux, 2003.
Koszarski, Richard. The Age of the Silent Feature Picture, 1915-1928. Berkeley and Los Angeles: University of California Press, 1990.
Ullman, S. George. Valentino as I Knew Him. New York: Macy-Masius, 1926.
http://www.rudolph-valentino.com/