During the heyday of Rudolph Valentino, studios scrambled to find their own versions of a "sheik"–that passionate, menacing "exotic" lover women's hearts were fluttering over (who also guaranteed plenty of box office gold). Actors from the steady Milton Sills to dashing Antonio Moreno were considered worthy rivals, but perhaps the worthiest one of all was the talented, gentlemanly Ramon Novarro.
Born Jose Ramón Gil Samaniego in Durango, Mexico in 1899, Novarro's history had a dash of drama suitable for a screen "Latin Lover." His large family (Ramon was one of twelve children) was a well-known and respectable one in Mexico–his mother was the daughter of a wealthy landowner and his father ran a thriving dental practice. They were devout Catholics (three of the Samaniego daughters would become nuns) and lived a peaceful existence on their large estate. Novarro had many happy childhood memories of swimming and riding horseback with his many siblings. "I'm sorry for children who grow in the cities today," he once said. "They miss so much."
Unfortunately, in the early 1910s the Mexican Revolution created an anarchic situation in Durango, forcing the Samaniegos to flee to Mexico City. By 1916 that area also became unstable, and the parents decided their children should live with relatives in Texas. Teenaged Novarro was excited to head north, especially since he was beginning to dream of a theatrical career–a hard one to achieve in war-torn Mexico.
Instead of staying in Texas, however, Novarro headed to Los Angeles (the rest of the family would soon follow). Like thousands of young hopefuls Novarro spent much time haunting casting offices until finally being made an extra; for a few dollars a day, he slowly learned the ropes of the movie business. Since he had a fine voice he also supported himself as a singing waiter, and worked variously as an usher, a busboy, and even a model at an art school. After five years of scraping by, director Rex Ingram decided the handsome, dark-eyed young man would be the perfect rival to Valentino.
Accordingly, Novarro was given prime roles in the swashbuckling film The Prisoner of Zenda (1922) and French Revolution drama Scaramouche (1923), where his 18th century costumes fit him like a glove. No expense was spared, and happily Ingram's gamble paid off handsomely–his new find received glowing reviews. Of his performance in Scaramouche, the Minnesota Daily Star said: "It will serve to place Ramon Novarro in the very foremost rank of screen stars."
Novarro proved his acting range in films like The Red Lily (1924), where he and Enid Bennett portrayed a young couple who run away to Paris only to have their lives destroyed by the criminal underworld. Such roles cemented Novarro's status not just as an actor, but as an artist (although one fan wrote to Photoplay: "…Please, please don't attempt to be 'Jean' again. We appreciate the wonderful dramatic actor, but we love the humorous and beautiful boy").
These were all fortunate breaks for Novarro, because they made him eligible to star in one of the biggest epics of all time: the wildly anticipated Ben-Hur (1925). Fan magazines breathlessly covered every scrap of news and rumor about the production. The role of Ben-Hur himself was one of the most coveted ever offered in Hollywood. Valentino was considered a shoo-in at first, but the manly George Walsh was hired instead. After lengthy issues with pre-production, Walsh was summarily dumped and Novarro hired in his place.
The difficulties with making Ben-Hur, "the biggest movie spectacle since Intolerance," have become legendary. Aside from abrupt changes in casting and the director, the budget skyrocketed, filming in Italy was interrupted by strikes, and there were numerous on-set accidents. Action scenes frequently spiraled out of control–rumors still abound that some extras drowned during the sea battle scenes.
Novarro's performance was considered a triumph. His charismatic, virile hero had no trouble carrying the weight of such a massive production on his shoulders. There was an almost a mystical bent to his sincere acting style. One of his many rave reviews came from Picture-Play Magazine, which said: "In this age of individual expression, it is usually rather funny to see an actor assume the clothes and attitudes of a mythical hero…But Mr. Novarro's youth, spirit and very fine acting are not to be laughed away. He is earnest and he is real, and the mammoth sets, the long and rambling story, the almost overwhelming brilliance of the whole picture, have been caught and held together by the intensity of his youthful belief in his part."
The review added, "…In this day of Nordics and brisk young go-getters, his Ben-Hur is a romantic and fiery bit from the past…Mr. Novarro seems utterly foreign, very, very handsome, and most gorgeously young." Picture-Play wasn't alone in these sentiments–by this point, the genetically-blessed Novarro was developing a cult following (it's no accident that his Ben-Hur costumes emphasized his excellent physique). Having the talent to back up his elegant looks made him one of the 1920s biggest stars.
Fans–especially female fans–were forever writing to magazines asking if Novarro was married or intending to marry, and numerous publicity pieces claimed his attraction to one actress or another, or else claimed he was focused on his career. A typical blurb from Photoplay claimed: "The Italian girls went wild over Novarro, but he came back as fancy free as ever. The romantic young actor never gave them a tumble, having other matters on hand. He was too busy trying to make a success of his role of Ben-Hur."
These stories worked double duty–both as teases about a heartthrob many girls adored, and also to help Novarro stay discrete since he was actually homosexual. In that era this would've been a scandalous fact, especially since homosexuality itself was barely on Americans' radar in the 1920s. Close friends were privy to Novarro's secret although the public wouldn't be for many years. Journalist Gladys Hall once asked actor Antonio Moreno what was left for the girls now that he, Valentino, and Richard Barthelmess was married. Moreno, no doubt chuckling inside, said they should go for Ramon Novarro.
Ben-Hur would be followed by a number of fine productions that solidified Novarro's image as a Latin Lover. In The Student Prince of Old Heidelberg (1927) he was paired with Norma Shearer, and in the talkie Mata Hari (1931) his costar was no one less than Garbo herself. Talking pictures didn't bother him since he had a pleasing, lightly-accented voice, but as the 1930s wore on he grew dissatisfied with his roles, feeling they didn't suit him.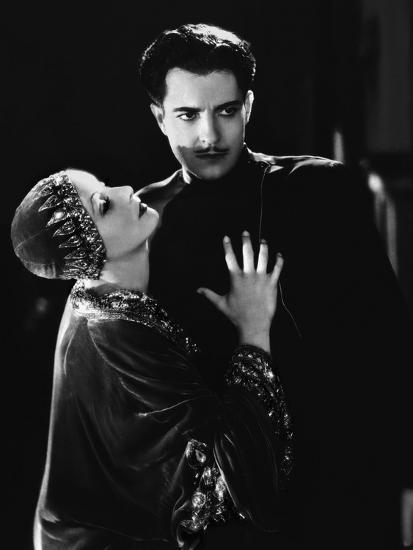 Offscreen Novarro could be quiet and reserved, throwing much of his passion into his acting. His Loz Feliz mansion was an Art Deco masterpiece designed by Frank Lloyd Wright, decorated throughout with black and silver accents. Frequently entertaining guests, it's said he encouraged them to wear black and silver to match the decor. He was passionate about music and at parties he was guaranteed to make a beeline to the piano. He was equally passionate about his Catholicism, both a refuge for him and a tie to his Mexican heritage. Throughout his life he frequently prayed the rosary and would go on pilgrimages to religious shrines. Occasionally he even considered entering the priesthood or joining a monastery (coincidentally, his final acting role would be of a priest on the TV show High Chaparral).
By the end of the 1930s, the age of screwball comedies, musicals and gangster pictures, Novarro's career began to dwindle. His contract with MGM ended and a promising Broadway show ended up being a flop. As the years ticked by, less prominent roles would gradually give way to cameo appearances. But in one respect he was luckier than some fellow silent veterans–he'd been wise with his money, and could live fairly comfortably.
In the 1950s and 1960s he stayed busy with roles in television shows like Dr. Kildare and Bonanza while trying to reconcile himself with his fading stardom. He worked on a biography at one point, remarking: "One of the things I want to tell in my book is how hard it is to grow old, when you've been at the top."
In his later years Novarro began to struggle with alcoholism–even losing his driving license–and increasing loneliness. He would hire young male companions and entertain them at his home in Laurel Canyon–still ever careful to stay discrete.
On October 30, 1968, brothers Tom and Paul Ferguson were invited to his house and the three drank the night away and played the piano. Sometime during the evening, the brothers snapped–according to some, they mistakenly thought several thousand dollars was hidden in the house and demanded their host hand it over. His secretary found Novarro the next morning, lying bloodied and lifeless on his bed in the ransacked house.
His shocking end made headlines throughout the country; the man who had lived quietly for so long had his private life exposed for the world to see. This exposure didn't end with the sentencing of the Ferguson brothers–since then, salacious books and articles have taken Novarro's life and run with it, spreading rumors and outright lies without any consideration of the human being behind the name from silent movies.
Happily, today Ramon Novarro is highly esteemed by silent film buffs as one of the era's finest talents. Those who seek out prints of Ben-Hur and Scaramouche will have no trouble seeing why. I like to think that Novarro would appreciate that he still has his fans, for this was a man who looked back on his own career with fondness and nostalgia, once saying: "We of the silent screen had created a pantomimic art that had no language barriers. We were universal."
—
Sources:
Brownlow, Kevin. The Parade's Gone By. New York: Knopf, 1990.
Davis, Lon. Silent Lives: 100 Biographies of the Silent Film Era. Albany, GA: BearManor Media, 2008.
Ellenberger, Allan R. Ramon Novarro: A Biography of the Silent Film Idol, 1899-1968. Jefferson, North Carolina: McFarland & Company, Inc., 1999.
Golden, Eve. Golden Images: 41 Essays on Silent Film Stars. Jefferson, North Carolina: McFarland & Company, Inc., 2001.
Soares, André. Beyond Paradise: The Life of Ramon Novarro. University Press of Mississippi, 2010.
https://archive.org/stream/pho28chic#page/n282/mode/2up
https://archive.org/stream/motionpicturenew00moti_4#page/n528/mode/2up
http://www.archive.org/stream/pictureplaymagaz24unse#page/n84/mode/2up/search/Ben-Hur+review