This is the final day and final post of Sheik Month. I hope you've enjoyed this look at Roaring Twenties sheik culture, and thank you kindly for stopping by! And I'm looking forward to what posts the spring and summer will bring (hint: a trip's on the way!).
In 1926, Rudolph Valentino's stardom was at its height. At the young age of 31, the Italian screen idol's name was known around the world, there were several box office successes under his arm, and women adored him so passionately that public appearances often ended with his hat being stolen and buttons torn from his coat. Today, we look at portraits of this near-mythical figure dressed to tailored perfection with the light shining off his patent-leather hair, and wonder what thoughts were behind that meditative gaze. Perhaps he would surprise us–a few months before appearing in what would be his final film, The Son of the Sheik, Valentino spoke frankly about his romantic image: "The whole thing is false and artificial. You can't go on and on with it…One appears to be what others desire, not what one is in reality."
Be that as it may, in The Son of the Sheik Valentino proved that he could, indeed, "go on and on with it," at least for one last time. Five years after appearing in his iconic role of Ahmed Ben Hassan in The Sheik (1921), he agreed to appear in the film's sequel–despite his dislike of being pigeonholed as a "sheik." Douglas Fairbanks's Zorro films had brought sequels into vogue, and the fans, naturally, had been clamoring for more desert romances. And perhaps Valentino also agreed to the film since this time he could show his range–even having a dual role.
While similar in plot, watching the two dramas back to back reveals striking differences–rarely has the surge in technical advancements throughout the 1920s been more apparent. The decent cinematography and detailed sets of The Sheik seem very "last decade" compared to the fine camerawork and elegant lighting of its big-budget sequel. And thanks to the new panchromatic film stock, in The Son of the Sheik Valentino is finally allowed to show off his natural, darker-toned skin. His firmly-established sheik image perhaps softened any lingering miscegenation concerns. Vilma Banky appears creamily fair against his tanned "Arabian" complexion, unlike in The Sheik, where Valentino and Agnes Ayres practically matched.
The love scenes were also a departure from the comparatively mild The Sheik–and can certainly be filed under "fan service." Closeups capture every detail of Valentino and Banky's lingering kisses in moonlit ruins, and one suspiciously close angle shows Valentino running his lips along Banky's arm, as if breathing in an intoxicating scent. The word "smokin'" comes involuntarily to mind.
Another departure was the more overtly adult content, such as a torture scene and the infamous "rape scene," far more vividly implied than in the 1921 drama. Valentino stalks toward Banky like a leopard moving in on his prey, while extreme closeups of her horrified eyes leave no doubt what's in store. The menacing sheik audiences were hoping for back in 1921 (yes, hoping for, strange as it sounds today) had finally arrived–censors be darned.
Designed to be a crowd pleaser with its blend of drama, romance, action and humor, The Son of the Sheik is determined to please even the fussiest Valentino fans, with a bit of special effect wizardry to boot (most noticeable in scenes with Ahmed and his father, both played by Valentino). His near-godlike status is evident in his first scene, where he makes an ethereal entrance via a flashback by Yasmin. Her longing face dissolves into a closeup of Rudy in all his burnoosed glory–rather like a cinematic nod to his romantic symbolism.
And as if to counter male critics who rolled their eyes at this sleek-haired "foreigner's" idol status, Ahmed's unapologetically red-blooded, fighting like a wildcat and swordfighting like the most devil-may-care Fairbanks. While unarmed and faced by a group of snarling, knife-wielding enemies, he tosses off his coat and faces them without hesitation. No mere "pink powder puff"–to use his least favorite phrase–is this.
Valentino had come a long way in the past five years. "Sheik" roles he may have come to despise, but he was rarely more handsome and charismatic than he is as Ahmed, his physique shown off in flattering costumes and his intense gaze hypnotizing the audience along with Vilma Banky. Expressions flicker across his face with the subtlety and clarity that only the finest silent actors could accomplish. It's doubly fortunate that the golden-haired Banky, who had been paired with the actor in The Eagle (1925), was his costar. Her lithe body and expressive features are a good match for Valentino's dark elegance, and her energetic "Oriental" dancing adds playful eroticism.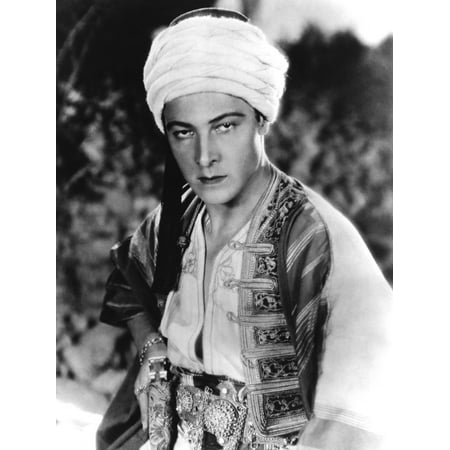 By the second half of the Jazz Age both the movies and their stars were growing more self-conscious. There had always been films parodying "moving pictures" and various screen idols, of course, but there was a new maturity to the well-oiled industry and a fresh awareness of pop culture. This is evident in The Son of the Sheik's winks to its predecessor, especially in Agnes Ayres and Valentino's reprising of their 1921 roles (both are aged with makeup).  Both actors seem to be having fun together, and delightfully so.
After a rousing finish, the film ends with shots of Valentino and Banky on horseback, riding off across the dunes. When the film was released in August 1926, the legions of excited fans didn't suspect that the strong, virile young man on the screen would pass away before the month was out. But what a remarkable final work he left for them.
Let's end this piece with this thoughtful letter, submitted by some ardent Valentino fans to the January, 1927 issue of Photoplay, detailing their experience witnessing his funeral train pass by. Few pieces I've seen have better captured the mystique Valentino held, and the deep affection his fans had for their romantic idol.
In the silent majesty of death, Rudolph Valentino passed this way for the last time.  It was a breathless hot day–a desert day of blazing barren hills and metallic sky, and a stillness was over everything. The tracks on which The Golden State Limited passes through the town were lined with a motley array of cars–flivvers elbowing the luxurious equipages of cattle barons and oil magnates. At the station were little hushed groups of Mexicans. We, however, did not stay to see the train come in, preferring a last glimpse of it after the crowd had left.

So, at the first long, low blast of the approaching locomotive, we sped into the desert to a certain vantage point.
Only the rattling of dried fronds of yucca broke the stillness as we waited there, in the shadow of the mesa's rim. The white silence, more impressive than any panoply of sable mourning, was like an imperative gesture from the Desert God of Death standing like a knight with arms at the gateway of the Unknown World.

At last it came, the long, mournful wail of the locomotive as it rolled out upon the western trail. For a moment the train which bore Valentino on his last pilgrimage was etched a narrow black streak against the bosom of the towering hillside; then it swept slowly around a great curve. We strained our eyes for a last glimpse, a last fleeting visualization of him upon whom the final curtain had fallen with such tragic sadness. Through a blur of tears we saw a swaying string of cars fade out through the portal of painted hills.

"Hail and farewell, Valentino!" one of us said in a husky, unsteady voice; but the hearts of both cried out that poignant Spanish word of parting: "Adios, Rudy, adios!"
—