Okay, in this context "everybody" means "a decent selection of the silent film community." And if you're part of that decent selection, you might've already heard: Undercrank Productions is bringing two Douglas MacLean features to DVD!! With the help of fine fans like yourself, of course.
I'm sensing a lot of you are thinking: "Wait, who?" An understandable question. In an age when someone like Harry Langdon is deemed obscure, Douglas MacLean is practically obsolete. But that's exactly why two of his surviving features should find new audiences. Like the work of other obscure figures such as Alice Howell and Marcel Perez, it shines a new light into some of the hidden nooks and crannies of early cinema.
Historian Ben Model described Douglas MacLean as "one of the comedians you went to see while waiting for Buster or Harold to come out with a new picture." Once a popular star, MacLean's specialty was light comedies, the kind Hollywood's most famous Doug used to make before turning to swashbuckling. (New York Herald described MacLean as "ably filling the place left vacant by Douglas Fairbanks." I dare say there was a physical resemblance too, which MacLean presumably didn't mind.) A familiar face to Jazz Age audiences, he had a likable, all-American go-getter sort of character. Some of his films had a decent helping of thrills, too.
Offscreen MacLean was apparently full of fun, a talkative, energetic chap who loved making people laugh. A Picture-Play Magazine writer, after interviewing the young actor, said "Now, if any one asked me the color of Douglas MacLean's hair or his eyes or how tall he is or how, old, I'd look even blanker than usual. I haven't the faintest idea…All that I remembered was that he had made me laugh so hard that I ached from the back of my neck to my toes." Motion Picture Magazine described him thusly:
He has the exuberance and the willing smile of Fairbanks; the ready speech, humor and restlessness of Cohan. But his personality is his own. One can't imagine him as having affaires d'amour or jazzing his nights away. He is the embodiment of a popular young university man, a clean-cut athlete, a loyal friend, a devoted son, and husband who will be faithful thru the years–of strong character and fine achievement in any walk of life, whatsoever.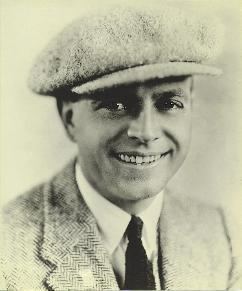 The son of a Methodist minister, MacLean had tried out a career as a bond salesman before deciding his passion was acting. After studying at the American Academy of Dramatic Arts, he spent several years in stock companies (including a role in the Peter Pan that starred Maude Adams) then sought bit parts in films. Appearances in Mary Pickford and Dorothy Gish films caught the eyes of producers, leading to his starring in his own features–23 in all from 1919 to 1927.
Of MacLean's features, only two survive in full, One a Minute (1921) and Bell Boy 13 (1923). These are the films the always-excellent Undercrank Productions wants to get restored, scored, and in your possession, hopefully by January. So please consider donating to the MacLean DVD Kickstarter page–even $5 will help. The project is already off to a wildly successful start (Undercrank has amassed a very loyal following) and the more funds that are raised, the better this double feature DVD will be. And Douglas, of course, will thank you!
—