UPDATE 7/18/19: And the winner of the Charley Bowers Blu-ray set is….
David Grigg
Congratulations David! We will be in touch. I hope you enjoy these Charley Bowers shorts as much as I do! And thank you to all who entered–this was a popular giveaway!
Calling all silent comedy fans!! Flicker Alley has a very exciting new release: a Blu-ray set of 17 shorts by the one and only Charley Bowers! And when I say "one and only,"
I'm not just using a cliché–obscure comedian Bowers was truly one of the silent era's most, err, creative individuals. Not familiar with this highly unique genius? (Admittedly, most people on the planet are not. Sadly.) Allow me to give you a brief introduction:
A former cartoonist, Bowers became the head animator for the 1910s Mutt and Jeff cartoon series before becoming fascinated with stop motion animation. In the mid-1920s he created a series of comedy shorts starring himself as a vaguely Keatonesque character with a love of crazy inventions. These shorts were basically showcases for his "Bowers process," as he grandly dubbed his stop motion animation skills. In the trades they were advertised as "Whirlwind Comedies."
And what a whirlwind of marvelous imagery Bowers created. Here's what I wrote about his work in my article "The Quirky Charm of Charley Bowers" for Forgotten Comedians Month:
Loopy, inventive, and cheery, his "Whirlwind Comedies" are surprisingly easy for a silent era newbie to enjoy (although I'd save There It Is for…later). Bowers's odd creatures, crazy machines and silly stop-motion gags have a way of sticking in your mind when more conventional slapstick can quickly fade. I have fuzzy memories of various Snub Pollard or Billy Bevan shorts, but the image of Bowers's swarm of tiny Model Ts newly-hatched from eggs is as clear as a bell. The shorts are also some of the era's most unusual time capsules, drawing on the Twenties' fascination with machinery and the labor-saving devices and showcasing the whimsy that still pervaded the humor, comic strips, and stories of the time.
So if you'd like to see those tiny Model Ts hatching from eggs, or watch live cats growing from pussywillow branches, or meet an odd little bug named MacGregor–all via the wonders of 1920s stop motion–then boy oh boy, is this the film set for you!
Aside from the fun of the animation, the shorts themselves are delightfully imaginative and well paced, forgotten masterpieces if you ask me. Having been a fan of Bowers for years (my first visit to a film festival was mainly to attend a rare program of his shorts!), I couldn't be happier that Flicker Alley is putting out this new set. From their website:
Forgotten for decades, a few of [Bowers's] films were miraculously rediscovered in the late 1960s by archivist Raymond Borde of the Toulouse Cinémathèque in France. Over the past ten years, thanks to additional materials from the Library of Congress, Národní filmový archiv, EYE Film Institute, Cinémathèque française, MoMA, and many other archives and collectors throughout the world, the legacy of Charley Bowers has been brought back to life using the most recent restoration technologies. Lobster Films scanned the best available sources with their original intertitles, and performed an extensive digital restoration of each short. Featuring recent additions to the previous 2015 release, The Extraordinary World of Charley Bowers includes new scores from Donald Sosin and Neil Brand.
The shorts included are The Extra Quick Lunch (1917); A.W.O.L. (1918); Egged On (1926), one of my favorite comedy shorts ever by the way; He Done His Best (1926); Fatal Footsteps (1926); Now You Tell One (1926); A Wild Roomer (1926); Many a Slip (1927); Nothing Doing (1927); the wildly surreal There It Is (1928); Say Ah-h! (1928); Whoozit (1928); It's a Bird (1930); Believe It or Don't (1935); A Sleepless Night (1940); Wild Oysters (1940); and Oil Can and Does (1940).
And of course, there's bonus materials too:
Looking for Charley Bowers: A short documentary by Christophe Coutens on the resurrection of Charley Bowers' career in France.
Image Gallery: A slideshow presentation featuring rare production stills and behind-the-scenes photographs.
Souvenir Booklet: Featuring an essay written by film historian and author Sean Axmaker.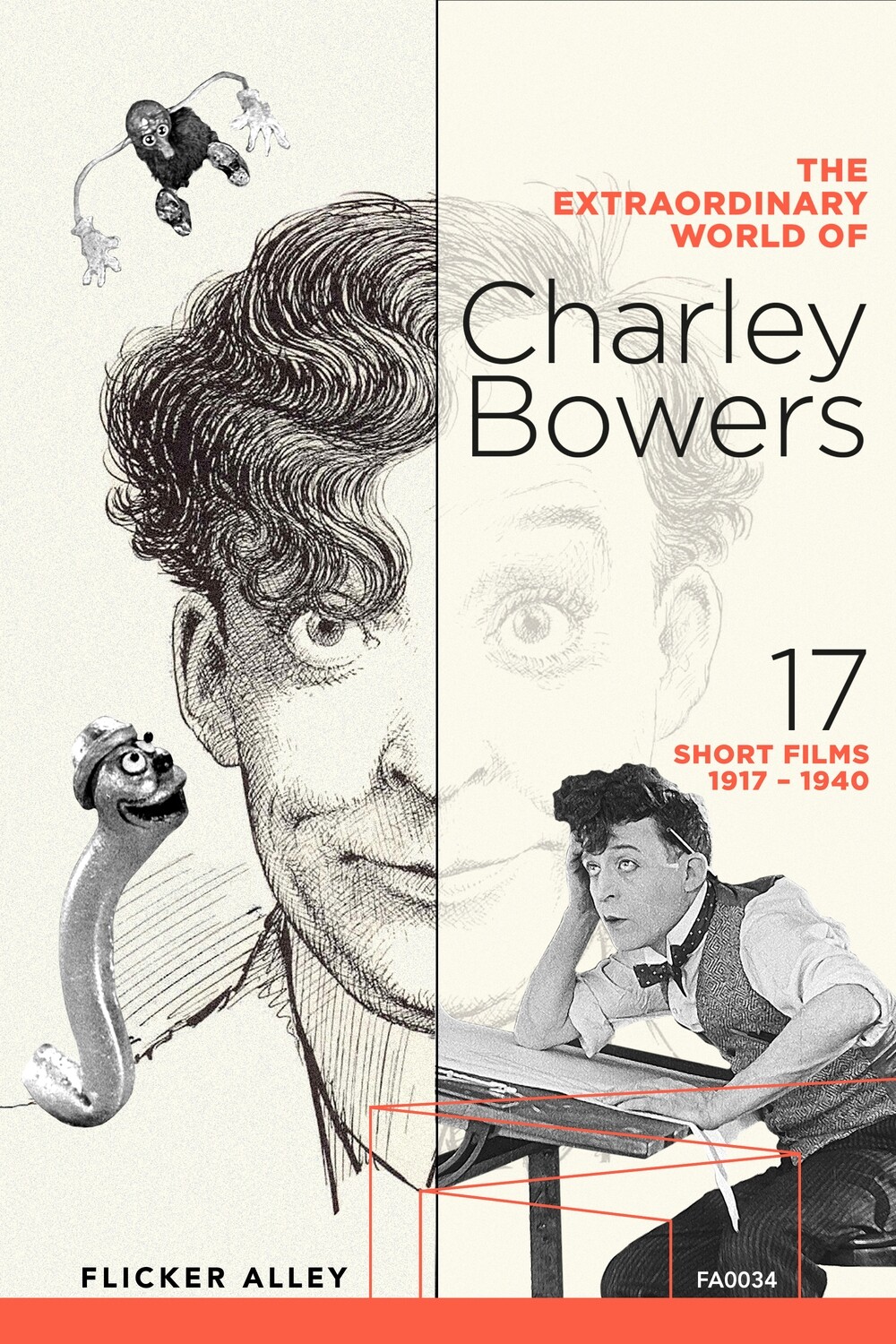 Intrigued? Take a look at this preview:
So! Since I'm one of the biggest Bowers fans you'll ever meet (I know, I know, you meet so many) I had to share my joy about this set. So I'm going to be conducting a drawing and giving away a copy right here on Silent-ology!
To enter, simply leave a comment below! One lucky winner will receive a Blu-ray copy of The Extraordinary World of Charley Bowers from Flicker Alley. I'll be conducting the drawing next week and will post the results at the top of this page. I'll then get the winner in touch with Flicker Alley–easy peasy!  
And now–comment away!
—