Need a little pick-me-up after a long, hard day? Looking for some good old-fashioned slapstick nonsense that's blissfully short? Have a particular craving for, say, a 1900s French comedy short that your friends (and possibly you) have never heard of?
Well that's easy enough–The Policemen's Little Run (1907) it is!
Like most extra-early films, the premise of this little French farce is delightfully simple. A cop spots a dog stealing a leg of lamb from a butcher shop–sacre bleu!–and his entire police force ends up chasing the mutt through the streets of Paris. Towards the end, their own cowardice gives the dog the upper hand.
This adorable classic is more than a little reminiscent of the Keystone Kops–although it obviously came first. But the connection might not be just a coincidence. Apparently, Mack Sennett was a big fan of French comedies and they were huge influence on the zany energy in his own shorts. During his sojourn at Biograph one of the first scenarios he wrote was for The Curtain Pole (1908), where he played an excitable Frenchman who causes chaos. At some point, Sennett may very well have seen The Policemen's Little Run and taken that image of the bumbling, racing police force to heart.
One of the (many) reasons I love this short is the way the actors get into their "inept cop" roles. I mean, just look at the little cop racing along near the front here–he's a maniac, man, he's going to make slapstick happen or die trying, and I love it: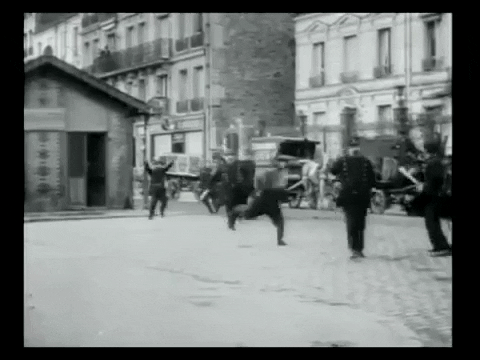 Also glorious is how half the time the dog is just sauntering across the street, as if knowing these silly proto-Keystoners could never catch him (he reminds me a lot of Luke the Dog, too):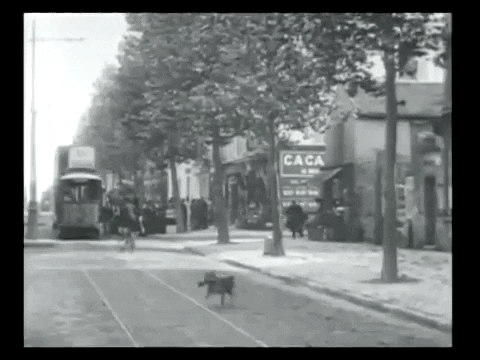 Being a 1900s film, there are of course some of those lovely trompe-l'œil sets. When I see these, my heart grows three sizes: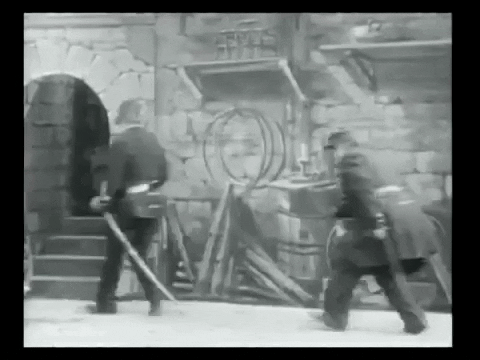 And during this particular film my heart grew five sizes when I saw the special effect for the dog "climbing a building":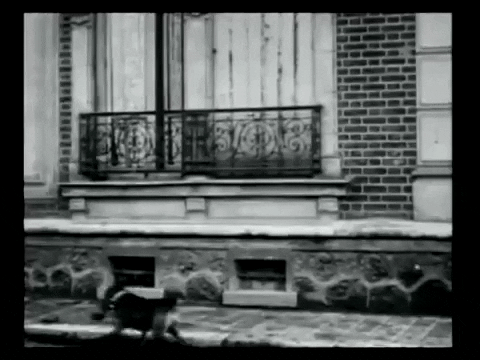 D'aaaawwwww! I'm pretty sure watching that can cure a cold.
I gotta give props to the painstaking actor in the middle, who's really trying to sell us on the idea that he's climbing a three dimensional building: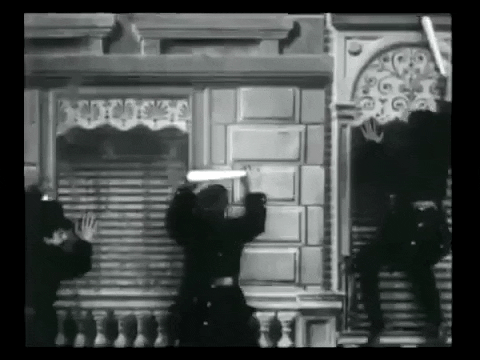 I don't know your name, sir, or where you lived or how your life turned out, but I'm going to toast you with the craft beer I'll be enjoying later.
The Policemen's Little Run was directed by Ferdinand Zecca, one of those great, obscure cinema pioneers. Born to a Parisian family who made their living in the theater, Zecca directed his first film for Pathé in 1899 and went on to make a number of imaginative, Méliès-ish works like À la conquête de l'air (1901) and Ali Baba et les quarante voleurs (1902). His Histoire d'un crime (1901) is considered one of the first crime dramas, and his stately 44-minute Gospel story La Vie et la passion de Jésus Christ (1903) is likely his most famous work.
In lieu of more GIFs–since I don't want to spoil the fun of taking in the other glorious scenes in The Policemen's Little Run–here's a nice upload by the Youtube channel Change Before Going Productions (their archive is a treasure):
And now that you've enjoyed it, why not see it again with a guest or two? Little kids will probably love it…! Just saying.
—