"Princess Nicotine"! Doesn't that sound like a relic of old-timey kids' entertainment that appears woefully inappropriate to modern audiences. Fortunately, the landmark early short Princes Nicotine, or The Smoke Fairy (1909) only slightly fits that description. (By the way, I wasn't sure at first which fairy in the film was Princess Nicotine, but apparently, the older fairy is the Princess. The More You Know!)
This strange but charming showcase for early "trick effects" was made by J. Stuart Blackton, also the brains behind animation milestones like Humorous Phases of Funny Faces (1906) and The Haunted House (1907). In a breezy five minutes we're shown a bachelor relaxing at home, filling his pipe before growing sleepy and setting it down as he dozes off. As he snoozes, two fairies hop out of a cigar box and decide to play a prank on him. He awakens, discovers the prank, and a mischievous tit for tat ensues. (And yes, that approximately 12-year-old actress is smoking a cigarette in that one scene.)
Back in 1909 Princess Nicotine was highly regarded for its delightful special effects–it was called "a dainty trick film"–and even today they look surprisingly well done.  Most surprising are probably the shots of the tiny fairy on the table, which were not done with double exposures. A mirror was set up in the background to catch the actress's reflection just so, making it appear she was on the table. Thus, the actor carried on while looking at an empty table, and the actress did her thing while standing on a platform next to the camera. Quite clever!
Double exposures were used for the shots of the fairy in the bottle, and of course a fine stop motion sequence is used to show a rose turning into a cigar. First, the bachelor's matches and cigarettes magically jump into his cigar box–think of how much time just those few seconds would've taken, and how the animators still made the effort to give that last cig a little personality!
It's those little details that represent dozens–hundreds–of tiny motions that always impress me the most. They could've easily just stuck with the scene of the rose petals turning into a cigar, for instance, but chose to go those extra ten miles.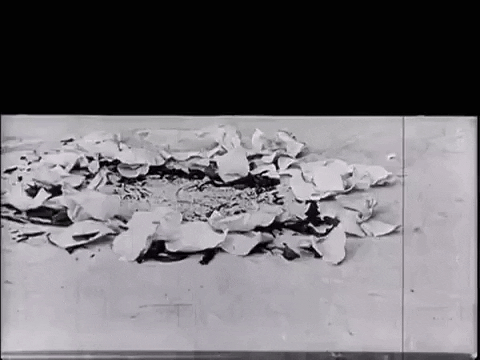 Stop motion was used for other effects too, such as the shot where the bachelor tries to catch hold of the fairy's arm and pulls a rose out of the cigar box instead (although for the life of me I can hardly make out the "fairy arm," maybe because the detail isn't clear enough in the print I've seen), and a lost scene where the fairy hands the man a cigarette.
And while they might get overlooked in favor of examining the camera effects, the oversized props really help complete the illusion of those tiny fairies. The property man sure did a swell job–I appreciate the detail in that painted corncob pipe, and the way the edges of the cigar box seem just a little worn.
Princess Nicotine was very popular in its day and was often cited as an exceptional example of special effects. A number of articles explained how it was made, one Scientific American article declaring, "The effect of Princess Nicotine when thrown upon the screen is so startling it defies explanation by the uninitiated." It cemented Blackton's status as one of the cleverest filmmakers of his time and no doubt inspired quite a few other special effects technicians and would-be animators.
You can view all that cleverness for yourself below–and what a refreshingly clear print, although it's still hard to make out that teensy fairy arm!
—
Tidbits:
The younger fairy was portrayed by Gladys Hulette, who would later star in one of my favorite films ever, Tol'able David (1921).
The "bachelor" was Paul Panzer, who would act in around 350 films throughout his long career. From the 1930s-50s he mainly worked as an extra and uncredited bit player. He pops up in such classics as Casablanca, Mildred Pierce and Strangers on a Train. 
Fairies were extremely popular during the Victorian and Edwardian eras, often portrayed as dainty but also naughty and mischievous–especially in J.M. Barrie's Peter Pan stories. Princess Nicotine is a perfect example of the fairy folklore prevalent in the 1900s.
The prop cigar box is labelled "Perfecto," which is a specific type of cigar that tapers at both ends and bulges a bit in the middle–apparently not an easy style to make. The brand is La Tunita, made in Puerto Rico (when it was briefly called Porto Rico, too).
In 1893 famed American actress Lillian Russell starred in a comic opera that was also called Princess Nicotine, about the marriage between an attractive cigarette maker and a wealthy tobacco farmer. Her costar was then-newcomer Marie Dressler.
Enjoy this rare behind-the-scenes photo showing how they made the smoke come out of the rose:
My main source for this article is the wonderful book A Century of Stop Motion Animation: From Melies to Aardman by Ray Harryhausen and Tony Dalton. Trips to IMDb and viewing surviving stop motion silents on YouTube helped fill in some gaps. My other sources were:
Talbot, Frederick A. Moving Pictures: How They Are Made and Worked. Philadephia: J.B. Lippincott Company, 1912.
Gardette, L. "Some Tricks of the Moving Picture Maker." The Nickelodeon, vol. II, no. 2, August 1909.