Back when I first got into silent comedy, it wasn't long before I became a fan of Roscoe "Fatty" Arbuckle. I'd heard his name all my life thanks to the infamous 1921 scandal (you've probably heard he was acquitted), but he always seemed like more of a shadowy figure than a real man, a sort of "character" from that misty, quasi-mythical era of "Classic Films." Thanks mainly to the wonderful DVD set of Arbuckle comedies by CineMuseum–I plug them because I love them!–I discovered that this "Fatty" was not only a very real individual, but genuinely funny, very funny. And like all fans in the know, I only call him "Roscoe."
So I was thrilled to hear that comedy historian Steve Massa, author of Slapstick Divas and Lame Brains and Lunatics, has a brand new book about this great comedian's career: Rediscovering Roscoe: The Films of "Fatty" Arbuckle. (Don't you love that cover?) If there's anything I enjoy as much as watching silent comedies, it's reading about silent comedies–and studying the colorful, hardworking personalities behind them.
Fresh research on Roscoe Arbuckle's films is well overdue. Other Roscoe-themed tomes, such as the constantly-referenced and extremely unreliable The Day The Laughter Stopped by David Yallop, invariably delve into his biography and the scandal. But Roscoe's many films? "Oh yeah, those crude bits of slapstick existed, we guess. So what did Virginia and Roscoe totally say to each other behind closed doors, again?" (By the way, I swear The Day The Laughter Stopped's popularity is partly because of the author's catchy name. The Yallop book. Yallop. YallopYallopYallop.)
Massa's scholarly book is the antidote to all this gossipy distraction, finally bringing attention back to the busy filmography that earned Roscoe Arbuckle the title of the #2 most popular comedian of the 1910s–after king Charlie Chaplin himself. It reads like a breath of fresh, orange-grove-scented-early-Hollywoodland air.
Massa presents us with a film by film tour of Roscoe's career, from his earliest 1909 shorts with the Selig Polyscope Company all the way to his Depression-era talkies (we're talking over 150 films, folks). Each film entry includes a cast list, summary of the plot, information about the directors and supporting actors, contemporary reviews and newspaper blurbs (when available) and hearty helpings of trivia. Even lost films are thoroughly researched, giving the reader a clear idea of Roscoe's evolution from "funny 'fat boy' doing slapstick" to "thoughtful, witty director."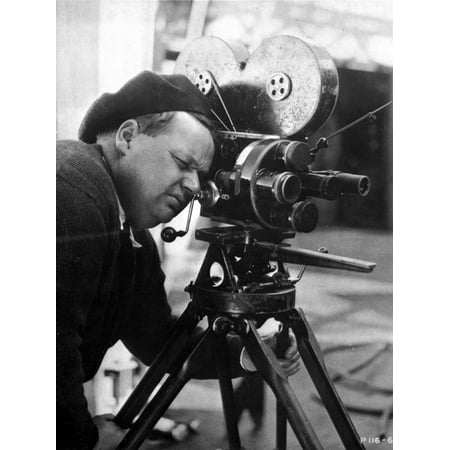 Just as much careful attention is devoted to the post-scandal years, when Roscoe was temporarily banned from the screen but still directed quietly behind the scenes, and I really appreciated learning new facts about the Vitaphone shorts he made just before his death in 1933. It's astonishing how much information turned up–we are blessed. 
I was delighted by the scads of photos, too, some of which were amazingly rare–a snapshot of Roscoe in a 1900s stage appearance, for instance, and stills from those elusive Seligs. Even the biggest silent comedy fans will encounter stills, portraits and ads they never knew existed. The whole book is a delightful series of discoveries.
Rediscovering Roscoe: The Films of "Fatty" Arbuckle is an amazing piece of research, bordering on encyclopedic. At a hefty 688 pages (just imagine the time it took to put together!) you're definitely getting your money's worth. We can well imagine how touched Roscoe would be to know his career has finally been covered so thoroughly–and respectfully.
I'm happy to award Rediscovering Roscoe 10 out of 10 Porkpie Hats. It is available from BearManor Media and can also be purchased on Amazon. Many thanks to Steve Massa for providing Silent-ology with a review copy, it's very much appreciated!
Now get to reading, folks!
—