So you think you have a decent understanding of Soviet cinema. Clever uses of montage? Check. Operatic storytelling? Check. Propaganda? Check. Maybe a tragic ending? Check. Those shots of people with alarmingly big smiles, usually because a tractor's on the way to the collective farm or something? Double check!
Then along comes a film like The Extraordinary Adventures of Mr. West in the Land of the Bolsheviks (1924) (maybe the long title parodies dime novels?) and turns many of those stereotypes on their heads.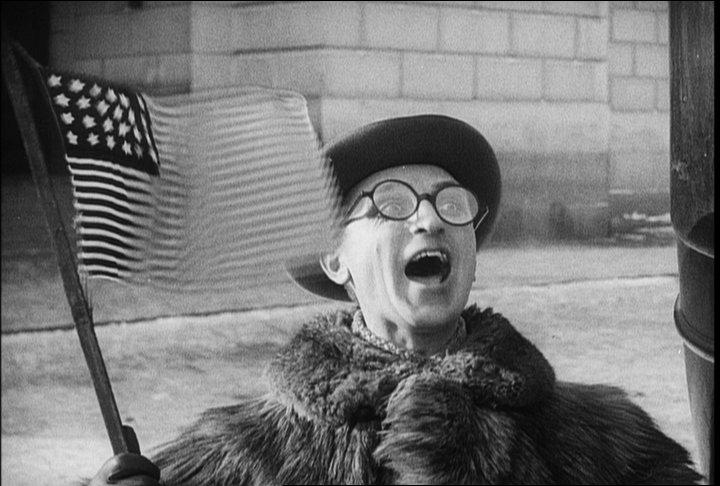 …Or does it?

Mr. West belongs to a genre of Soviet cinema that many people overlook–comedy. Russia loved comedy just as much as the rest of the world, especially imports (or bootlegs) of Lloyd, Chaplin, Arbuckle and Keaton films. (After a trip to Moscow, Pickford and Douglas Fairbanks reportedly said that Buster's films were the most popular of all.)
Mr. West is not only a surprisingly fresh example of Soviet satire, but it's historically significant, too. The esteemed teacher Lev Kulshov (who I've discussed a few times this month already) had risen to a challenge. Being one of the founders of the world's first film school, Kuleshov wanted to prove that film schools were actually necessary (and distinct from theater schools). He would do this by working with his "collective" of like-minded cameramen and actors to produce their first film–Mr. West. The group had already spent three years poring over film stock and were eager to demonstrate their filmmaking chops–with very little resources. (Kuleshov later recalled "the heating system wasn't even working yet" in their new studio.)
Kuleshov recalled:
A decision on this question was extremely important. There were then very few adherents of a pure cinema method…Everyone defended the theatricalization of the cinema, the Moscow Art Theatre was law…Respect in our collective had fallen, but the most difficult task was to show that new actors, specifically trained for film-work, were far better than the psychological-theatrical film-stars. And it was necessary to show this practically, without films, without essential apparatus, without special staffs, and chiefly without production experience.
Out of necessity, much of Mr. West used outdoor settings, especially snowy city streets (if you ask me, this also adds a very "Russian" flair). Simple black backgrounds also came in handy for the establishing scenes.
The cheery, slightly prissy "Mr. West" of the title (gee, could he be from a western country?), is introduced as "executive director of the YMCA." Lest we think this career was decidedly entirely at random, it's useful to know that the YMCA did a great deal of work in early 20th century Russia, giving lectures, building public gyms, sponsoring student groups and workers' clubs, and starting Bible studies. It's thought that it helped Russia's Christian heritage survive the Soviet regime. Mr West's YMCA connection establishes him as an inoffensive soul and highly moral–and perhaps, according to the current Soviet ideology, a bit "behind the times."
Hoping to "civilize" the Bolsheviks, who American magazines paint as fur-wearing, sickle-carrying brutes, Mr. West journeys to the Soviet Union with a mountain of luggage and his trusty servant, Jeddy. Jeddy is a stereotypical American cowboy, manly and quick on the draw–a big contrast to the timid Mr. West. Jeddy gets some action-packed scenes around Moscow, which was both crowd-pleasing and showed off the filmmakers' versatility.
The flag-waving Mr. West, in his Harold Lloyd spectacles and pricey-looking fur coat, quickly becomes a target for an organized gang of thieves. They all have names like "The Dandy" and "The Countess"–the latter maybe being a throwback to the old tsarist aristocracy (they still can't be trusted!). After one of their cohorts steals Mr. West's briefcase, they realize that the naive American is steeped in anti-Bolshevik propaganda. Amused, they decide to "confirm" Mr. West's worst expectations and swindle him out of "every last dollar".
The majority of the film follows their elaborate con job as Mr. West is given a tour of the "horrors" of Bolshevik rule and the Countess attempts to seduce him (the honorable YMCA director remains faithful to his wife). Elaborate "Bolshevik" costumes are also involved:
Fortunately, and I don't think this is really a spoiler, Mr. West is saved by the Soviet secret police. With the gang safely in jail, it's finally Propaganda Time: Mr. West's given a tour of thoroughly modern Moscow's universities and theaters, culminating with a view of a huge rally of "real Bolsheviks" (like, Trotsky is there, you guys.) Thrilled by the magnificence of the Soviet state, Mr. West instantly sends this subtle message to his wife: "Burn all the New York magazines and hang a portrait of Lenin in my office. Long live the Bolsheviks!"
Now, if you're at all familiar with The Extraordinary Adventures of Mr. West in the Land of the Bolsheviks (1924), it's probably because of this still:
This gal with the startlingly toothy smile is Alexandra Khokhlova, who eventually married Kuleshov. She grew up immersed in the art world and by the 1920s was specializing in avant-garde acting. Some writers went into raptures over her–one called her a "wan and exquisite Persephone"–and others sniffed that she looked "emaciated." As we can see in Mr. West, Kuleshov liked stylized gestures and movements and the talented Khokhlova could embody them easily. If you remember nothing else from this film, you'll remember Khokhlova.
Another detail you might find striking are a few glimpses of this enormous, lovely, ethereal, fairytale-wedding-cake of a building. It doesn't seem real–is it a matte painting in the background? No, this was the very real Cathedral of Christ the Savior, a gorgeous Russian Orthodox house of worship.
Begun in the 1810s, it was commissioned "to signify the gratitude to Divine Providence for saving Russia from the doom that overshadowed Her." It took 40 years to build. Tchaikovsky's 1812 Overture premiered there, tsars and tsarinas would be crowned there–but only for so long. In the 1920s, atheism became the official position of the Soviet state. That and the cathedral's proximity to the Kremlin put it in danger. In 1931, citing a need for revenue, the stately building was demolished, with plans to replace it with a giant Palace of Soviets topped with a massive statue of Lenin (I'm not kidding).
Thanks to WWII, the gaudy Palace was never built. In the 1990s, plans took shape to rebuild the mighty cathedral, funded by donations from Russian citizens. By 2000, the cathedral was fully rebuilt and just as beautiful as it was in the early 20th century. A happy ending, for a change.
The Extraordinary Adventures of Mr. West in the Land of the Bolsheviks was a hit at the time, and today it's considered one of the best Soviet comedies. Yet Soviet authorities never fully warmed up to Kuleshov. While he would receive honors here and there, he was constantly criticized and had difficulties making films. Perhaps we can find clues when we scrutinize Mr. West–particularly how it dares to include a surprisingly affectionate portrayal of the "naive" Mr. West.
—