Hold the candlestick phone! Another new book on silent comedy is available to brighten our bookshelves? And it's the first-ever book on the Keystone Cops?!
Why yes indeed! I'm happy to help spread the word that the fine new book CHASE! A Tribute to the Keystone Cops is now available from BearManor Media. It represents a dream team effort by a number of historians and writers, all compiled by editors Lon and Debra Davis. Many of the names you probably know already: Sam Gill, Joe Adamson, Michael J. Hayde, Rob King, Mark Pruett, Chris Seguin, Paul E. Gierucki, John Bengtson, Randy Skretvedt, Rob Farr, Brent E. Walker, Mark Wanamaker, Stanley W. Todd, Lon Davis himself, and Lea Stans.
Wait–Lea Stans? Why yes, that is me, and I'm very proud to announce that this is the first time my writing is appearing in a good ol' turn-the-pages book! If you don't mind indulging my extreme pride for the rest of this paragraph, to say that this is an important step for me is…a massive understatement. Oh, if you only knew! Becoming a writer has always been a goal ("I want to write chapter books" is what I used to insist as a kid–remember when "chapter books" were such big grown-up things?). I majored in English in college–there was no beating around the bush about majors for me–and after graduating quickly discovered silent film. After several years of hard work juggling various writing projects with various jobs, here we are! Let's see what the future will bring…!
Getting back to CHASE!, even if I haven't contributed a chapter I would be recommending it highly. Being an obvious Keystone fan, a tome like this is a necessity. As the backcover blurb notes: "There have been many worthy books on the Keystone Film Company, Mack Sennett, and Mabel Normand–not to mention the countless volumes on Charlie Chaplin. But, despite, their ongoing popularity, there has never been a full-length book devoted solely to the Keystone Cops. At least, not until now."
And I'd say it was worth waiting for! It has 300 pages of detailed info on every Cops-related topic your heart could desire, from the background of Edwardian comedy to Keystone filming locations to sound era "revivals" of the Cops. There are biographies on all the (verifiable) Cop performers, a Cops filmography, and of course, hundreds of photos, clippings, and other illustrations.
And there are surprises. For many, the biggest surprise will probably involve the above still, which we all know and love as the image of the Keystone Cops. Many of us have also heard that the short it came from, In the Clutches of a Gang (1913), is lost. Or is it?! Believe it or not, a fragment does exist and Lon Davis tells us all about it in Chapter 3.
This project was spearheaded by Davis, the historian and writer of Silent Lives. He and his wife Debra (they're their own dream team!) also wrote King of the Movies: Francis X. Bushman, the first biography of the early star, and compiled Stooges Among Us, which has a similar multi-author format to CHASE! They both worked hard on this newly-essential Cops book, and I'd say they should be justly proud of the results.
So! Wondering what the earliest "Cops films" were (so to speak)? Curious to learn about forgotten Cop actors? Looking to separate Cop facts from Cop myths? If you don't become a Keystone Cops expert after taking in this book, I will personally eat it for you. It can be easily ordered on Amazon and also through its publisher, BearManor Media (where it's available in hardcover and softcover). Contributing to this book was a blast, and I truly hope you enjoy it!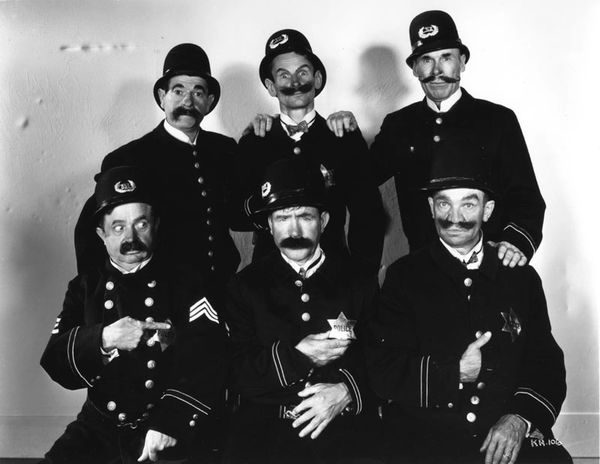 —