Judy Canova, Minnie Pearl, Louise Fazenda, Gale Henry, Mabel Normand, Lucille Ball in those I Love Lucy episodes where she blacks out teeth and wears hillbilly clothes–all of these talented ladies had fun bringing "country bumpkin" characters to the screen. Some did it part time (like Mabel) while others turned their rube characters into a full time career (like Minnie).
And those pigtails, funny hats and gingham dresses have hollered "bumpkin" to us ever since. But how often do you hear about their direct ancestor, Sis Hopkins? This great-grandmother of movie hillbillies was the creation of comedy pioneer Rose Melville. Her Sis was a very familiar character to audiences, debuting in the 1890s and appearing regularly in theaters across America for two straight decades.
The impact of the teenage Sis, with her skinny pigtails sticking out in different directions, shapeless gingham dresses and clodhopper shoes, can probably be sandwiched somewhere between comic strips and James Whitcomb Riley poems. Her look might seem more alarming than adorable today, and her stage monologues can sound pretty dated (from a 1920 version: "Here I be, sassy as a woodchuck and twicet as handsome. You know who I be, don't you? I'm little Sis Hopkins from Skinny-marink Crossroads down in Toadhunter Holler"). But she did leave a unique imprint on early Americana, not to mention several generations of actresses, so I'd say it's worth getting to know her.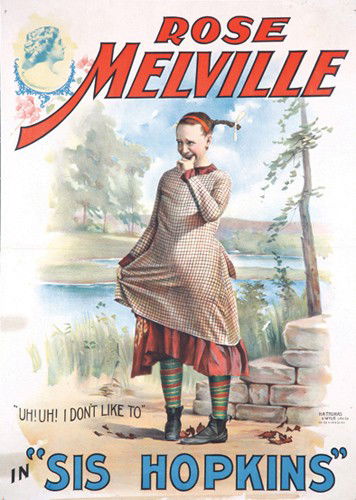 Rose Melville was born Rose Smock in 1867, and was from Terre Haute, Indiana. Her older sisters were on the stage, and Rose joined them not long after finishing her education. They formed a travelling stock company specializing in song, dance, and comedy. In 1894 she had the good fortune of appearing in her brother-in-law's "country rube" play Zeb, where she played a character named Sis Hopkins. She enjoyed portraying the gangly Sis so much that she decided to keep her going. "She just grew," Melville would say. "She is an evolution."
Melville's comical Sis would appear in a few stage sketches, usually as part of an ensemble comedy, but she invariably stole the show. In 1899 Melville began starring in her own vaudeville sketch, Sis Hopkins' Visit. This went over so well that playwright Carroll Fleming expanded it to three acts. And thus the play Sis Hopkins began its wildly successful 20-year run, with Melville giving around 5000 performances in all. Perhaps no other actress at the time was so fully identified with a single character. She would have occasional imitators, but folks agreed that no one could beat her unique talent.
Why was Sis Hopkins such a phenomenon? Finding descriptions of what, exactly, the play was about is surprisingly tough–most newspaper and magazine writers assumed their readers had of course seen it, making further descriptions unnecessary. Plus, Melville would elaborate on her character throughout the years–Sis in 1915 was probably pretty distinct from Sis in 1899.
Following the tradition of burlesque comedy, Sis Hopkins personified much of the rube humor common on the stage and was also kin to the familiar "lazy kitchen slavey" characters. Apparently she made her entrance by popping out of a pile of hay in a barn loft, and delivered monologues in a thick "yokel" sort of accent, all "orters" and "gits" and "thars." Sis was the sort of cheerily confident soul who didn't have much education, but made up for it with common sense and catchy homespun sayings. The story sometimes showed her getting her heart wrung by a "city chap," and apparently involved outbursts of song, too. A sample of the dialogue circa 1899:
GERALD: Who are you?
SIS HOPKINS: My name is Sis Hopkins, I'm Jim Hopkins's gal what jest moved into Jonsing's house down at the crossroads. [Sis looks bashful and twists the corner of her apron.]
GERALD: Oh, yes. I remember that.
SIS: Yes sir. My maw sent me over to your house to see if you uns wouldn't lend we uns some knives and forks and plates and cups and saucers, a half-pound of raisens, a little tea and coffee, your clothes line and clothes pins and a looking glass and an axe. [She sidles pigeon-toed across the stage.]
GERALD: Are you quite sure you haven't forgotten something?
SIS: Yes, sir. My maw said she's like to borrow your clock till ourn gets fixed.
Melville gave a number of interviews throughout the years, explaining the genesis of "Sis" and how she got her inspiration. This 1911 interview from the San Francisco Examiner is happily to the point:
"I'm not a country girl, but I used to visit in the country and I've seen just such costumes and braids in Indiana. Yes, the red and yellow hosiery isn't a bit exaggerated. I've seen worse! I made all the clothes myself and I have to keep my hair short for the braids."

"What is it," I asked her, "that has kept 'Sis Hopkins' alive so long?"

Pat as if she had rehearsed the answer, Miss Hopkins replied:

"Heart interest!"

"Meaning?" I persisted.

"Meaning simply," declared Rose Melville, "that 'Sis Hopkins' has a heart where most other plays and characters of the same kind have a vacuum."
Audiences certainly agreed with Melville. This description from a Utah magazine does a good job of putting the attraction to the play into words:
By the 1910s, parents who had seen Sis Hopkins  as children were taking their own kids to see it. There was also merchandise in the form of dolls, aprons and hair ribbons–even a magazine called Sis Hopkins' Own Book and Magazine of Fun (issues are quite rare today). In 1916, Melville signed with Kalem to create a series of one-reel shorts, twenty in all, bringing her beloved character to the big screen–a move probably considered a no-brainer. None of the shorts exist today, and while they were popular we can imagine that part of the comedy was lost since audiences couldn't hear Melville's hillbilly vocals.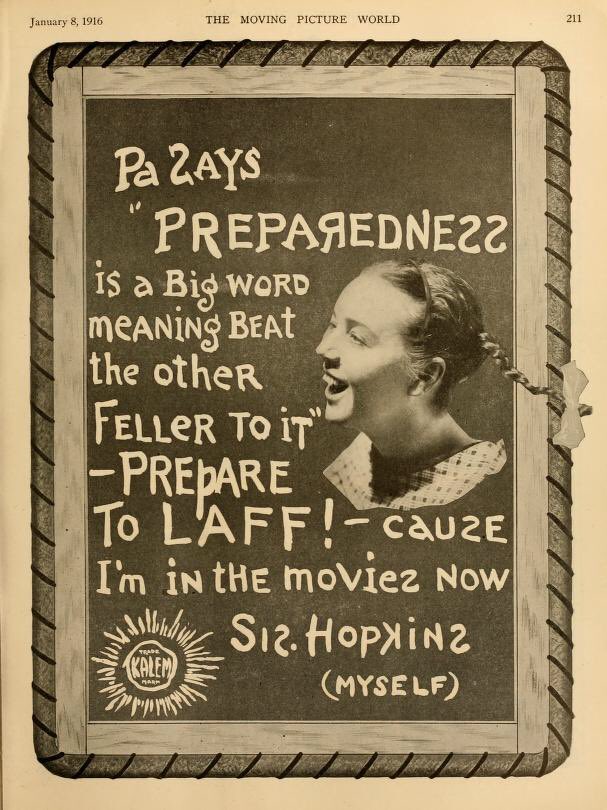 In 1919 no one less than Mabel Normand starred in Goldwyn's Sis Hopkins , a winning combination in the eyes of many exhibitors. It was apparently a "slapstick farce," said to "revive pleasant recollections of the past decade and…bring delight to the newer generation of followers of the silver screen." It, too, is unfortunately lost today.
Now and then Melville hoped to try out different stage roles, but audiences would have none of it, preferring those unruly pigtails to anything else–even though she was now pushing fifty years old. She told an interviewer:
If anyone had told me twelve or even three years ago that I would still be playing Sis Hopkins today I would have laughed at them…I simply can't understand this play. Every year I look for some symptoms of its having contracted the fatal disease of disfavor. But in vain…I believe it is immune and might go on forever like Mr. Tennyson's little brook. There is something about it that appeals to a whole lot of people. Of course it doesn't reach the cognoscenti. No high brow ever pays to see it. It lives on the tears and the laughter of women and children. If playwrights would only pay more attention to the tears and the laughter of women and children the theater would be better off.
Sis didn't quite live forever. Melville retired in the 1920s, and thanks to her smart business sense could apparently live comfortably with her husband (she was married twice). Memory of Sis Hopkins was still strong in the 1940s, when Judy Canova starred in a 1941 film version of the play. But that memory has faded since then, receding into a fuzzy past that most people only read about. But while photos of the original Sis can look a bit grotesque to us today, there are echoes of her long-ago popularity in every screen bumpkin's gingham dress or funny flowered hat.
Sources:
"Sis Hopkins and Her Many Imitators." The San Francisco Examiner, October 15 1899, page 29.
"Sis Hopkins." Hopkinsville Kentuckian, Hopkinsville, Kentucky, May 26, 1899.
Crowell, Bertha C. "Talented Actress in Private Life and in Her Famous Character." Los Angeles Herald, December 2, 1903.
Toole, J. Lawrence. "On the Sticktoitiveness of Rose Melville." San Francisco Examiner, December 3, 1911, page 73.
Massa, Steve. Slapstick Divas: The Women of Silent Comedy. Albany, Georgia: BearManor Media, 2017.
https://www.tribstar.com/news/lifestyles/historical-perspective-rose-melville-at-the-grand-opera-house-in-1917/article_edd0276d-c1d6-5361-a2bc-b8a4458e380c.html
https://chroniclingamerica.loc.gov/
http://www.monologuearchive.com/h/hare_007.html
https://lantern.mediahist.org/