Ah, the haunted house. The sheer imaginative possibilities of an old, creepy, atmospheric mansion/castle/farmhouse have made it irresistible to many filmmakers. In fact, it's been showing up since very dawn of film, thanks to its limitless possibilities for tinkering with primitive special effects. At last, ghosts could disappear and reappear before our very eyes–or turn into bats or skeletons at a director's whim.
Skits and plays about haunted houses weren't uncommon on 19th century and early 20th century stages, and amusement park haunted houses apparently existed at least since the 1900s. It's not surprising, then, that they were destined to become fertile ground for comedy gags.
Most major comedians–and a number of minor ones–took their turns exploring haunted houses, from Buster Keaton to Max Linder to Laurel and Hardy. At one point Harold Lloyd was taking his turn, although he was only able to complete the two reels by the Lord's grace. I'm not kidding–back in 1919, we came mighty close to Lloyd being considered "a rising comedy star of the 1910s whose career was tragically cut short."
In late August 1919, after the first half of so of Haunted Spooks was complete, Lloyd went to the Witzel Photography Studio in Los Angeles to pose for some promotional pictures. This was done pretty regularly by actors at the time, and Lloyd had just signed with Pathe recently and needed to launch some ad campaigns. In one of the photos he held a prop bomb in his right hand, lighting a cigarette with the fuse (not an unheard-of comical pose for a comedian). Bizarrely, the "prop" bomb turned out to be real, exploding and destroying Lloyd's thumb and index finger, badly burning his face and temporarily blinding him. While he slowly recuperated, Lloyd feared his film career was over. But as he recalled later: "Still I thought, 'Life is worth while. Just to be alive.' I still think so." And thus he persisted, eventually recovering and returning to his studio to finish Haunted Spooks. For the rest of his life he would wear a special prosthetic glove to hide his injury. While he'd refer to the accident occasionally, he never publicly mentioned losing fingers.
So let's get back to the short itself. The plot has a little less to do with hauntings than, uh, legal complications: we're introduced to The Girl (played by Mildred Davis) who naturally is an heiress. Silent comedies were rife with people either hoping to get an inheritance or finding out they're the heirs to a fortune. A common thread in some Sennett comedies, for instance, were schemers discovering that an "ugly duckling" (often played by Louise Fazenda) was actually an heiress. Maybe, at a time when many Americans had grown up laboring on little farms or working long hours at repetitive jobs, the idea of simply being handed a fortune was irresistible.
In this case, the Girl is willed a Southern mansion on the condition that she A) gets married, and B) stays in the house for a full year first. Unbeknownst to her, a scheming uncle wants the fortune for himself, so he decides to "haunt" the house and scare her away. This was another common theme–or maybe practicality–of the silent era: the ghosts and other spooky goings-on aren't actually supernatural, but hoaxes designed to keep folks away from a house. As in Buster Keaton's The Haunted House (1921), the answer to the "hauntings" is revealed right away. Presumably, the actual supernatural wasn't an easy fit for a two-reeler, or audiences like were more likely to suspend disbelief if stories were based on classic ghost tales (like The Legend of Sleepy Hollow).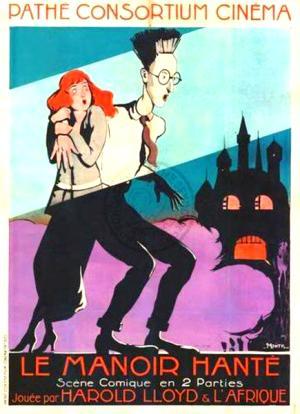 In the meantime, Harold (the Boy) is going through the tragic drama of "losing another one of the only girls I've ever loved" (his words) and melodramatically attempts to end it all, with repeated failures. (This was considered pretty uproarious in the early 20th century.) One spectacularly weak attempt causes a run-in with the Girl's lawyer, who happens to be looking for an eligible young man to be her husband. The Boy seems to fit the bill–his attempt to get run over by the lawyer's car aside–so he and the Girl are quickly married and head to the mansion, where a number of frightening experiences await.
As a whole, Haunted Spooks is another witty, if somewhat dark-humored, two-reeler by Lloyd, although its haunted house sequences are less arresting than the imaginative scenes in Keaton's The Haunted House, or the suspenseful scenes in later comedies like The Laurel-Hardy Murder Case (1930). Most of the time we see characters reacting to danger and hopping in and out of boxes, instead of getting to see creative, creepy imagery. Naturally there were the obligatory "black people are afraid of ghosts" gags, although they fortunately didn't last too long, and we at least get to see a bit of Blue Washington, the tall actor who played the butler. I did think little Sunshine Sammy running around in an oversized pair of "ghostly pants" was pretty cute, though.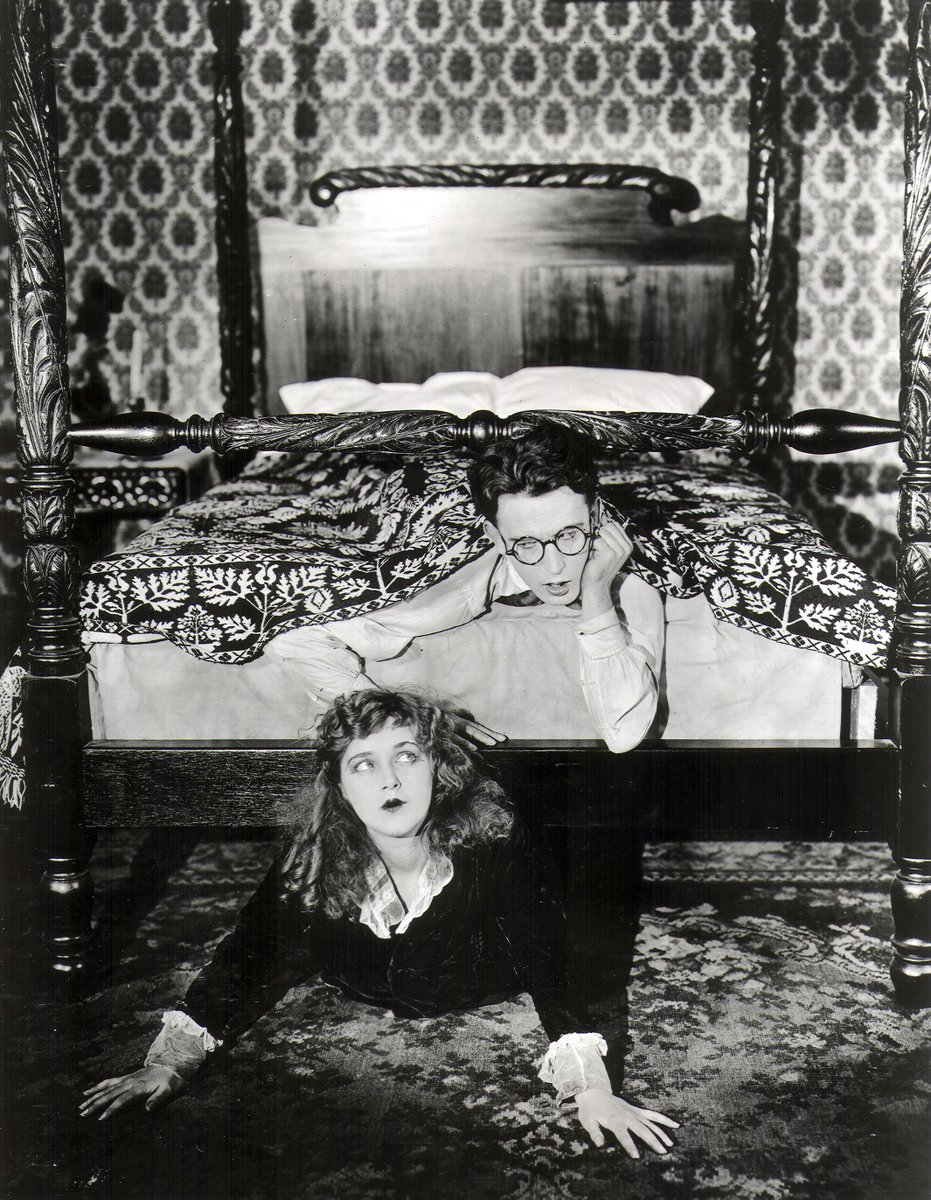 For more "haunted house" posts, check out my thoughts on Max Linder's Au Secours! (1924), Buster's The Haunted House, and the classic The Cat and the Canary (1927). And, there's always the very early surreal classic, The Haunted House (1907)!