Nosferatu (1922) fans such as myself (and, hopefully, yourself) are highly aware of its iconic status, its gothic cinematography, and its limitless ways to inspire today's filmmakers. It may not be as jump-out-of-your-seat scary as some later horror films, but we highly appreciate how it broke ground and managed to create a beautifully haunting atmosphere.
Oh, and we're also well aware of this guy:
This acquired taste in human form is Gustav von Wangenheim, the source of a few unintentional chuckles in the early scenes of the movie. But maybe that's a little harsh. As I wrote in my Nosferatu review, Gustav's babyface and habit of laughing just a little too long actually make his later scenes with Count Orlok pretty effective–if a character that happy-go-lucky starts getting scared, it must be for a good reason.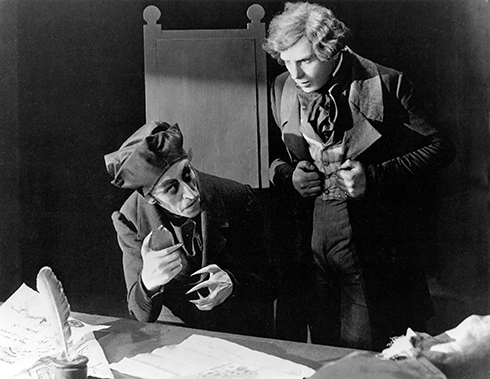 In fact, his acting left enough of an impression that I decided to take a closer look at this young actor. How did he come to star in Nosferatu, and what happened to him thereafter?
Let's just say his story…threw me for a loop.
Now, I remember looking into von Wangenheim's career years ago and found it a challenge. Maybe a lot of sources were in German at the time. Fortunately a fan named Melynie, who created a Henry B. Walthall tribute site, was also impressed by Gustav's Nosferatu performance and decided to do some research. She wrote on her webpage about Gustav: "This page is thus an attempt to gather information on the actor/playwright/director garnered from books on theater and Soviet exiles and screen shots from his available film appearances to create a somewhat substantial tribute to pop up on search engines if anyone else wants to learn more about the man who played Hutter." It did pop up in my search results, and thank heavens, because it's an extremely handy, detailed summary of Gustav's rather dramatic life and career, one of the most thorough I could find.
Born in 1895, Gustav's birthname was a real mouthful: Ingo Clemens Gustav Adolf Freiherr von Wangenheim. His parents were distinguished theater actors, especially his father Eduard, who would be quick to jump into the motion picture industry–from 1910 onwards he would appear in 200 films. Like so many talented German actors, Gustav would work at Max Reinhardt's Deutsches Theater in Berlin, which he was able to join when he was ten. In 1914 he began appearing in films (probably given an "in" by his father). His movie career went on hold when he went to serve in WWI, but he was soon discharged due to an eye injury.
He had roles in the key German Expressionist work Homunculus (1916) and Ernst Lubitsch's comedy Kohlhiesels Töchter (1920), and also dabbled in avant-garde theater. A politically-minded type from an early age, he was drawn to radical ideas–especially communism–and once wrote a song criticizing Dadaism as an "artists' hoax."
Perhaps through his connections in Germany's artsy community, he got the role of Thomas Hutter in Nosferatu. Filmed mainly on location in Lubeck by the small, newly-founded studio Prana-Film, Nosferatu gleefully ripped off Bram Stoker's Dracula and was supposed to be first of several films exploring the occult. Gustav's performance, while it seems a little awkward or over-the-top to us today, did fit the Expressionist-style acting familiar to him from working at Reinhardt's theater. The style was most effective during the haunting scenes with Count Orlok, where we quickly sympathize with Hutter's rising fear. Ultimately the film didn't do as well at the box office as hoped (mainly because Prana-Film blew a lot of its funds on its ad campaign) and a lawsuit by Stoker's widow folded the little studio for good. Von Wangenheim likely never suspected that future generations would mainly associate him with the unusual film.
He subsequently starred in Schatten–Eine nächtliche Halluzination (Warning Shadows, 1923), another wonderfully German Expressionist film, and one where his performance is more restrained. Around this time he officially joined Germany's Communist Party (the KPD), becoming the head of the Central Sprechchor, or "spoken chorus." Throughout the 1920s, while not acting in films he helped churn out communist propaganda, writing plays with earnest titles like Erinnert Euch! (Remind Yourselves!)
In 1931 he married fellow communism enthusiast Inge Franke and founded a Communist theater company, Die Truppe. His plays were mainly geared toward the lower middle class, and were of course highly anti-capitalist. This attracted the ire of the rising Nazi party, and once they came into power in 1933 Die Truppe was banned. Gustav and Inge first fled to Paris, but then decided to take their pro-communist leanings to the next level by moving to Moscow.
Continuing their revolutionary aspirations, they worked in an agitprop theater and Gustav directed the propaganda film Kampfer (1936) about the burning of the Reichstag. Gustav's film had German communists be the heroes of the story, with the Nazis painted as perverts. Naturally it was banned in Germany, but it did do brisk business elsewhere (until being pulled from circulation when Hitler made his 1939 pact with Stalin). While diving deep into the Red side of society, Gustav witnessed political purges in Moscow, which was a shock to him at first. Inevitably, it wasn't long before he found himself under the microscope of his fanatical comrades. During a 1936 purge he was interrogated and he signed documents denouncing his colleagues Carola Neher and her husband Anatol Becker as being "anti-Soviet." Supposedly the documents also said the two were not, in fact, planning on assassinating Stalin, but Becker would still be executed, and Neher would spend five years in the Gulag before passing away.
At the end of World War II, a slightly chastened Gustav and Inge were able to return to Germany, settling back in Berlin. There Gustav became head of the Deutsches Theater of his youth, now in disrepair and damaged by bombs. His most popular production was Hamlet, with a cast of fellow former exiles. Hamlet was portrayed as pro-socialist, naturally. He was ousted from the theater only a year later after the dismal premiere of Sturmischer Lebensabend, an official Soviet play.
In the following years Gustav directed a few more films, such as Und Wieder 48! (48 All Over Again!, 1948) which included a role for his father Eduard (even though their political views must've really clashed–Eduard was pro-Nazi). Despite their years of being anti-bourgeoisie, he and Inge lived comfortably in their spacious Berlin apartment, where Gustav apparently received guests while wearing a velvet dressing gown and monocle and often served caviar. In 1954 their marriage would be annulled, and Gustav continued living in Berlin until his death in 1975. He was survived by his son, Freidel, and twin girls Elisabeth and Eleonora.
When all is said and done, it was a rather quiet end for a man who had always been drawn to the new and radical. When we consider where these interests lead him–all the way to the frightening purges of Soviet Russia–I can't help thinking that it puts parts of Nosferatu in a symbolic light, especially the sense of dread of what we know awaits Hutter in Count Orlok's dank castle.
—
For more details on Gustav von Wangenheim's life and career, I recommend Melynie's tribute page to him–it's an excellent piece of research and I don't think I could've written this article without it.