There seems to be a common stereotype, fondly believed by too many people to count, that women in "the olden days" weren't allowed to do…much of anything, really. That while not being squeezed into rib-cracking Victorian corsets (even when it wasn't even the Victorian era, apparently) and dressed in twenty layers of clothing, they were basically confined to fainting couches or forced to stitch samplers. Why they weren't just stuck in closets and taken out once in awhile to make sure they didn't loosen those corsets is beyond me.
Based on my various attempts to comment on corset-related or otherwise women-in-olden-days-related threads on social media (said attempts being obviously authoritative and scientific), any sort of mild pushback on this black-and-white view is…surprisingly unwelcome. Of course women had a rougher time back in the day–of course they had less freedom and fewer options outside of marriage, as is patently obvious to anyone who takes a look at history. But *she puts forth meekly* that doesn't mean it was abnormal for women to, you know, do things. Like ride horses, or play sports, or get jobs, or even own stores or patent inventions. Yes, even with corsets on. By the way, normal corsets weren't that–
"What!" folks reply, shocked to the cores over such unwelcome and offensive information. "Are you trying to say women weren't repressed? Because they were." *Drops mic they carry around for just such occasions*
"Of course I'm not saying that–just that your idea of a 'typical' meek, seen-and-not-heard early 20th century woman is a little off the mark." And here's where I could've added: "Have you heard, for instance, of stuntwoman Helen Gibson?"
Not too many people have, but today you'd think she'd be more of interest than ever. While a number of women did various stunts in the silent era–look at the ladies of Keystone, for instance–Gibson is recognized as the first professional American stuntwoman to work for moving pictures.
Hailing from Cleveland, Ohio, she was born Rose August Wenger in 1892 and she had four sisters. Her father noticed a tomboyish streak in her and was happy to encourage it. In 1909 the seventeen-year-old Rose saw her first Wild West show and was immediately enthralled. Deciding she wanted a future in these shows, she found an ad from the 101 Ranch Real Wild West Show that was looking for "girl riders." She applied, learned to ride, and was soon practicing how to do stunts. In 1910–having wasted no time–she performed in her first show in St. Louis.
A year later, while performing in Venice, California the 101 Wild West show suddenly folded. Unfortunately, this left its performers stranded–and fortunately, they were in close proximity to numerous film studios. Even more fortunately, these studios were always on the lookout for skilled horseback riders to appear in their westerns–a very popular genre in the 1910s. The famed Thomas Ince himself decided to hire the company to appear in his films, which were being filmed in Topanga Canyon. It's thought that Rose's first appearance was in Ranch Girls on a Rampage (1912).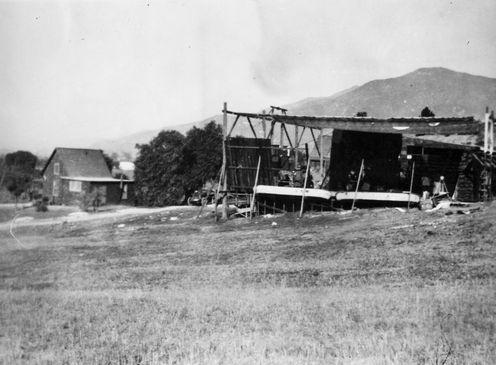 While not using her skills for films, Rose used them in Los Angeles rodeos, making quite a name for herself. She won numerous races (including the "Standing Woman" races) and performed numerous feats of trick riding. Along the way she met fellow rodeo star "Hoot" Gibson, who similarly dallied in films while not competing in world championship rodeos. The two teamed up and performed together throughout the western U.S. and Canada. Eventually they married (although some sources hint that they tied the knot so it was easier to get hotel rooms while they travelled).
In 1915, Rose was working for Kalem when she started doubling for star Helen Holmes in the adventure serial The Hazards of Helen–obviously cashing in on the success of Pathé Frères' The Perils of Pauline. Producers found that not only did audiences like seeing women in action films, but their stunts seemed even more risky. Writer Creighton Hamilton wrote about the trend in Picture-Play Magazine:
Complacently you are leaning back in your favorite theater seat, when suddenly you give a gasp and hold onto the arms of your chair. There, right before your eyes, is being enacted a scene that you would not attempt for all the money in the world. And, to make it all the more thrilling and awe-inspiring, it is a girl that is taking the frightful chance!
A popular series, each 12-minute Hazards episode revolved around the quick-thinking Helen's exploits, which usually called upon her to jump from a horse onto a moving train, swing from a bridge on a rope, or similar daring feats. Holmes did perform some of her own stunts, but Rose was called upon for some of the most dangerous ones, such as leaping from a station roof onto a moving train. Of this stunt, historian Arthur Wise wrote: "What such stunts require is an inbuilt awareness of the speed of the moving object. During the course of a leap where a moving object is concerned, the spatial relationship between take-off point and landing point changes…Helen Gibson had this sensitivity to spatial relationships between objects in motion, but it is certainly not a gift shared by all stuntmen."
When Holmes left Kalem to start her own production company, Rose–now christened "Helen Gibson"–became the replacement star. In a mere couple of years she would star in 69 episodes, often revolving around trains and the sort of heart-stopping stunts that could be performed with them. Titles like Danger Ahead!, At the Risk of Her Life, The Perilous Swing (all 1915) and One Chance in a Hundred (1916) hinted at the thrills in store.
In no time Helen became a popular action star, advertised as "The Most Daring Actress in Pictures." The ads for her series promised, "Astounding Ingenious Exploits…Thrills and Audacious Daring." One fan magazine earnestly wrote: "So many and so varied have been the stunts performed by this girl with the nerves of steel that the budding scenario writers whose ambition it is to write her plays have gone to extreme lengths in their hunt for new material." One stunt, they claimed, would have her jump her horse from the top of a small cliff onto a train moving just below. "It might be done," she reportedly said, "but my horse would have to be blindfolded, and that would spoil the thrill."
In 1915 Moving Picture World reported on Helen's latest stunts–it wasn't for nothing that she was also nicknamed "The Railroad Girl": "Helen pursues a train by automobile then leaps to the car, where a struggle with an escaped convict ensues…[While on a runaway train] Open switches, an open drawbridge, and an oncoming train on the same track are among the breathtaking dangers which Helen narrowly escapes…Helen drops ten feet from the girder of a suspension bridge to a speeding train." And here's a description of a significant sequence: "…Trent, a tramp telegrapher, beaten unconscious by a pair of crooks, is rescued by Helen just in time to save him from death under the wheels of a train…" Well well, so people were occasionally threatened by death on railroad tracks in silent films–and not just damsels, either!
The Hazards series ended in 1917 and Helen went to Universal, where she mainly appeared in Western two-reelers. Her popularity stayed high, however, to the point where her egotistical husband grew jealous. They would separate in 1920, and Helen would attempt to turn producer.
The early 1920s turned out to be a rough ride. Helen's first film as her own producer was the feature No Man's Woman, but unfortunately it made her go bankrupt. Getting hired by the Spencer Production Company a year later, her performance in The Wolverine won her a contract but before she could start her second film she suffered a ruptured appendix. By this point her popularity was on the wane; after going back to rodeos and circuses for a few years, she eventually returned to Hollywood and started doubling for popular stars like Marie Dressler and Louise Fazenda.
Stunts, bit parts, character roles, and extra work kept Helen busy over the following decades. One higher profile role was as a former silent film actress in Hollywood Story (1951). She had married studio electrician Clifton Johnson in 1935, and in the '50s they moved to Lake Tahoe. Helen suffered a mild stroke in 1957, but even this didn't keep her from working in films. Her last appearance before retiring for good was as an uncredited "townswoman" in The Man Who Shot Liberty Valance (1962).
Helen passed away in 1977 at the ripe age 85–perhaps her last, most impressive feat after a lifetime of risk-taking. And I'm sure she'd be surprised by–and probably laugh at–our rather rigid stereotypes of women "back in the day."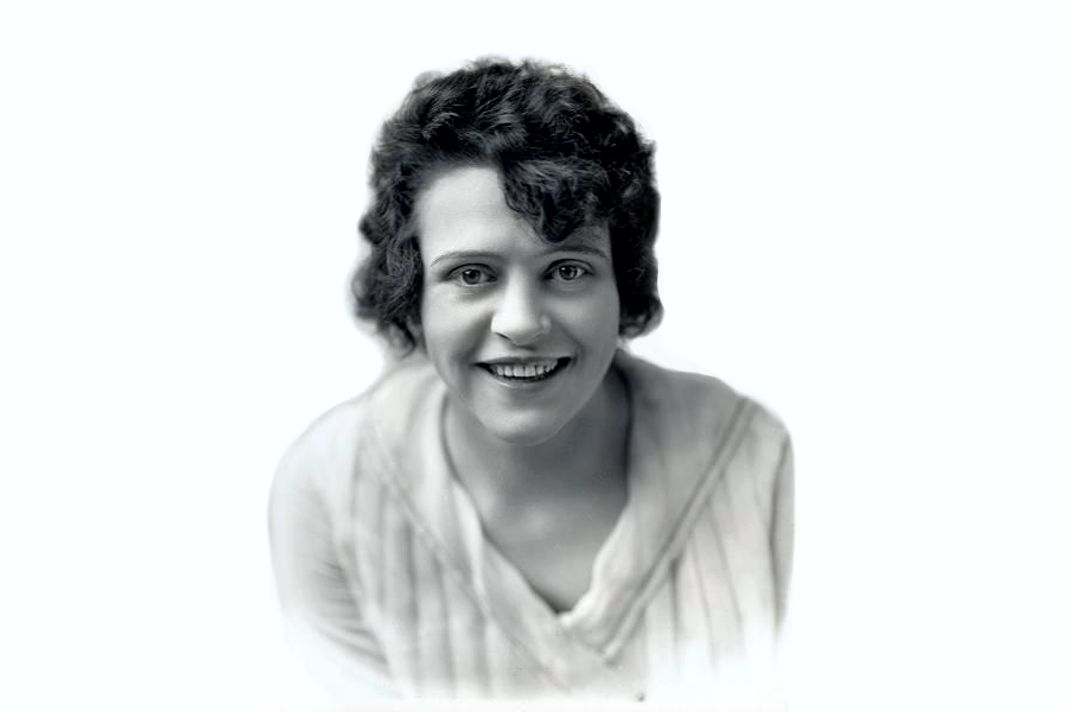 Sources:
Hamilton, Creighton. "Girls Who Play With Death." Picture-Play Magazine, May 1916.
"'Helen' Has a Birthday." Moving Picture World, November 27, 1915.
https://lantern.mediahist.org/
https://wfpp.columbia.edu/pioneer/ccp-helen-holmes/
https://en.wikipedia.org/wiki/Helen_Gibson
https://www.imdb.com/name/nm0316993/