Throughout 2020, numerous theaters and film festivals have faced unprecedented shutdowns and cancellations thanks to COVID-19. With so many film lovers stuck in their homes, many hardy souls have devoted time and resources to offering streaming films and online shows. In my opinion, one of the best shows has been the delightful weekly Silent Comedy Watch Party, hosted by historians Ben Model and Steve Massa. They've been streaming live every Sunday at 2 p.m. for the past 12 months!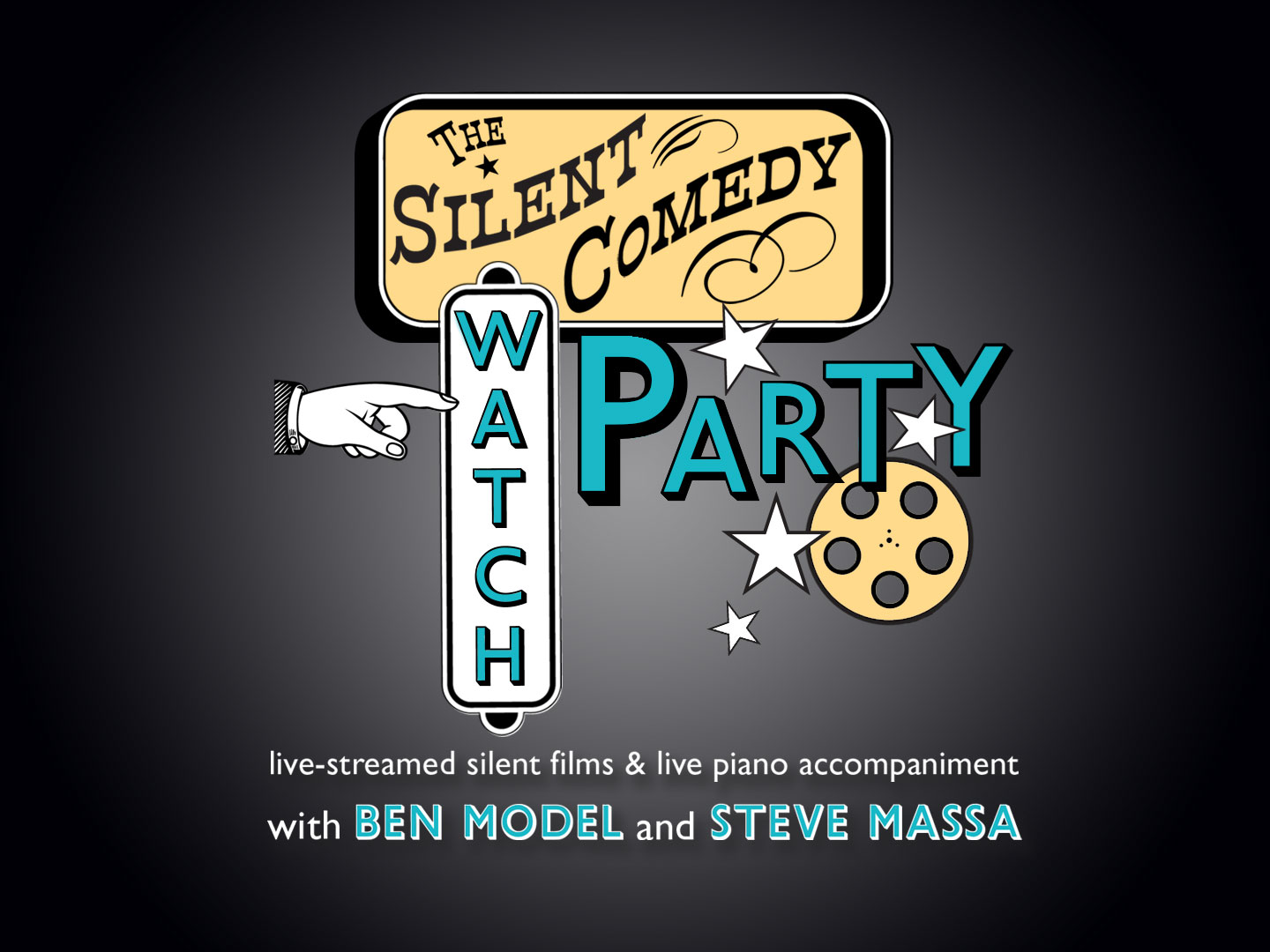 Logo by the talented Marlene Weisman.
Each Watch Party showcases 2-4 silent comedy shorts, some starring famous names like Chaplin and Lloyd and others featuring some of the countless obscure performers from the 1900s-1920s. Model and Massa discuss each short beforehand, giving backgrounds on the performers, historical contexts and other insights, and Model accompanies every film live with piano. Model's wife Mana and Massa's wife Susan work behind the scenes to ensure everything's running smoothly–it's a real team effort. All episodes are available on the Model's YouTube page (definitely go and subscribe!), which means there's a virtual smorgasbord of classics and rarities for comedy fans to binge their way through.
For many people, the Watch Party's become a bright spot in their week, and they've been happily tuning in each Sunday to laugh and relieve a bit of stress–which is no small service nowadays. In celebration of the one year anniversary of the Watch Party on March 21st–which also happens to be their 50th episode!–Silent-ology's conducting a little interview with the two masterminds behind it. I hope you enjoy!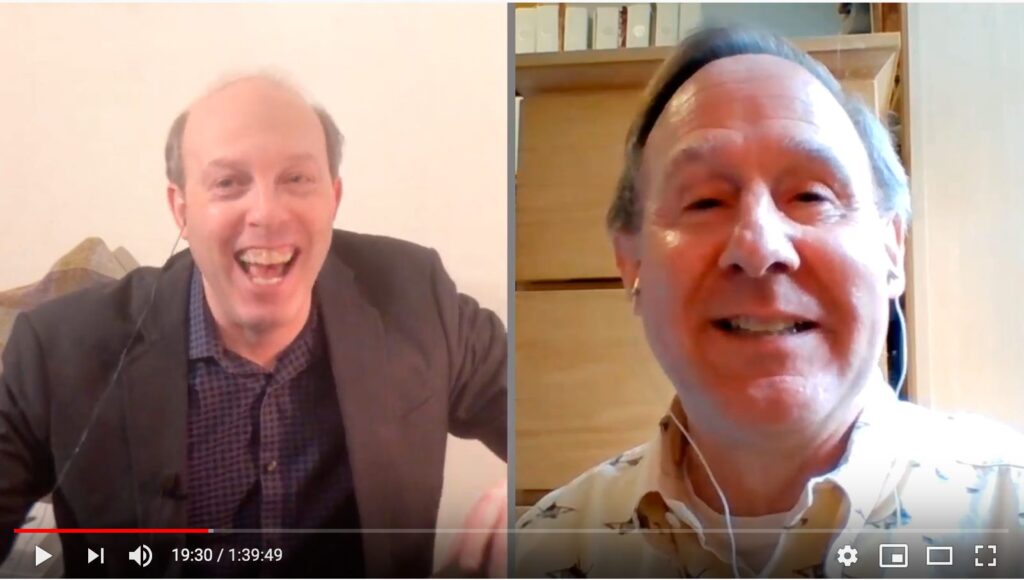 Image from Model's site.

Silent-ology: So the Silent Comedy Watch Party is about to turn one year old! Did you ever think it would be running for this long?
Massa: Never. When we started the show I don't believe that we ever really thought about how long it would last–we were just thinking "We need to do this now."
Model: We had an open-ended plan, since we couldn't really tell how long the pandemic and the shutdown was going to last. We'd watch the news, hear about numbers plateauing and spiking, etc., and if anything we knew that until there was a vaccine and people were getting vaccinated we wouldn't be able to think about any kind of end point. Not because we were replacing in-cinema shows, but because we knew from viewers who'd written in how much getting to laugh every week was helping them.
What gave you two the idea to host a weekly scheduled show about silent comedy in the first place?
Massa: It was Ben's idea. He had been thinking about something like this, and mulling over the "how" of doing it. When the pandemic shut everything down he realized it was the time to try it. He told me the idea and asked if I wanted to be onboard. Of course I answered with an emphatic "Yes, please!" Then we set about doing the pilot.
Model: I'd had the concept and most of the tech of doing a live-streamed silent film show for a few years, but had always been too busy doing real shows to pursue it. As soon as the word came down that movie theaters and concert venues and Broadway was shut down, I thought of the people who wouldn't be getting to go see silent film shows, and thought I'd give this a shot. Steve and I figured comedy shorts were what people might need at this frightening and uncertain moment. Boy, were we right.
I've noticed improvements in the presentation over the past few months–not that I minded seeing Steve on a smartphone screen or anything, it was just fun to see how the show developed as time went on.
Model: Thanks. I've tried to strike a balance between the show's informal feel while trying to improve some of the production aspects of the stream like sound and–especially–picture quality. Being able to feed the films directly to the audience was something I wanted from the beginning, and once I found streaming software that was perfectly suited for both that and bringing Steve in remotely, I went for it. I think it's an effective blend. We have professional graphics, designed by our friend the amazing Marlene Weisman, and we have little credit pop-ups with a bug version of Marlene's logo, but it's still clearly Steve in his bedroom and me and Mana in our living room with my 1918 acoustic piano. I'm still working on tech improvements so the show can run smoother and I can just concentrate on playing without troubleshooting tech during the show.
Massa: At the very beginning the challenge was to see if we could get something on the air every week. Once we got rolling then it was a matter of refinement. We wanted to technically improve, but at the same time not lose the informal and intimate aspect of the show.
Some of Marlene's promo art.
How do you decide which films to run and which comedians to focus on? We get to see so many rarities, including performers I've never heard of–Alice Ardell and European performer Little Chryssia, for example.
Model: That's really Steve's department. He's the silent comedy deep dive half of the programming.
Massa: Ben and I have been putting together and presenting silent comedy for almost 30 years so we know "where the bodies are buried"–what films survive and who has them. Showing rarities has always been a great thrill for me–there's so many performers and even production units that have been unjustly neglected. Many of these films will kill with an audience if they can only be seen.
Where do you locate prints of some of these obscure comedies? I feel like some shorts aren't even available on DVD–am I remembering that correctly?
Massa: This is sort of Part 2 of the previous question. It's a matter of knowing where the films are. The main reason we've been able to show the rarities that aren't available on DVD or online is the generosity of the people and archives that have preserved the films. Right from the beginning everyone–preservation experts, archives, and private collectors–went out of their way to help us. It's a long list of very generous film lovers.
Model: The obscure stuff is coming from archives like the EYE Filmmuseum and the Library of Congress and the Danish Film Institute, but there's a lot of stuff on the old out-of-print "Slapstick Encyclopedia" set that David Shepard produced. We've gotten the OK to use those from Serge Bromberg at Lobster Films, as both Blackhawk Films and David's Film Preservation Associates have been absorbed into Lobster. But there are also collectors or private archives like Rick Scheckman who've supplied a lot of stuff you've never heard of.
Which shows have you gotten the best feedback on, do you think?
Massa: The show that's stood out as far as best feedback from our audience is the recent episode on the Laurel or Hardy Blu-ray that had Serge Bromberg and Rob Stone as our guests. It's a video release that silent comedy buffs were excited about, and they really enjoyed hearing Serge and Rob give details on the films and putting the set together.
Model: Pretty much any time we've had a guest, we've gotten great feedback. People loved getting to hear from Suzanne Lloyd, Harold Lloyd's granddaughter, as well as from Michael Hayde who's written an excellent book on the Chaplin Mutuals, and Ina Archer when we did our Ernie "Sunshine Sammy" Morrison program. But also, we get emails and comments on social media every week from people saying "Best episode yet!".
The overall reaction to the watch party has been so positive, too. It must be very inspiring to know that people around the world look forward to tuning in each Sunday.
Model: It's what keeps me going, and it's what pulls me through any tech or show-prep stress that may be bringing me down. As my wife Mana keeps reminding me, there are hundreds of people all over the planet who need to laugh every week because of what we're all trying to get through. And we hear from them every week.
Massa: The attention and affection the show has gotten has pretty much stunned us–we certainly never expected this kind of response. Many of the emails and messages we've gotten are extremely moving–describing the difficulties that so many of us are having–isolation, financial reverses, and losing loved ones because of the pandemic. At the same time they tell us that they get relief from the show and look forward to it each week. So for us it's become more than just doing a film show, it's become something of a mission–to make sure that we provide as many laughs as possible each week.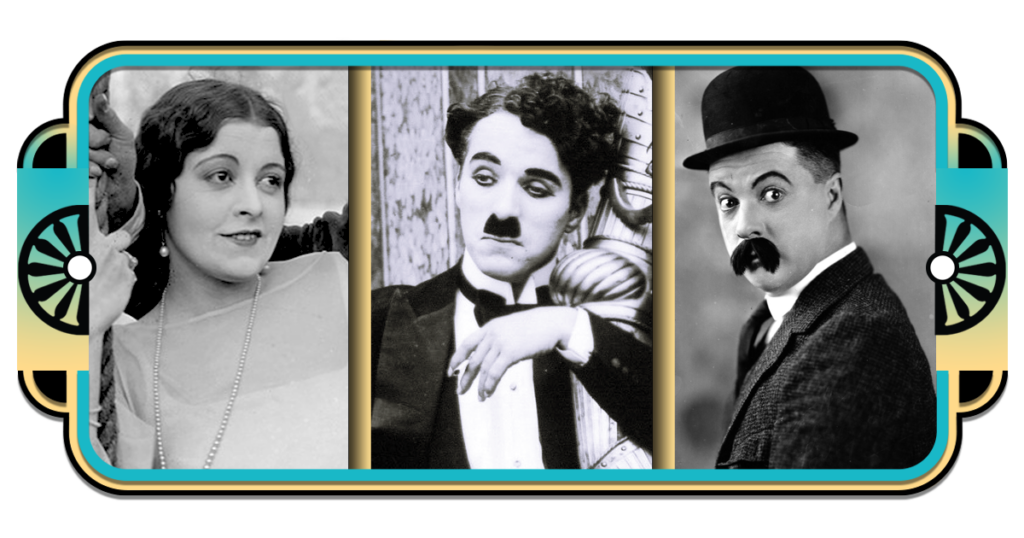 Now that vaccines are here and the pandemic's end might be in sight, will the watch party have a future beyond covid? I think that originally Ben said it would last until the lockdowns and other restrictions ended, but no one really knew how long that would be, of course. Certainly an entire year and counting wasn't on anyone's radars back in March 2020.
Model: Well, the pandemic's not over. There are vaccines available and being deployed, but at this point we're all still watching the news and waiting to see what happens. There's talk about herd immunity and about COVID variants. This isn't going to revert as quickly as it got shut down, and the cinemas that are reopening now have limited capacity. My hope is that we'll gradually look toward making the show a twice-monthly thing, assuming I start getting booked to do shows that aren't in our living room. We've definitely reached and connected with a large swath of people globally who have no access to silent film with live music, and so I don't see the show completely disappearing.
Massa: In the early days of the show we never thought about how long we'd be doing it for–we could only think about doing it from one week to the next. So it's only recently, now that there's the potential light at the end of the tunnel, that we've begun to think about what we'd like to do with the show once things get back to "normal." We're pretty sure that we're going to continue–but probably not on a weekly basis.
Any hints about what comedies are in store for future shows?
Massa: Well, the way we usually lay out an episode is that we have a "headliner"–someone well-known and popular like Chaplin, Keaton, Harold Lloyd, etc. This acts as the "hook" for the show, and then we add the really good offbeat and obscure items that we can get our hands on. That's where we can promote people like Wanda Wiley or Hank Mann who are overlooked but ripe for rediscovery.
Model: We're working on a program of rare silent comedies that'll be sourced from the Brussels Cinematek and for that episode we'll be joined by the head curator of that archive, Bruno Mestdagh. Steve and I are still planning the next few months' shows.
So speaking of covid restrictions, I thought we should end with a couple related questions. Obviously it was very sad seeing theaters being closed and film festivals cancelled throughout 2020. What are your thoughts on the return of silent film showings in theaters–with live accompaniment, of course? Do you think audiences will be excited about coming back?
Model: I think so. What I think will really be interesting is getting to meet people who've been viewers of The Silent Comedy Watch Party all this time. There is a lot to be said for the human need for ritual and ceremony. We've all had that ripped way suddenly last March. Zoom and live-streaming has been a great replacement, but the instant start-stop of these gatherings and viewings are hard to navigate. Having the trip to a cinema, the waiting for the lights to dim, the pianist bowing then playing people in to the film, the curtain opening, etc. is an important transitional thing about any kind of event–which is why I have the pans from me to the screen and back on the show. I think we'll all be glad to be out of our Zoom boxes and, especially, to have those group laughs you can only have in a theater.
Massa: This question is the main topic of discussion among all the people who program live film shows. It's the great unknown. We all hope that audiences will be eager to get back in theatres, but as far as how much and how long the eagerness lasts that's something we'll have to see.
People have been discussing whether there will be any long term effects on the theater industry. For instance, some studios are releasing films for streaming at the same time as their theatrical runs. I don't think I buy the idea of theaters going away, but I do hate to think of the theater experience being considered superfluous, even if only for a short time. Any thoughts? Predictions?
Model: Who knows? This may wind up being some sort of hybrid. Especially with classic and silent film, and silent film with live music, there will always be an audience for this who cannot physically go somewhere to experience this. I am hoping that micro-cinemas are part of this future. The trick of course with all of this is how to make money from this or how to fund it, considering that was starting to dwindle even before the pandemic.
Massa: There's nothing like seeing films up on the big screen the way that they were originally meant to be seen, but I'm not sure where we'll go from here. Movie exhibition was moving towards streaming even before the pandemic, so whether or not the re-opening of theatres will reverse the trend, or the shut-down has made them obsolete, we'll have to see.
Thank you so much, Ben and Steve!
—
Here's a link to the upcoming live show–mark your calendars!