Today marks 100 years since the news broke about the infamous Roscoe "Fatty" Arbuckle scandal. Even if you've never seen an Arbuckle film (or aren't too sure what the comedian even looked like), you've probably heard about his "wild Labor Day party" that took place in a San Francisco hotel back in 1921. While the exact sequence of events is rather mysterious to this day, actress Virginia Rappe became ill at the party and passed away a few days later. An autopsy determined the death was due to a ruptured bladder and the resulting infection. Arbuckle, who apparently had been alone with her when she first became ill, was accused of having assaulted her in some way that lead to her death. Several sensational trials later he was acquitted, but his career would never be the same. Nor, you could argue, would Hollywood.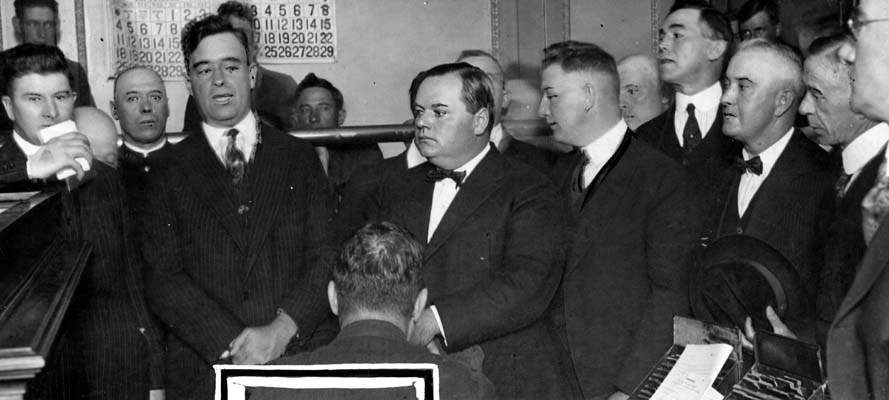 I'll be going into more detail about this case in a later post, so for now, here's some trivia about the scandal. It just might contradict what you've often heard! My main source is Greg Merritt's thoroughly-researched Room 1219: The Life of Fatty Arbuckle, the Death of Virginia Rappe, and the Scandal That Changed Hollywood. He did a fine job digging into the details of the case, and while it's a bit melodramatic in spots and his theory on what actually happened in room 1219 isn't super persuasive to me, it's head and shoulders above other books on the scandal (like The Day the Laughter Stopped, which is basically a novel).
-That Labor Day weekend Roscoe Arbuckle drove to San Francisco from Los Angeles in his famous custom-built purple Pierce-Arrow touring car. (The car survives today and has been perfectly restored.) With him was the young director Fred Fishback and actor Lowell Sherman, best known today as the villain in Way Down East (1920).
-Buster Keaton had previously invited Arbuckle to join him and his wife Natalie on a yacht to Catalina Island that Labor Day weekend. Unfortunately in retrospect, Arbuckle declined and decided to head to the Bay instead.
-Virginia Rappe was a talented clothing designer whose eye-catching creations had often made it into the press. She had been trying her luck as an actress in Hollywood for several years and had also been dating director Henry "Pathe" Lehrman. Unfortunately she's often been smeared as having venereal disease or a background in prostitution–neither of which are true.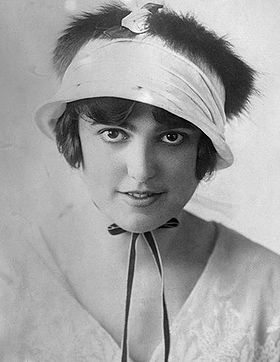 -Arbuckle and friends stayed in San Francisco from Saturday, September 3, until Tuesday, September 6. Rappe passed away on the 9th.
-Their hotel, the St. Francis, was the largest hotel on the West Coast at the time and one of the very fanciest. Rooms were equipped with telephones (not the norm at the time) and pneumatic tubes for sending messages to the front desk. The restaurant had hundreds of gourmet meal options and was headed by Victor Hirtzler, who became the most well-known celebrity chef in the U.S.
-Arbuckle and his guests stayed in a suite of adjoining rooms: 1221, 1220, and 1219. 1221 and 1219 were used as bedrooms, and 1220 had the bed removed so they could use it as a lounge area and party space. 1219 is the room where Virginia became ill. The suite was on the 12th floor (the very top). If you're facing the hotel from Union Square it's visible up in the leftmost wing.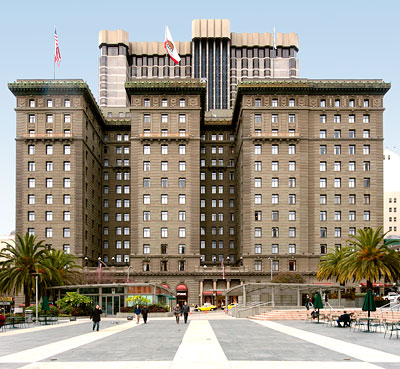 -Arbuckle had been planning on having a party the evening of Labor Day. The more informal gathering Rappe attended happened spontaneously around 11 a.m. that day. It was a bit like an open house where the invitees could wander in and out as they pleased.
-The drinks of choice were gin blossoms (gin and orange juice) or scotch. Later food was also brought in.
-The party attendees aside from Arbuckle and Rappe were: Fred Fishback, Lowell Sherman, travelling salesman Ira Fortlouis, chorus girls Alice Blake and Zey Prevost, Rappe's friend Maude Delmont, and for a short time, Arbuckle's friend Mae Taube, daughter-in-law of famed evangelist Billy Sunday (she soon left since she didn't want to drink). Not everyone stayed the whole time. Film publicist Alfred Semnacher showed up to pick up his friends Maude and Virginia, but they were having too much fun to leave.
-Arbuckle and Mae Taube were supposed to go for a drive in the Pierce-Arrow in the mid-afternoon, but the party disrupted the plans. Arbuckle and Rappe were in room 1219 shortly before 3 p.m., when Maude was due to come to the St. Francis.
-After Virginia became ill, she was eventually moved to her own room, 1227 (paid for by Arbuckle) where she stayed for three days, frequently in severe pain from her abdomen. Everyone including the hotel doctor assumed she had alcohol poisoning or had ingested bad booze.
-The total bill for the suite of rooms and 1227 was $611.13.
-According to the autopsy done on Rappe's body, there were no signs of sexual assault or excessive violence. She did have some bruises on her arms, legs and torso.
-Arbuckle was informed of Rappe's death by a Los Angeles Times reporter who showed up at his mansion the evening of September 9, only a few hours after she had passed.
-When Arbuckle drove back up to San Francisco for the inquest his friends Frank Dominguez, Lou Anger, and Joe Bordeaux (a bit player and assistant cameraman) were with him.
-Rappe's funeral was held September 15 in San Francisco at the Halsted & Company funeral home. Her body was dressed in silver and cream-colored silk and a bridal-like veil. Among the flower arrangements present were 1,000 pink lilies from Henry Lehrman. Her body lay in state for thousands of mourners, most of them curious strangers who had heard about the Arbuckle case.
-The pallbearers at Rappe's funeral included Oliver Hardy and Larry Semon.
-While Arbuckle was initially accused of murder the charge was later changed to manslaughter.
-The three highly sensationalized trials ran from November 1921 to April 1922. Many people–especially society ladies–vied for spectator tickets during the proceedings.
-There were five women on the jury of the first trial–women had only been allowed to do jury duty since 1917, so this made the news at the time.
-While the first trial is said to have been a hung jury thanks to one "guilty" vote, in reality it there were two "guilty" votes and ten for acquittal.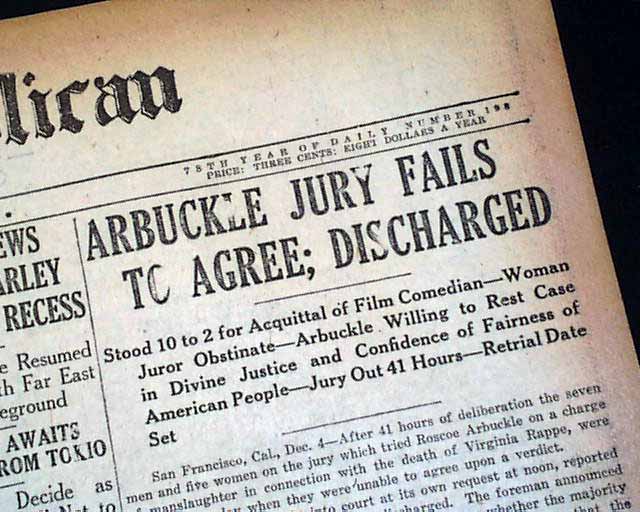 -Maude Delmont is the most famous witness to the Labor Day party today but only gave her testimony at the coroner's inquest (not the actual trials). She was not a very reliable witness due to her nervous behavior and inconsistent story. She also admitted under oath to having "eight or ten whiskeys" at the party, making her recollection suspect.
-While Delmont is often thought to have had a criminal background, little is known about her actual background and reporters at the time couldn't find much to dig up about her. We know she had divorced three times and that the 1920 census listed her as a "corsetier." Reports of having a background as a madam or an extortionist seem to be hearsay.
-There is apparently no film footage of the trial, and any footage of the outside of the courthouse seems to be elusive too.
-When Arbuckle was acquitted at the third trial, spectators cheered and the relieved Arbuckle went to the jury box and shook hands with all the jurors.
-Arbuckle did get fined for unlawful possession of alcohol and had to pay $500. His trial expenses are thought to be well over half a million dollars, which was even more astronomical at the time.
-Rappe was buried at the Hollywood Forever cemetery, where her grave is in a peaceful spot by the little lake.
-After the trials, Arbuckle apparently never made any public statements that included Virginia Rappe's name, and none of his surviving correspondence mentions her.
—