It's not hard to argue that the aftermath of the 1921 Labor Day scandal is still unfolding to this day. Those curious enough to investigate the case will learn that Virginia Rappe died under mysterious circumstances allegedly involving Roscoe Arbuckle, and that Arbuckle was eventually acquitted of manslaughter. But ugly rumors and hearsay about "a comedian who raped a girl" or "a disease-ridden actress who died at a wild party" still abound. And while most fans of classic films today are thankfully quick to let you know about Arbuckle's acquittal, it's Virginia's reputation that seems to get battered the most consistently. She's been called a "party girl" at best and a "whore" at worst, depicted as a good times gal whose devil-may-care lifestyle made her pay the ultimate price.
This caricature is what originally caught the eye of historian Joan Myers, the first to do substantial research into Virginia's backstory: "I'd never been satisfied with the way Virginia Rappe had been depicted…All of our knowledge about her was unsubstantiated and looked suspiciously familiar–it's pretty much the traditional rhetoric trotted out as a defense in any rape case." Surprisingly, info about Virginia's life and career was not very hard for her to find. And I can confirm that simple searches in newspaper archives can bring up a surprising variety of articles and photos about her.
So let's do two things in this post: let's clear out some of the cobwebs and get to know Virginia better as a human being, and then take a fresh look at the unfortunate events that lead to her death. Perhaps there's other angles that haven't been considered that can add something new to the discussion–that's what I'm hoping!
Getting To Know Virginia Rappe
She was born on July 7, 1891 in Chicago, and her full name was Virginia Caroline Rapp. She was the only daughter of Mabel Rapp, a young single mother. It's thought that Virginia never knew who her father was, and that she was initially raised believing that Mabel was her sister and that a woman who called herself Caroline Rapp was her mother. In time she believed Caroline was actually her grandmother, although it's possible they weren't related at all. Mabel worked as a chorus girl and model; at one point she made the news for associating with a group of forgers who passed bad checks.
Young Virginia had lots of energy and loved sports, dancing, and the latest fashions. Mabel would pass away when Virginia was only eleven, and the orphaned girl would be looked after by Caroline Rapp and Kate Hardebeck, an "adopted aunt." When she was sixteen Virginia decided to go into modelling and added an "e" to her last name (changing the pronounciation to the more glamorous "Rap-pay"). Standing a petite 5'5″, she was a natural beauty with dark hair and strongly-molded features. Her name started popping up in newspapers around 1908–noteworthy at a time when models were usually anonymous.
By the early 1910s Virginia had turned modelling into a thriving career, quite an achievement since the fashion industry was still in its early stages. She appeared in fashion shows at department stores around the U.S. and Europe and apparently made $4000 a year–close to six figures in today's currency. She seemed to be very savvy at getting her name out there, and was already in tune with the fun, free-spirited attitude that would characterize flappers in only a few years. One article mentioned her and her friend Helen Patterson disembarking a ship in New York City wearing "a great display of pink pantalets, reminiscent of the fifties, through the generous slits of their skirts." Syndicated interviews and stories circulated fairly regularly in the press, talking about her exploits and dispensing her advice to young women: "Be original–every girl can be that," she once said.
In 1914 Virginia took another step in her career and began designing clothes and hats, which were often themed and and slightly avant-garde. Creations included a "tuxedo coat," a "spiderweb hat" with a wide, see-through brim, a "submarine hat" designed to be worn while driving, and a "peace hat" shaped like dove wings. The latter was a statement on the possibility of the U.S. entering World War I–Virginia apparently leaned toward pacifism. "The women of America want world peace," she was quoted as saying. "We should express our peace sentiments in our clothes. If we believe in peace why wear military jackets and soldier caps." Newspapers described her as "an artist whose medium is clothes."
Behind the scenes Virginia had several romances, resulting in (at least) three engagements. The first was to sculptor John Sample, who reportedly called it off; the second was to Argentine diplomat Alberto d'Aklaine, who she later admitted was too old for her; and the third was to Robert Moscovitz, a dress designer who sadly died in a trolley car accident in San Francisco.
Around 1916, Virginia made another big step in her life and decided to move to Hollywood and try to make it "in pictures," perhaps because her fashion career was starting to wane. After one or two bit roles she was cast in the feature Paradise Garden (1917) starring Harold Lockwood, where her role was described as a "mild vamp." She would also be cast in the anti-German propaganda film Over the Rhine (1918), which would be shelved. (It was eventually released as The Isle of Love in 1922 to capitalize on Virginia's fame and on…Rudolph Valentino's. It also starred Julian Eltinge–quite the combination!) After this came a string of comedy shorts, many directed by Henry "Pathe" Lehrman (contrary to rumor, she never worked for Mack Sennett). Around 1918 she and Lehrman had begun dating, which no doubt helped her get more comedy roles (they also lived together, which they kept quiet). She acted alongside comedy stars like Lloyd Hamilton and Ford Sterling, as well as lower-tier stars like Charles Dorety and Ethel Teare.
By 1921, now 30 years old, Virginia's relationship with Lehrman had started to head south. Her movie career had also faltered, although she was still recognized as a model. But we'll never know what direction she would've taken her career. While spending the Labor Day weekend in San Francisco with film publicist Alfred Semnacher and his friend Maude Delmont, she attended a party given by Roscoe "Fatty" Arbuckle in his suite at the St. Francis Hotel. At some point she suddenly became extremely ill–Arbuckle claimed he found her in pain in his bathroom. The rest, as we know, is history.
Death and Aftermath
Let's look at some details of what happened to Virginia after she fell ill at the party (you can read a breakdown of the party in my previous post):
We know that she was moved to her own room, 1227 (Arbuckle footed the bill) where she remained for three days. She was waited on by three doctors: Dr. Olav Kaarboe, the hotel physician Dr. Arthur Beardslee, and Dr. Melville Rumwell, who Maude Delmont knew. Morphine was administered every few hours to deaden her pain (not an uncommon painkiller at the time), and Beardslee also catherized Virginia shortly after giving her one of the injections. Three nurses, Jean Jameson, Vera Cumberland, and Martha Hamilton, also waited on Virginia and gave her hot towels, enemas, and more catherizations. Everyone initially assumed she was suffering from too much alcohol, and perhaps a kidney infection. Rumwell later said Virginia told him she had lost consciousness while in 1219 with Arbuckle and woke up in pain, and couldn't remember anything that happened. Jameson later testified that according to Virginia "relations with her sweetheart were responsible for the ailment from which she had been suffering…She frequently asked me, 'What could have broken inside of me?'" Jameson also said Virginia had been suffering with abdominal pain for six weeks, and was very anxious that Lehrman not learn about the party. Cumberland testified: "The patient admitted to me that her relations with Arbuckle in the room had not been proper. She did not say whether her actions had been voluntary or involuntary." Cumberland also mentioned Virginia was worried about Lehrman hearing about the party. Rappe never accused Arbuckle of anything in particular, but did seem anxious that he pay her hospital bills.
Dr. Rumwell checked on Virginia on September 8 and noticed her pain had grown much worse and her abdomen very swollen, and arranged to have her taken to the Dr. W. Francis Wakefield sanitarium only a few blocks away (Rumwell had staff privileges). She was given a Murphy drip and more morphine injections. By that evening her condition had deteriotated further, and supposedly it was thought that she couldn't survive a surgery. On September 9, she passed away.
Later that day an autopsy was performed by Dr. William Ophuls, a dean of medicine at Stanford, assisted by Rumwell and a nurse. They did not see evidence of sexual assault, and did see some bruises on her right arm and on her thighs. The uterus, ovaries, fallopian tubes, rectum, and bladder were removed and examined in turn (they were eventually destroyed, unfortunately). Greg Merritt's book Room 1219 discusses how they found the apparent cause of Virginia's death:
"Beneath the penetrating light in a room at Wakefield sanitarium, Dr. Ophuls, Dr. Rumwell, and Nurse Halston stared at the pinkish-red bladder…It was unusually small. As suspected, this was the organ that had failed first. There before them was the proof: in an inflamed area of the bladder's outer wall was a hole, about an eighth of an inch in diameter. With a scalpel handed to him by Nurse Halsto, Dr. Ophuls made an incision beside the tear. The two doctors could then see inside the organ to a small clot of blood. There was a tear in the bladder's inner wall, about three-quarters of an inch long, that corresponded to the outer hole. It was later described by Ophuls as 'a clean break.'"
Thoughts, Theories and a Q & A
It's a mystery that's been debated for a century–what exactly happened to Virginia Rappe to make her so sick at that party? Some facts are well established: she suffered from cystitis (bladder inflammation), she was drinking at the Labor Day party, she became very ill quite suddenly at the party, and the official cause of her death a few days later was determined to be a ruptured bladder and peritonitis (accompanying infection). Various theories have flown about how the rupture happened, how wild the party was, whether Virginia was pregnant, whether Arbuckle and Virginia were together consensually or not, etc. etc. There's even a rumor that Arbuckle accidentally kneed her in the abdomen when they were in the party room (this was likely made up).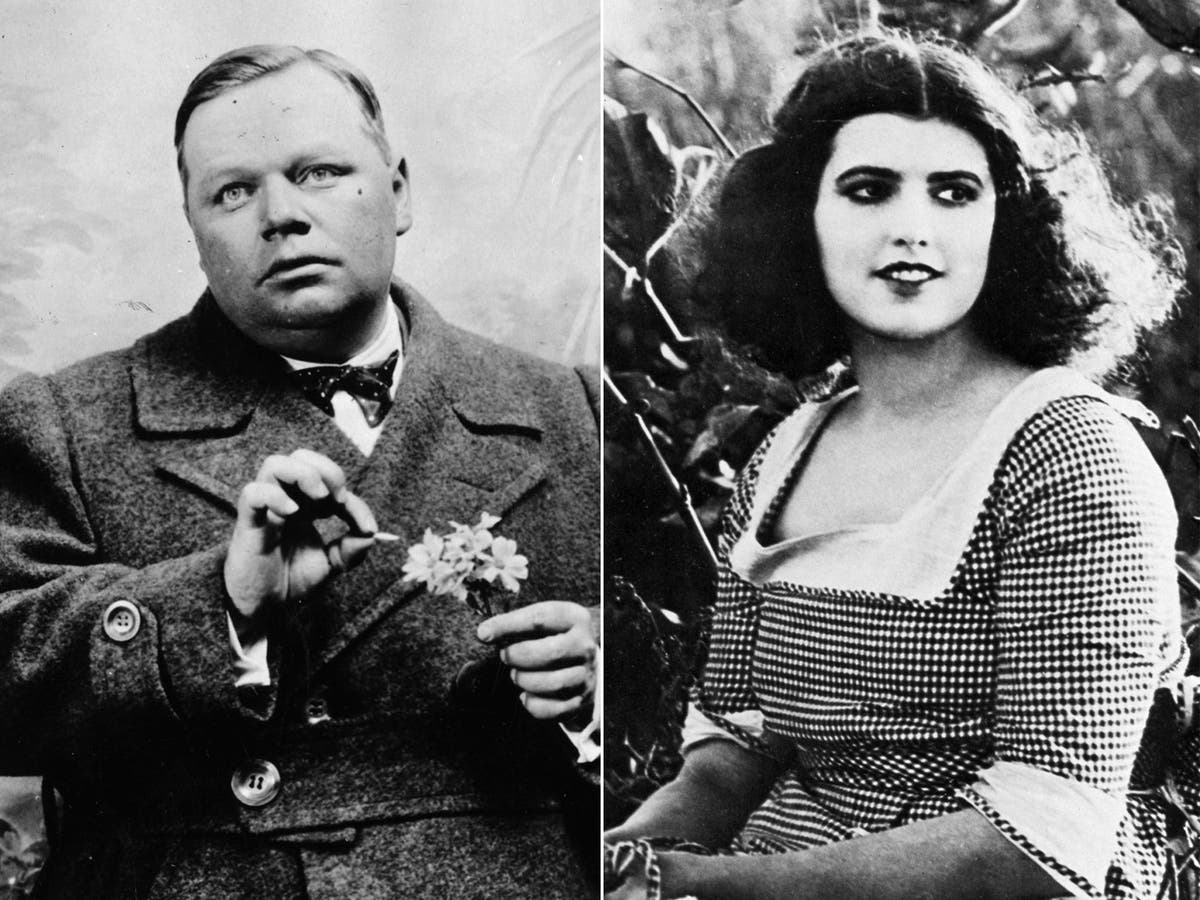 In any case, the puzzling crux of the matter seems to be: Technically, how would her bladder rupture, and how likely is it to technically happen? The explanations usually trotted out are, shall we say, unsatisfactory, and usually involve all sorts of mental gyrations that require Virginia to have fallen down just so, or to have hit her abdomen on the corner of a table in just the right way, or for Arbuckle to have somehow kneed her when he climbed on her, etc. To me these all show classic signs of overthinking. I've also had a nagging sense of skepticism about cystitis directly causing the rupture. After all, bladder inflammation is a common problem and bladder are somehow not bursting all over the place. You'd think Virginia would have to be in much worse physical shape, even if her cystitis was chronic.
Fortunately I do know someone who could add a valuable perspective–historian Tracey Goessel, author of The First King of Hollywood: The Life of Douglas Fairbanks and founder of the Film Preservation Society and Biograph project (among other things!). She has an extensive background working in surgery, making her a unique font of knowledge. She feels Virginia's symptoms likely had to do with a pregnancy, and her answers to my questions sent me down some more research rabbit holes:
Silentology: In case readers don't know, can you describe your medical background?
Goessel: Double boarded in internal medicine and emergency medicine, previously on faculty in the surgical department at Johns Hopkins, Division of Emergency Medicine. That means the trauma rooms.
In your estimation, what most likely caused Virginia Rappe's bladder to burst?
It didn't burst. It was ruptured. Different thing. Bladders can rupture from blunt force trauma, but the force has to be very severe–think high speed auto accident–with a full, distended bladder. Hard to pop a deflated balloon. Easier to pop a full one. So we see bladder ruptures with motor vehicle accidents where the driver has a full bladder, full of beer. Remember physics 101: force equals mass times acceleration. Pelvic fractures can also be associated with torn bladders.
Rape in and of itself, is not enough to rupture a bladder. Even if Arbuckle swung from a chandelier onto her stomach he couldn't have ruptured her bladder. And remember, she had just voided before screaming in pain.
So the bladder rupture would've taken place after she became ill at the Labor Day party, not in room 1219?
Yup. She was pregnant and had acute abdominal pain, with a prior history of abdominal pain. To an ER doc, this is one of two things: a ruptured ectopic pregnancy–remember, she was pregnant and seeking money for an abortion–or pelvic inflammatory disease. And isn't it of note that her reproductive organs turns up missing? They missed an ectopic, possibly. Her bladder was very likely torn when the doctor catheterized her with a glass catheter later that day. It is called an iatrogenic injury.
Are ruptured bladders common, or pretty rare? Have you ever come across one while you were in the medical field?
Rare, except for high velocity trauma or with broken pelvis bones. Or someone sticking a glass catheter in you. This is why they are now made of bendy plastic.
Didn't the doctors who treated Rappe discount the idea of her bladder being punctured by a catheter? It looks like the attorneys didn't push the issue. What are your thoughts on that?
It didn't occur to them. They had a young woman with peritonitis on whom they elected not to operate. The punctured bladder was a surprise found at autopsy. The question remains: What else did that autopsy reveal? Why did they destroy the reproductive organs?
Lastly, I can't resist–what do you think of the infamous "ice incident"?
You live a sheltered life, clearly. I suspect all us film nerds do. Every drug user or partier has a go-to when they can't rouse some one after taking heroin: they put ice on their junk. If that doesn't wake them up, they go to the ER, or call 911. Can't tell you how many unconscious people used to come in with melting ice in their groin. Roscoe wasn't doing something smutty. He was doing what everyone did in that environment. This was before Narcan, of course. Roscoe and Buster and all vaudevillians came from a seedy world where showgirls had multiple, scheduled "appendectomies" and STDs and alcohol and drugs were common. Vaudeville was only wholesome in Judy Garland movies in the 40's. It was a tough, tough, gritty hard life. And ice was a handy wake-me-up for opiate users on the nod. Roscoe knew she was drinking, then she was obtunded. They weren't rousing her by throwing her in a tub and hanging her by her ankles.
Thank you so much, Tracey!
Following our interview I read up on cystitis–especially interstitial cystitis, which is chronic, can cause a lot of pain, is more common in women, and is apparently aggravated by foods like citrus fruits. (Virginia had been drinking orange blossoms at the party.) However, Virginia also had symptoms of vomiting and fainting, which is associated with pelvic inflammatory disease or PID (bacterial infection in the reproductive organs, often caused by intercourse). Pain associated with PID can strike quickly in some cases, and apparently, if it progresses to the point where the sick person is fainting or vomiting, they are supposed to go to the ER immediately. Studies have shown a link between interstitial cystitis and PID as well. I'm not anywhere near the medical field, mind you, but if Virginia was in such pain at the party that she was vomiting and passing out, it does seem like something more serious than bladder inflammation.
Sudden extreme pain and fainting is also associated with a ruptured ectopic pregnancy (where the fertilized egg gets stuck in a fallopian tube), which Tracey also mentioned (and guess what's also associated with PID…?). The fact that Virginia's reproductive organs were removed and eventually destroyed is definitely another peculiar feature of the case. Her kidneys were suspected of being infected, too, why not remove those as well? (Apparently, at one of the trials the reproductive organs were displayed alongside the bladder in a jar–why? Did the doctors just happen to pop them into the same jar? The questions you have when investigating this bizarre case, lemme tellya.)
"Ah, but aren't you forgetting the bladder rupture?" you might be asking. "Wouldn't that cause sudden extreme pain?" You might also be suspecting that I've grown skeptical about the rupture happening at the party. The catheter explanation makes a lot of sense to me, far more than improbable theories involving a knee in the gut or vomiting too hard or falling on the floor. The description of the bladder rupture as having a 3/4 inch hole on the inside wall and an 1/8 inch hole in the outer wall does sound very much like it was torn by a catheter.* Virginia's bladder was also described as "unusually small" and inflamed, making it easier for such an error to occur. And keep in mind that she had been given frequent injections of morphine, which you think would deaden any immediate pain from the bladder tearing, making it unknown to the doctors until the autopsy.
So perhaps we could add some new theories to the cloud of them swirling out there, with credit to Tracey Goessel: that perhaps Virginia Rappe's bladder was not ruptured at the party; that her sudden illness could've been caused by the very painful pelvic inflammatory disease or even a ruptured ectopic pregnancy and not just cystitis; and that her bladder could actually have been ruptured by one of the catheters used on her following the party, any pain being deadened by the frequent doctor-administered injections of morphine.
Whatever the circumstances were of the party itself, and whatever truly happened (and we can never truly know), Virginia Rappe seems to have endured a perfect storm of painful ailments that struck at precisely the wrong time, and ultimately, suffered tragically inadequate medical care.
*Note: A fellow researcher let me know that the first catheter used on Virginia (by Dr. Beardslee) was metal and not glass. I'm assuming other catheters were used on her later, and glass catheters were in common use at the time. In any case, these weren't soft instruments.
—
On a cheerier note, here's a picture of a confident Virginia that popped up in an online auction:
Sources:
Thank you again for your insights, Tracey! And once again, I would like to give credit to Joan Myers for her years of research on Virginia. This article wouldn't be possible without her!
https://www.altfg.com/film/fatty-arbuckle-virginia-rappe/
https://www.vickicallahan.com/interviews/interview-with-joan-myers-the-search-for-virginia-rappe-in-film-history/
https://peoplevsarbuckle.com/
https://chroniclingamerica.loc.gov/
https://en.wikipedia.org/wiki/Virginia_Rappe
Correlation Between Bladder Pain Syndrome/Interstitial Cystitis and Pelvic Inflammatory Disease. Shiu-Dong Chung, Chao-Hsiang Chang, Peir-Haur Hung, Chi-Jung Chung, Chih-Hsin Muo, Chao-Yuan Huang, Medicine (Baltimore) 2015 Nov.; 94(46): e1878. Published online 2015, November 20.
https://www.merckmanuals.com/professional/gynecology-and-obstetrics/vaginitis,-cervicitis,-and-pelvic-inflammatory-disease-pid/pelvic-inflammatory-disease-pid
https://www.mayoclinic.org/diseases-conditions/pelvic-inflammatory-disease/symptoms-causes/syc-20352594
https://www.mayoclinic.org/diseases-conditions/ectopic-pregnancy/symptoms-causes/syc-20372088
https://www.hopkinsmedicine.org/health/conditions-and-diseases/interstitial-cystitis
https://my.clevelandclinic.org/health/diseases/9129-pelvic-inflammatory-disease-pid
Merritt, Greg. Room 1219: The Life of Fatty Arbuckle, the Mysterious Death of Virginia Rappe, and the Scandal that Changed Hollywood. Chicago: Chicago Review Press Incorporated, 2013.