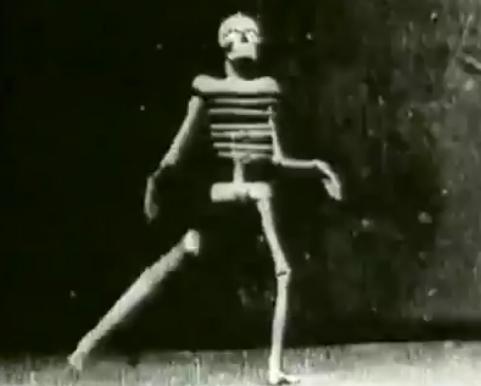 It's less than minute long, was filmed over 120 years ago and simply shows a dancing skeleton who keeps falling to pieces and magically reassembling itself. Silent film fans, any guesses about the director?
Nope! It would actually be these staid gentlemen:
Who probably never pictured themselves being part of a Halloween-themed month, gravitating more towards the documentation of departing factory workers, arriving trains and the like. But they filmed a skeleton, and skeletons are great Halloween decorations, so if you ask me that counts.
This isn't one of the Lumière brothers' most talked-about shorts, and when it does pop up it's usually because of the mistaken notion that it features stop-motion. It's pretty clear that it's actually a puppet–look, you can see the strings:
The puppet fits more with the brothers' sensibilities, too. They did foray into fictional stories a bit at this early stage, most clearly in the comedy-of-sorts L'Arroseur arrosé (1895) showing a boy playing a prank on a gardener. But they didn't go for Méliès-style whimsical fantasy as much as "actualities" (documentaries). Thus we can see that The Merry Skeleton (Le Squelette Joyeux) is, err, actually an actuality.
But let's get back to the puppet itself. It's goofy-looking to our plastic Target skeleton-accustomed eyes, especially with those horizontal ribs and weird clavicle-shoulders. Ah yes, the uncanny air of an old-timey puppet–there always seems to be something a bit "off." The stylized design probably helped it pull apart more cleanly, or something like that.
It got me wondering if this type of skeleton puppet was common at all in the 19th century, something the Lumières were familiar with and thought would be fun to capture–and with a black cloth in the background too, so it'd really pop. Searches for "skeleton marionette" in vintage newspapers revealed that, why yes, dissembling puppets were a thing. ("Marionette" is the word of choice, don't bother with "puppet." 19th century and all.) Here's a clip from an 1898 Portland Daily Press article (Portland, Maine, not Oregon) talking about marionettes:
I guess they were also familiar enough to use as a comparison–from a letter to the editor discussing political matters in a 1876 The Bossier Banner, a Louisiana paper:
I thought it might be asking too much to see if such puppets still exist–you'd think such delicate objects wouldn't survive too many years of hopping around in little handmade theaters. But lo and behold, some exist!
Wonderful!
Getting back to The Merry Skeleton, you might wonder: if this isn't one of the first stop-motion animated films (or special effects films in general), could it possibly be one of the first skeleton sightings on film? According to a pretty detailed IMDb review there was at least one other dancing skeleton film out there, made by the American Mutoscope Company in 1897. And there's also George Albert Smith's whimsical film riffing on the amazing new x-ray technology, appropriately called The X-Rays (1897).
I'd say that's a decently detailed look at this little 1898 film, eh? And yes, I'll have to log The X-Rays away for a future review…!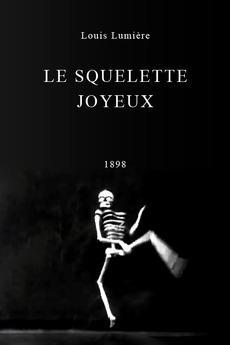 —
—