There's a lot of legendary lost films that everyone wants to see, like Browning's London After Midnight, the Laurel and Hardy silent Hats Off, Murnau's late silent feature Four Devils, and so on. But I'm sure every silent fan has their own personalized "wish list" of lost films they'd really, really love to see. My own is a bit silent comedy-centric and Griffith-centric, because I love a good comedy (duh) and I'm a big fan of Griffith's wonderful stock company (Marsh, Harron, Gish–priceless!). So here's my list of films that I'm crossing my fingers will turn up some day. I wrote it as a "top ten" list, but just know that only #1 is truly ranked:
10. Back to the Kitchen (1919)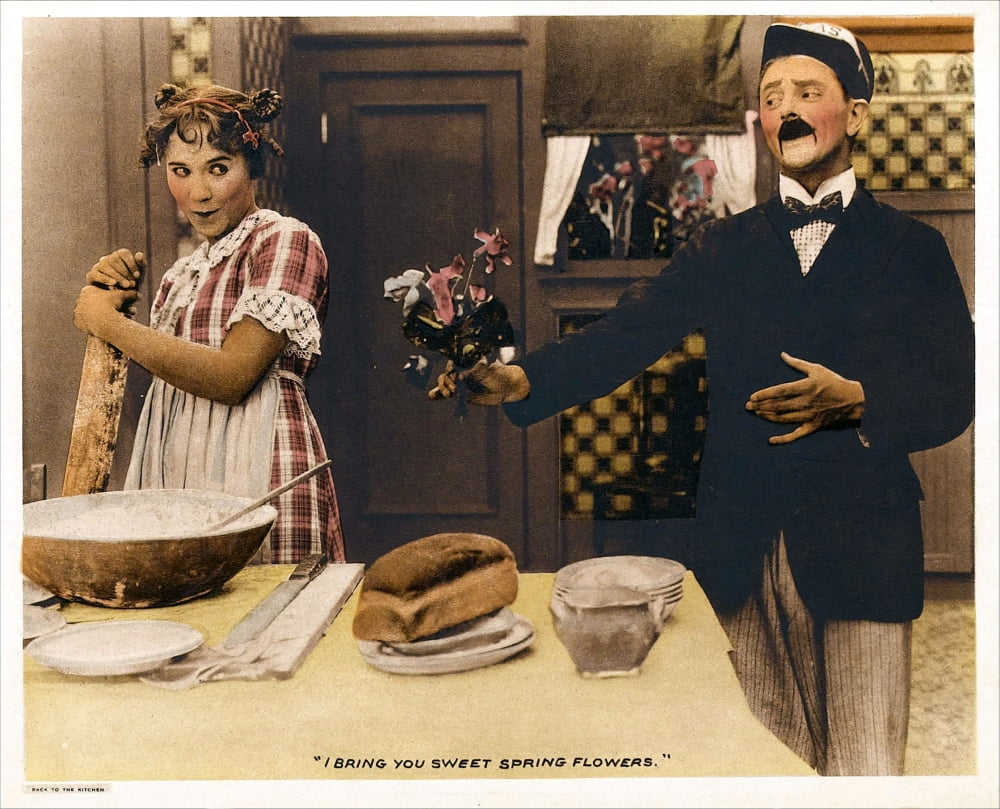 Many of Louise Fazenda's starring comedies with Mack Sennett have vanished, and that's a shame, because as you guys know I'm a big fan of this highly-overlooked comedienne. She usually played a "kitchen slavey" or other type of working girl who's either revealed to be an heiress or is fought over by determinedly inept suitors. It's very hard to decide which short I'd like to see best, but I actually own the above lobby card for Back to the Kitchen (1919) so it'd be mighty special to see it!
9. In the Year 2014 (1914), or Practically Any Early Joker Comedy, Darn It
Speaking of Fazenda, her start in films was at Universal, where she became a key player in their one-reel Joker Comedies. She and fellow actors Gale Henry, Harry McCoy, and more were in literally dozens of these films–Joker filmed by the truckload, apparently. And truckloads of them have disappeared. So I'd love to see some of these (I wrote about In the Year 2014 so it's high on the list), partly for the sheer fun of watching early slapstick, and partly to see Fazenda's early performances–I'd be fascinated!
8. Cleopatra (1917)
Yes, everyone wants to see this elaborate costume extravaganza starring our unique and scantily-clad Miss Theda, but after bits of Salome turned up recently now I really, really want to see it. It's doubtless a wonderful campy spectacle-fest for the ages.
7. We Moderns (1925)
A number of Colleen Moore's flapper films have vanished, and this one might intrigue me the most. Surviving stills of a partying Moore in a top hat are irresistible, and many scenes were apparently filmed at actual London nightlife spots. We just don't get to see enough of London in the Roaring Twenties!
6. Why Squirrels Leave Home (1927), Or Any Lost Bowers Comedy In General
The brilliantly imaginative and highly surreal Charley Bowers is one of the best creators you've never heard of. His "Whirlwind Comedies" are full of fantastical inventions and intricate stop-motion sequences, featuring charmingly odd sights like baby model Ts hatching out of eggs. Many of Bowers's shorts thankfully survive, but a few are still elusive. Since I love bizarre imagery like tough-talking oysters walking around and cockroaches throwing china, I'm crossing my fingers that I'll behold even more of it in the future.
5. The Escape (1914)
So this is a change of pace. This was one of Griffith's early features, and certainly the most lurid one he ever made. It deals with all kind of dark topics, including eugenics, STDs, abuse, insanity, prostitution, "kept" women…my gosh, it has it all. At one point Bobby Harron's sweet character is turned into a monster and forced to strangle a cat as a weird "coming of age" ritual. (Yes, Bobby Harron.) Lillian thought this was one of the best films Griffith ever made, and I admit I'm mighty curious to see it for myself.
4. The Greatest Thing in Life (1918)
Another Griffith feature! And it also features more Bobby Harron, this time as the rich, snobby Edward who falls for sweet shopgirl Jeannette, played by Lillian Gish. Jeannette and her father are homesick for their native France, and Edward decides to pay for their passage home. In time Edward goes to France himself to see Jeannette, but World War I breaks out and he decides to enlist. The film was known for a scene where Edward is in a shell hole with a dying black soldier who deliriously calls for his mother, and he kisses him in the mother's place. A pretty interesting scene to see in that time period, especially coming from Griffith!
3. Coincidence (1921)
Okay fine. I really want to see more of Bobby Harron! This feature is unique since it was the first light comedy Harron made "on his own," so to speak, when Griffith loaned him to Metro. Unfortunately Harron died under mysterious circumstances in 1920 and the film wasn't released until 1921. I really like Harron's humorous performance in The Girl Who Stayed At Home (1919) and would love to see him in his own starring comedy, but alas, so far not this is not to be.
2. The Miracle Man (1919)
This sensitive, gripping drama was a huge success when it was released and seemed to please everyone–young and old, directors and actors in the industry, even the critics. And it's noteworthy for an early performance by Lon Chaney, too. How did we ever lose this one?
1. A Country Hero (1917)
My #1 most-desired lost film is the only Arbuckle silent comedy with Buster Keaton that's currently missing. I did a bunch of research on the film here, and boy oh boy does it sound tantalizing: it costars Buster's father Joe, it contains the first appearance of Buster's famous "snake dance" he performed for troops in WWI, Arbuckle and Al St. John have a showdown involving chucking furniture at each other, and there's a big climax involving a train and at least one doomed car. Where is this film?!
So that is my current lost film wish list, what's yours? Feel free to share in the comments below, my friends!
—