Of all the treasures of the silent era, in my opinion the most precious are the earliest films–the REALLY old films–the blurry, scratchy, archaic little snippets of footage from the dawn of cinema.
Trains rolling into stations, men boxing, ladies dancing–these simple films are artifacts of an era that's now almost impossible to imagine. It was a time when entertainment was something that had always taken place on a stage or at a piano in your own home. It was a time when the sheer novelty of capturing actual moments from life was miraculous.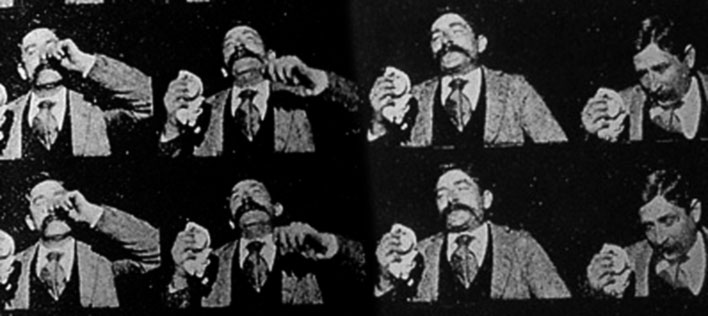 And many of those miraculous bits of footage still survive today, tattered survivors of a bygone era. I don't think it's a stretch to say much of history can be categorized as "Before" and "After" the invention of films.
And what better month to contemplate these super old films than a winter month? So please, take a little time to visit Silent-ology this February as I pay tribute to the earliest years of cinema. I'll be sharing a bunch of new pieces, shining up a few older ones, and generally trying to create a useful portrait of a time that I think is downright fascinating. I hope you'll enjoy it as much as I will!
—