This post was written especially for the Classic Movie Blog Association's spring event, the Hidden Classics Blogathon! Silent-ology is proud to take part alongside so many excellent film blogs, and on such a good topic, too. Please follow the link above to read my fellow writers' contributions! And don't forget to leave comments–we bloggers love comments like Keystone Kops loved pratfalls.
When I say "Cecil B. DeMille," you probably picture Biblical films with men in robes giving solemn speeches and loads of colorful spectacle. Would you be surprised to know that in the 1910s most audiences heard "DeMille" and probably pictured ballgowns and romantic triangles?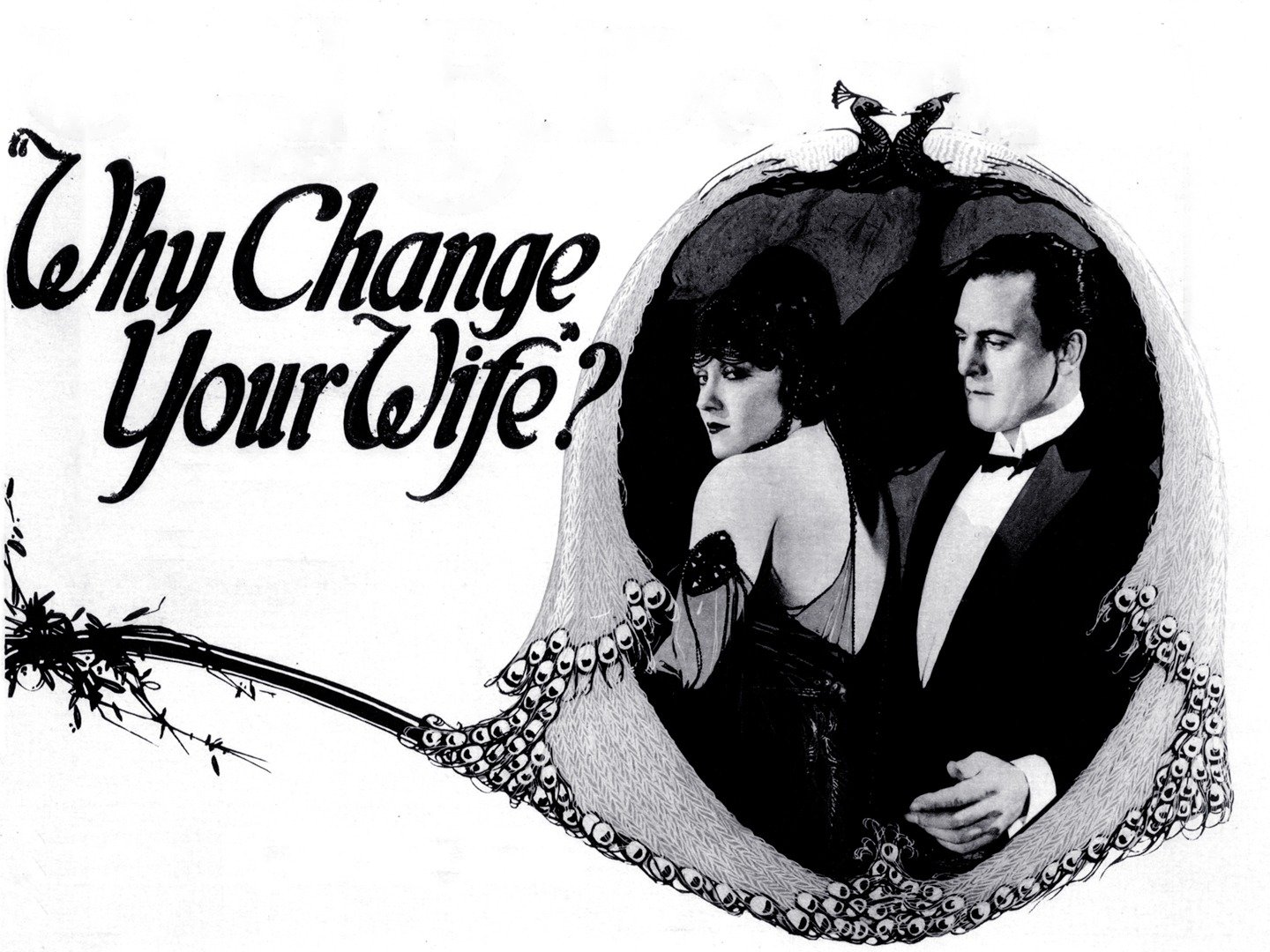 He may be known for epics like The Ten Commandments (1956) today, but from the late 1910s to the early 1920s DeMille was associated with fluffy "society" comedy-dramas. Yes, the same man that Kevin Brownlow described thusly: "Commanding absolute loyalty from his staff, he directed as though chosen by God for this one task." These dramas tended to have the aforementioned lavish gowns (often on the "extreme fashion" end of the spectrum) and exquisitely-tailored tuxes. Scenery might include raucous parties or impractically huge sunken baths. DeMille delighted in adding various "rich people" toys like fancy Victrolas or plush couches with hidden bars in the armrests. Gloria Swanson couldn't just walk over and answer the phone–she would have to be sitting at a pretty carved wooden desk and take the phone out of a little cupboard on top.
While many of these trinket-cluttered fantasies were considered superficial even back then, they've aged into delightfulness today. The "edgy" fashions seem charmingly bizarre, and characters contend with various social annoyances that are sometimes endearingly quaint. There's usually more of that universal human nature than meets the eye, too, even if it was livened up by an inexplicable Babylonian fantasy sequence or two. I wholeheartedly champion every frame of these films, from scenes of Bebe Daniels perfuming her lips or Wallace Reid destroying a drawing room in righteous anger right down to the last shot of a checkered, bead-bedecked bathing suit. At least, I think that was a bathing suit. Or was it a negligee…?
It's a tough call, but my favorite early DeMille is probably Why Change Your Wife? (1920), one of my go-to silents for those nights when I just need to kick back with some cheesy popcorn and relax. Starring a young Gloria Swanson, the squeaky-clean matinee idol Thomas Meighan, and a flirty Bebe Daniels, its tale of marital distress is handled with plenty of light, cheeky humor (especially in the title cards).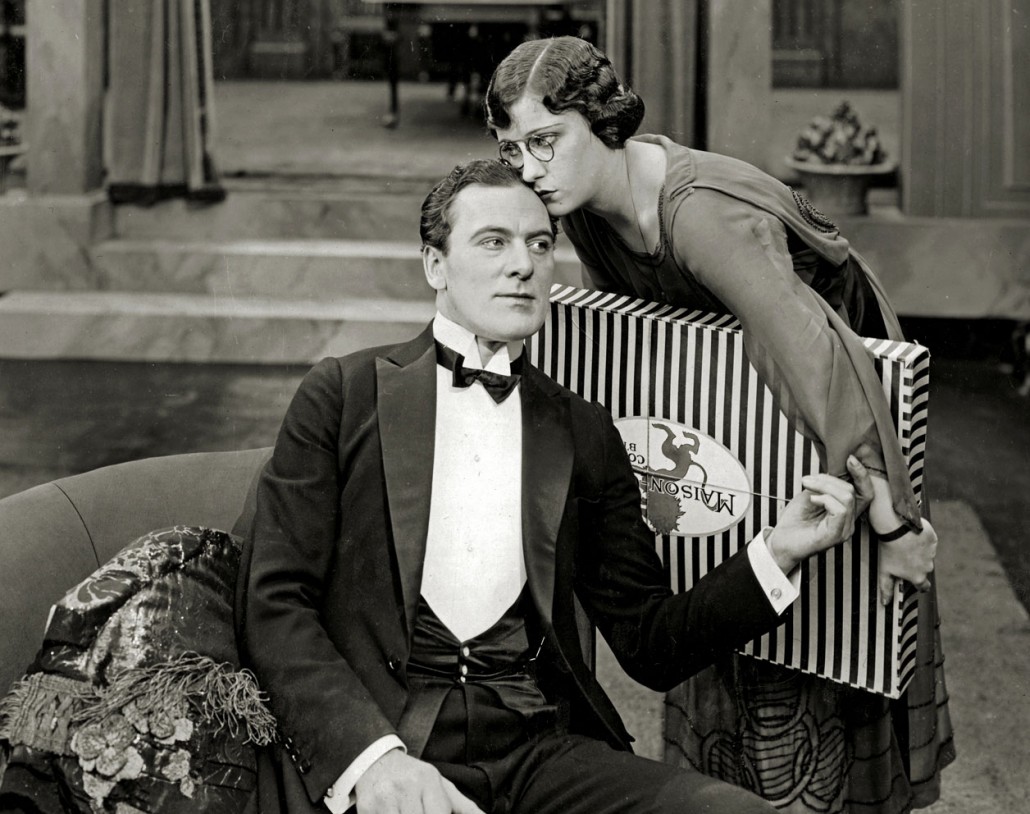 Swanson plays the prudish Beth, who nags her husband Robert about becoming more cultured and "improving his mind." Robert himself (played by Meighan) can't understand why Beth insists on dressing so frumpily and longs for her to be a carefree "sweetheart" again. Hoping to add some pizazz to their relationship, he goes to a fancy lingerie store to buy her a new negligee. There he meets Sally, the store's va-va-voom lingerie model, who recognizes him as an old acquaintance she once had a crush on.
When Robert's present of a tissue-thin, elaborately-beaded negligee (complete with a headdress!) is rejected by the horrified Beth, he decides to secretly go on a date with the fun-loving Sally. Sally is all too happy to pursue him, leading to matters going too far and Robert having regrets. Unfortunately for him, Beth finds out about the affair and divorce quickly follows. But matters don't end there–Beth overhears gossip about her failed marriage, insinuating that her prudishness and frumpy clothes were the problem. Incensed, she decides that if an "indecent" flirt is what people want to see, then by golly she'd get a new wardrobe and show them all! And perhaps she can win Robert back in the process…
Parts of the plot haven't aged quite like a fine wine, but I bid you to consider that the remainder of the film involves lots of "extreme" fashion, an unfortunate slip on a banana peel, a catfight, and a deeply serious artiste in the world's most ridiculous male bathing suit. In other words, it's a film I'd say has far more plusses than minuses, my friends.
Adolph Zukor once said, "DeMille didn't make pictures for himself, or for critics, he made them for the public. He chose stories if he thought the public might like them. He was a showman to his smallest finger." Indeed, DeMille's films of this period were sometimes criticized as superficial, or just plain silly. But he released hit after hit, filling his dramas with scandalous intrigues and sunken bathtubs to his heart's content.
I have to say, at the end of a tough day there's certain old films that always hit the spot. Keaton films. Chaplin shorts. Anything by Keystone. And Why Change Your Wife? is on that list. Great performers, great costumes, drama, humor, escapism, and plenty of cheese–those late Edwardian DeMilles had a bit of it all.
And perhaps I'll end with this generous observation by David O. Selznick: "You cannot judge DeMille by regular standards…As a commercial film maker, he made a great contribution to our industry."
—