Because Roscoe and Al always supported their good friend Buster–and I'm sure they appreciate these blogathons too!
Well my friends, another successful blogathon has come to a close! We had a beautifully curated selection of posts this year, and I extend both an official high five and a hearty THANK YOU to each of you fine bloggers who participated! Your time and efforts are so appreciated.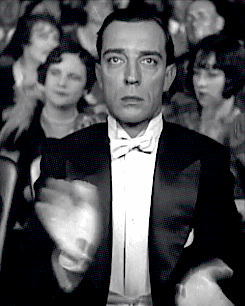 High fives go out to all the readers who stopped by, too! And if you're new here, feel free to visit again–I cover everything about the silent era from soup to nuts!
According to hallowed tradition, I held my Very Official Cloche Hat Drawing for this year's blogathon participants. This year the prize is the essential book Buster Keaton: Interviews, a must for any Buster fan's personal library. (I praise it from personal experience!)
Here's the hat waiting patiently for me to draw a name:
And that name is:
Congratulations, Once Upon A Screen, we'll be in touch! If you see this post before hearing from me, feel free to contact me on my "About Silent-ology" page so we can email each other.
And that's a wrap! See you at next year's 'thon, folks–year 8!
Incredible…
—