Have you ever had an actor who grew on you? Someone you really didn't care for at first, but who finally won you over? For me, it was a comedian you may or may not have heard of: Al St. John, nephew of Roscoe "Fatty" Arbuckle and a key player at the legendary Keystone Film Company.
Why didn't I care for him? Well…
Let's just say he was a little much. But only at first! …Let's take a look.
The son of Walter and Nora St. John, Al was born in Santa Ana on September 10, 1892. Nora was the older sister of Roscoe Arbuckle, making him Al's uncle, although they were only a few years apart in age. Al was apparently a high-energy boy who had little interest in school, and lots of interest in show business. A natural tumbler who never minded risking life and limb, he discovered a knack for doing bicycle tricks, performing them for a local theater when he was in his teens. These tricks, done with an ease that made the bike seem like an extension of his wiry body, would be Al's trademark throughout much of his career.
Al's parents were less than thrilled about their lively son's ambitions, especially Walter, who was a pragmatic laborer. It didn't help that Roscoe and his wife Minta Durfee were vaudeville performers (and perhaps had helped Al find work on the stage).  But when Roscoe broke into the motion picture business, becoming a popular player at Mack Sennett's Keystone Film Company in 1913, it wouldn't be long before Al hopped over there too.
The story goes that Roscoe had promised Al's parents to keep him away from Keystone (anything but working in those "flickers"!). However, Al and Minta put their heads together and arranged for Al to just happen to be doing bike stunts when Sennett was nearby. Impressed by the young man's skills, Sennett hired him for $3.00 a day.
Al threw himself into the job, playing bit parts in dozens of shorts. In the Keystone world, replete with parks, cheap hotels, farmhouses, and saloons, Al might turn up as everything from a bellboy to a waiter to a farmhand–you could make a game out of guessing when he'd show up next. He also frequently played a Keystone Kop–he appears prominently in Keystone's most famous still.
That willingness to risk life and limb also came in handy. Diving, tumbling, racing across rooftops, getting hit in the head with fake bricks–Al did a bit of everything, and was especially keen on automobile stunts. He apparently masterminded the chase scenes where cars spun on the pavements by removing a few brakes and soaping up the street (hopefully it was hosed down afterwards.) Legend has it that he once challenged the famed race car driver Barney Oldfield to a race, likely around the time Oldfield made an appearance in a Keystone film (Al did lose, but just barely).
At a studio swimming with uninhibited performers like Ford Sterling and Rube Miller, Al became one of the most gleefully over-the-top, especially once he had larger roles in the shorts Roscoe directed. Mugging, hopping and pratfalling like a living cartoon, his bug-eyed performance style was broad, to say the least.
He also adopted a signature "bumpkin" costume of slapshoes, checkered pants, a plaid shirt and a small, brimless hat (sometimes accented with blacked-out teeth). He would often play Roscoe's hotheaded rival, leading inevitably to brick-throwing battles or Al getting thrown across the room. A memorable appearance was as the villain in the classic Fatty and Mabel Adrift (1916), the kind of role that would lead historians to dub him a kind of slapstick "gremlin."
When Roscoe left Sennett in 1916 to direct his own comedy shorts in New York City (his studio was dubbed the Comique Film Corporation), Al came along, likely excited to experience the fun and freedom of working on a more independent series. It started out strong with the addition of young vaudevillian Buster Keaton, who had been invited to tour Comique. Roscoe and Al were familiar with Buster's work from vaudeville and invited him to play a scene with them in The Butcher Boy (1917). Buster did, became hooked, and began his iconic career in films.
Al, Roscoe and Buster were a kind of comedy trio–a rare thing in the silent era–and arguably one of the very best. Buster fit beautifully into Comique's high-energy, freewheeling atmosphere, and his formidable pratfalling skills complemented Al's and provided him with some worthy competition. Their scenes together also freed up Roscoe to concentrate on his solo scenes, keeping him established as the main star. The result were such classics as The Rough House (1917), Moonshine (1918) and The Bell Boy (1918). Offscreen the three also spent time together at Hollywood nightlife spots, planned out elaborate pranks and put on the occasional charity baseball game (where the highlight was usually a plaster-of-paris baseball that exploded on impact).
Towards the end of the popular series, shortly before Roscoe decided to go into features and hand the reins of Comique over to Buster, it was announced that Al would be striking out on his own. He starred in comedies for Paramount and Fox, similar in style to the Comiques with playful gags and plenty of energy, and also made a cameo in Buster's first solo film, The High Sign (1919) (although it was shelved for a time). He used the "rube" character he had refined throughout the late 1910s, now portrayed as more of a naive country youth than a vengeful gremlin, and his bicycle made regular appearances too.
His fearless acrobatics were a draw at the time. A 1920 article in Motion Picture Magazine claimed:
Al will try anything! He does not rehearse difficult feats. He simply takes his life in his hands. He has a lucky barnacle sort of clutch. I have seen him take a twenty-foot jump on a bicycle, hit a concrete balcony and dash right thru a window, without shaving an eyelash and as devil-may-care as you please…How he avoids breaking his neck is a mystery, but he manages to land on the side of his neck every time and he isn't keen on having nets spread to catch him, either. It is only in very high jumps that he consents to be a "poor fish," as he terms such cowardly acts.
Years later, Buster would also claim that Al happily risked life and limb…maybe a little too much. In his autobiography he said:
The ex-Keystone Cop, Al St. John…worked side by side with Roscoe for five years without learning one damn thing about protecting himself in a fall. As an old trip-and-tumble expert myself, I advised St. John to use elbow pads, something he had never heard of until then. He had been using his hand and elbows each time to break his falls. The result was that he was continually suffering from water on the elbow which, of course, was bound to have serious consequences sooner of later.
While he was a successful comedian, the early 1920s would be difficult for Al. His beloved uncle Roscoe would go through the infamous Labor Day scandal of 1921–or as Buster put it, "the day our laughter stopped." Arbuckle comedies were pulled from the screen, and Roscoe faced an uncertain future. In 1923, Al's wife Lillian divorced him. They had been married since 1914 and had a daughter, Mary Jane. It was a rough divorce, with Lillian citing alcohol as one reason for the split, and she would constantly battle him over alimony and child support in the following years.
By the mid-1920s, Al had remarried to actress Yvonne June Villon. It would be a much happier union, lasting until her death in the 1950s. He and Buster would continue collaborating with Roscoe, who quietly directed a number of Al's comedies such as the Wild West spoof Curses (1925) and The Iron Mule (1925), about an engineer whose train endures a series of obstacles–Buster loaned his old-timey train from Our Hospitality (1923) to the set.
As the public's tastes began shifting away from wild slapstick, Al adopted a more nattily dressed "everyman" character and a less manic, more straight-faced style. Very straight-faced at times–some of his performances clearly take inspiration from his friend Buster. He also began taking small roles in features with stars like Eleanor Boardman and Lupe Velez.
In the early 1930s, enough time had passed for Roscoe to make a comeback and he began starring in Vitaphone shorts. Al would costar with him in Buzzin' Around (1933) happy to support his uncle. But sadly, after only a few shorts Roscoe passed away from a heart attack in his sleep. Considering how close the two were, we can only imagine how heartbroken Al must've been by the news.
Largely turning away from two-reel comedies–never quite the same without Roscoe–Al did some stints in vaudeville and then found a niche in B movie Westerns. He began specializing in playing grizzled, comical sidekicks, usually called "Fuzzy Q. Jones" or "Fuzzy." He had roles in a bewildering number of westerns with stars like Lash LaRue, Tom Tyler and Buster Crabbe. LaRue would recall him fondly:
Fuzzy was an angel unaware, as far as I'm concerned. He was a wonderful guy, and I wish he were still here to see how long the films had lasted … he was the greatest ad lib artist in the world. He could stumble over a matchstick and spend fifteen exciting minutes looking for what he stumbled over.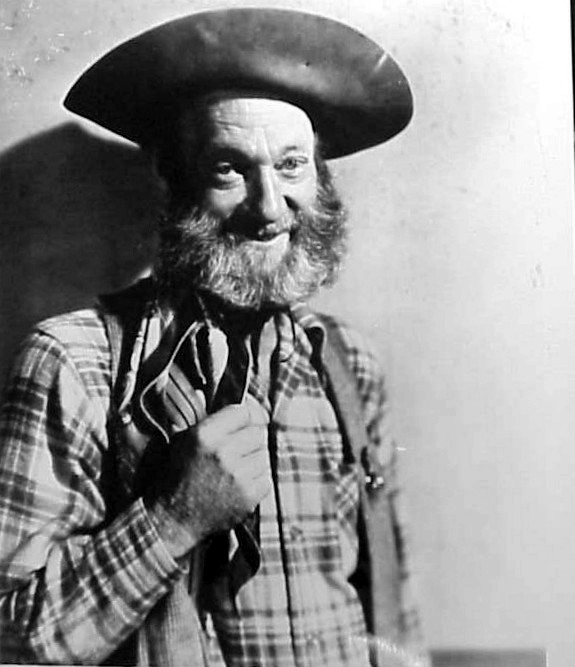 Buster Crabbe also had some touching memories:
He was a lot of fun on the set, and always willing to offer advice. The directors would rely on his background when they would stage a fight scene. He was terrific with the actors. The younger folks loved hearing his tales about working in the silent pictures. There was ore than one time when Al would talk about Fatty Arbuckle and would end up in tears. He would always compose himself and be ready to get back to work, but it was obvious that whole things still affected him.
In 1952, with nearly 400 film credits to his name, Al retired from the screen but continued making personal appearances at fairs, rodeos, and Wild West shows. He donated much of his earnings to the Muscular Dystrophy Association. During a 1963 tour with the Tommy Scott Wild West Show, he passed away from a heart attack in his hotel. He was survived by his third wife, Flo Bell Moore.
Being an ardent Buster Keaton fan and all, when I first sought out his appearances in the Arbuckle films I confess that the mugging, hopping Al St. John took some getting used to. But he became a familiar face, and I admitted that he could do some spectacular falls. In time, when he wasn't onscreen I started wondering when he'd show up again. Then I started looking forward to seeing him. Slowly but steadily, I'd become a fan. Much like Buster, Roscoe, Laurel and Hardy, Harry Langdon, etc., he's become a "pal."
Since then, I've seen more of Al's range and recognized his niche in classic comedy history. One of the most hardworking, modest performers in silent comedy, he very much embodied the most unpretentious side of Hollywoodland.
Sources:
Delvigne, Doris. "According to St. John." Motion Picture Magazine, February 1920, page 45.
Keaton, Buster, with Samuels, Charles. My Wonderful World of Slapstick. New York: Doubleday & Co., 1960.
Lahue, Kalton C. and Gill, Sam. Crown Princes and Court Jesters: Some Great Comics of the Silent Screen. South Brunswick: A.S. Barnes and Co., Inc., 1970.
Neibaur, James L. Arbuckle and Keaton: Their 14 Film Collaborations. Jefferson, North Carolina: McFarland & Company, 2007.
Walker, Brent E. Mack Sennett's Fun Factory. Jefferson, North Carolina: McFarland & Company, Inc., 2010.
http://www.b-westerns.com/pals-asj.htm
https://lantern.mediahist.org/
https://en.wikipedia.org/wiki/Al_St._John_filmography