Hollywood legend Gloria Swanson–whose name is basically synonymous with "glamour"–had an endearingly humble start in the 1910s as a star in Mack Sennett shorts. The petite actress was paired with the equally petite Bobby Vernon in a number of successful films like The Danger Girl (1917) and Teddy at the Throttle (also 1917)–and yes, they sometimes shared top billing with Teddy the Sennett Dog.
Pretty different territory from the tuxes-and-ballgowns dramas Gloria later made with Cecil B. DeMille! Yes, as you've no doubt heard, the actress that would one day earn millions and pose in furs and jewels got her start as a frolicking Bathing Beauty in slapstick films, running around the beach in various striped, ruffly, puffy (or all of the above) bathing suits. Oh, Hollywood history–the gift that keeps on giving.
Ah, but is that bit of Hollywood history really accurate? Gloria herself would always insist that she was never actually a Sennett Bathing Beauty–and stuck to her story like glue, too. (I believe the phrase "vehemently denied" has also been tossed around.) She once said, somewhat dramatically: "I was never a Sennett bathing beauty. Those glossies that sometimes turn up were pulicity stills that I unfortunately made as a favor when I had a free hour. And I've paid for it all of my life."
"But of course she was a Bathing Beauty," you say, stifling a laugh. "I've got your photo of a bathing suit-wearing Gloria right here! Behold."
"And here's another one!"
"Check this one out:"
"And heck, here's a whole series she took with Marie Prevost–who we know was a Bathing Beauty:"
"So nice try, Gloria," you say. "She obviously was a Sennett Bathing Beauty, at least in the beginning. Case closed!"
Ah, but what if I were to tell you that the case isn't closed? And that despite decades of casual references to Gloria's "Bathing Beauty days," and even in the face of such overwhelming evidence as her youthful Sennett-employed self photographed in bathing gear, it looks like Gloria was actually right.
First we need to establish who the Bathing Beauties were, precisely. They were pretty young extras who increasingly started turning up in bathing suits in Sennett's mid- to late-1910s comedies. In time, whole groups of girls in bathing suits were turning up, the logic being that if one pretty girl in a bathing suit could boost a film's popularity, a whole fleet of them would be box office gold (similar reasoning went into the comic factor of the Keystone Kops).
Their scenes frequently showed them playing sports or otherwise frolicking on the beach, often as a sidebar to the main action. Sometimes they laughingly assisted the main characters with whatever antics they were up to, like a flock of mischievous sprites. Being technically extras, they weren't given screen credit–the closest might be a title card announcing "The Sennett Bathing Beauties." Actresses playing the Beauties had other roles, too, turning up as party guests, Grecian dancers, customers, wedding attendees, and the like in Sennett's many comedies. Some Beauties went on to larger roles and even stardom (Phyllis Haver and Marie Prevost being prime examples), while others seemed content with working as extras. (If you like, feel free to read my whole entire post about the Bathing Beauties right here.)
When Gloria arrived at the Sennett studio in 1916, she was one of the main players right off the bat, starting with her first appearance as "the Girl" in A Dash of Courage, costarring Harry Gribbon and Bobby Vernon. Film #2 was Hearts and Sparks, where she again costarred with Vernon with Hank Mann playing the heavy. She and Vernon would be the main stars of her third Sennett film, A Social Cub, marking the beginning of their onscreen partnership. You'll notice that none of Swanson's early Sennett roles involve the word "extra"!
"Okay, so Swanson always worked for Sennett as a featured player. But what about those photos?" you say, now thoroughly confused.
Here's how they came to be: In 1917 Sennett parted ways with the Triangle Distributing Corporation and decided not to renew some actors' contracts. Bobby Vernon was one of them, sadly, but Sennett did keep on Gloria–and immediately stuck her in a very slapstick-heavy two-reeler called The Pullman Bride (1917). Costarring Mack Swain and Chester Conklin in all their pancake-makeup-and-crepe-mustache glory, it had a goofier feel than the lighter comic romances Gloria made with Bobby. Gloria plays a girl whose mother pushes her into a marriage with a "millionaire" (Swain) who turns out to be a waiter. The hapless couple runs into Gloria's real love (Conklin) on a train–hence the "Pullman" part of the title. The film featured some scenes on a beach, which presented the studio with a perfect opportunity to take publicity photos of a suited-up Gloria.
Milking this opportunity for all it was worth, they also had her pose in a few photos with Marie Prevost and at least one with Phyllis Haver, perhaps so some extra cheesecake could get passed around. These shots have caused some confusion about Gloria's Bathing Beauty denials–IMDb even has them connected to a nonexistent 1916 film called Sunshine (maybe some signals were crossed and someone confused the Sennett players with Fox's Sunshine Girls?). But they were certainly taken for The Pullman Bride–that's the same bathing suit Gloria wore in the photos with Swain and Conklin, she just removed her stockings and the patterned headwrap…kerchief…thingie! Just for comparison:
Gloria left Sennett after The Pullman Bride, not too thrilled with the turn her comedic career was taking. So as you can see, she was always a featured player at Sennett, never a bona fide Bathing Beauty, bathing suit photo shoot or no. Even stars like Mabel Normand and Louise Fazenda appeared in bathing suits while at Sennett, and they were never considered Bathing Beauties, either.
Now, why would I want to write a whole post on a rather minor bit of trivia? It may be minor, but it's also a great example of what historians mean when they talk about "studying subjects in depth" and "examining the historical context." A shallow study of history would be: looking at the pictures of Gloria in a bathing suit; seeing they were from a Sennett film; thinking "hey, Sennett had Bathing Beauties, ergo Gloria in a swimsuit in a Sennett picture obviously equals Bathing Beauty. Doi!" Ah, but as we've seen, assumptions are one thing…!
Film history is absolutely riddled with these little details. If you like learning about cinema, it's easy to focus on big-picture myths such as silent actors being "destroyed" by the talkies (not so much, especially since so many were stage-trained), or the acting in silent films being uniformly hammy (here and there, but not all the time!). But it's the untangling of all these little pieces of historical inaccuracies that really leads to a clearer, richer understanding of the big picture in the first place.
So yes, Gloria, you can rest easy–it looks like you were right all along!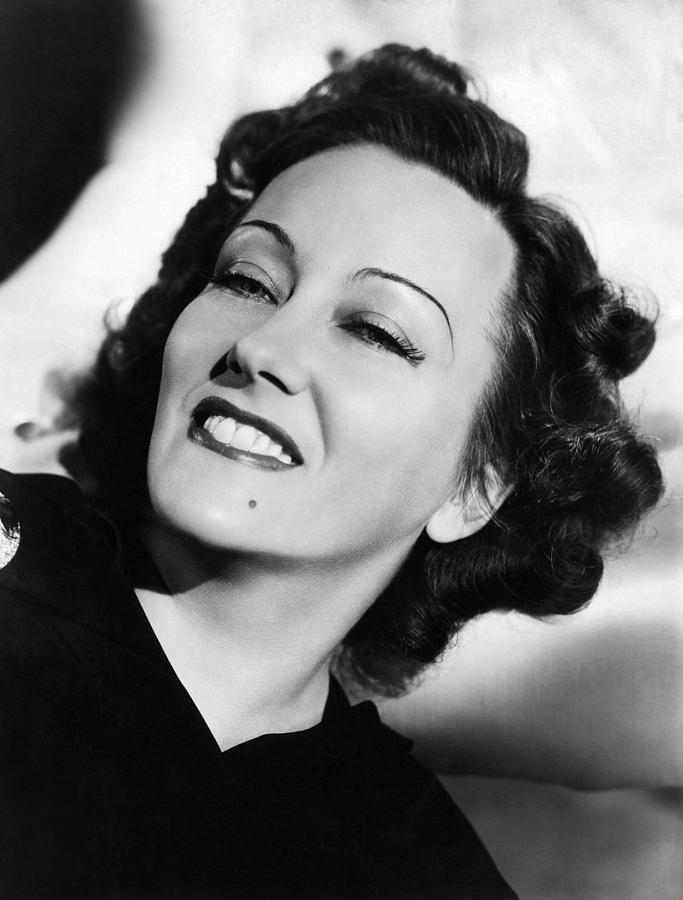 —
Just for fun, here's Gloria later in life playing with the whole "former Sennett actress" image, maybe for a party of some sort (this is not muddying the waters, mmkay).
And, of course, she gamely played a Bathing Beauty for a little scene in Sunset Boulevard. Can't say she didn't have a sense of humor about herself!