Let's get started with the film reviews! To keep things humming along, I'll be writing about two Comiques at a time, keeping the reviews a bit shorter than usual. Enjoy!
The Butcher Boy (1917)
One of THE most historically important of all silent comedy shorts is The Butcher Boy, the first release from Roscoe Arbuckle's very own studio. It's historic for giving the world its first glimpse of Buster Keaton on the big screen, which of course has inspired no end of fan joy and excited analysis. But even aside from that mighty privilege, it's simply a darn excellent short.
I must've watched it a good seventy times easy by now (like most of the Comiques admittedly), but somehow I never get tired of it, anymore than I'd get tired of a sunny summer's day. It's so unpretentiously cheerful, and it builds up to such a hilariously chaotic climax.
Let's run through the plot: Roscoe is a "butcher boy" in a small town general store. He and shopgirl Amanda are sweet on each other, much to the chagrin of rascally coworker Al. The two battle wildly for her affections, getting unsuspecting customer Buster mixed up in the pandemonium. As a result, Amanda's father sends her to a girls' boarding school run by a very strict schoolmarm (in an out-of-date Victorian dress–I love these kinds of details in the Comiques). But this doesn't stop Roscoe for long–he comes up with the foolproof plan of disguising himself as a very large girl with Mary Pickford curls and infiltrates the school. Unfortunately, Al just so happens to come up with the same plan.
The Butcher Boy has that two-part structure that's usually assumed to be a weak point, but it's used perfectly here. The looser, more gag-oriented first half introduces us to the characters and sets up their various relationships and motivations. With all that settled, the second half is free to segue into a more orderly plot. The best of the "two-part" Comiques have a similar bent.
The performances are all a lot of fun–Roscoe is his usual playfully naughty self, and never lets an onscreen moment go to waste. Living cartoon character Al St. John is also a hoot, especially in his valiant attempt to pass for a girl. And Josephine Stevens is very cute as the love interest.
And, of course, the high point is seeing the film debut of 21-year-old Buster, both fresh-faced and fresh off the vaudeville stage. His screen presence is obvious the second he walks into the frame. His natural, energetic comedy style matches Roscoe very well (and Roscoe in turns allows him to take some of the spotlight in the "molasses scene"). He's also an equal match for Al's athleticism–just compare their various falls and leaps in the end sequence.
In hindsight, I dare say The Butcher Boy shows signs of Buster having been worked into the production–which does seem to support the story about Buster being invited to tour Comique. There's no truly logical reason why he should suddenly be Al's friend, for example. Joe Bordeaux, the other friend in the end scenes, could've stepped in for any extra support in the film. But this isn't a slight, mind you, just an observation.  Thank heavens Buster was walking down Broadway that day, eh?
Delightfully, Buster apparently visited a nearby movie theater to watch the short and see how viewers reacted to his performance. Just imagine–someone who had been performing his whole life, used to being up on the stage with hundreds of eyes watching him, gets to sit in an audience and watch himself perform! Imagine how exciting this must've been for the many vaudevillians who made the transition to "moving pictures"!
I've often tried to put my finger on why The Butcher Boy works so well–is it the great performances? The clever, well-timed gags performed with Roscoe's usual smoothness? The snappy editing, infusing the whole production with a light, bubbly energy?  The wonderful sense of period detail, from Roscoe cutting meat on an actual wooden butcher's block to the older gents playing checkers by the stove? Al St. John in pigtails and a dress? The answer is simply, all of the above. 
If you're interested, I went through the famous "molasses" scene frame by frame for this year's Buster blogathon. You can read my observations and conclusions here.
—
The Rough House (1917)
Technically the third Comique two-reeler (after A Reckless Romeo, a 1916 Keystone production used to help keep the Arbuckle films coming), the lively The Rough House is indebted to the Mack Sennett tradition. And I'm not just talking about the slapstick, or even the sequence toward the end with Buster, Al, and Joe Bordeaux doubling as Keystone-esque cops. If The Butcher Boy is an example of a two-part structure done right, The Rough House is a good example of it going slightly astray. Not because the two halves are unrelated–quite the contrary, they come together very well–just that one seems to be from an Arbuckle film, and the other from Straight Outta Keystone.
The title of The Rough House has a double meaning–Roscoe plays the well-to-do Mr. Rough, and some rough-housing events go down in his house. The film opens with a classic sequence of Roscoe smoking in bed and then inadvertently setting it on fire. He also does a bit of "blink and you'll miss it" stuntwork as he sits on the bed watching the flames and then stands up just as they're spreading. His lazy attempts to put out the fire dismay his wife and her uptight mother (Roscoe's characters are often under the thumb of tyrannical mother-in-laws), and he tries using a highly-pressurized garden hose instead–yes, inside the house.
Later, during breakfast, he further annoys wife and mother-in-law by goofing around with the pretty maid (who, by the way, wears a wonderful Edwardian uniform complete with a little hat with a long train!). Also during breakfast, a delivery boy (played by Buster) stops by to drop off what appears to be some kind of meat, or so I'm theorizing. He starts flirting with the maid, much to the ire of the cook (played by Al St. John). Cook and delivery boy commence quarreling over the maid (how could you not want to watch this short?), resulting in a furious slapstick sequence that spills out of the kitchen and destroys the dining room. Knife wielding is involved–it's pretty glorious.
A cop comes and hauls away cook and delivery boy, and the women of the house fire the maid. And now the film turns over from Arbuckley mayhem-on-speed to a very Keystoney plot. Two gentlemen, whose clothing and manicured mustaches might be a parody of society types, come to visit. Since the household staff is gone the women make Roscoe wait on them, leading to fun gags like Roscoe serving soup by squeezing it from a sponge. It turns out one of the men is a thief being followed by a detective, and of course the thief tries to steals Mrs. Rough's jewels. And of course the cops are called, in form of Joe Bordeaux, Buster and Al (the two were going to be put in jail, but the station was low on recruits).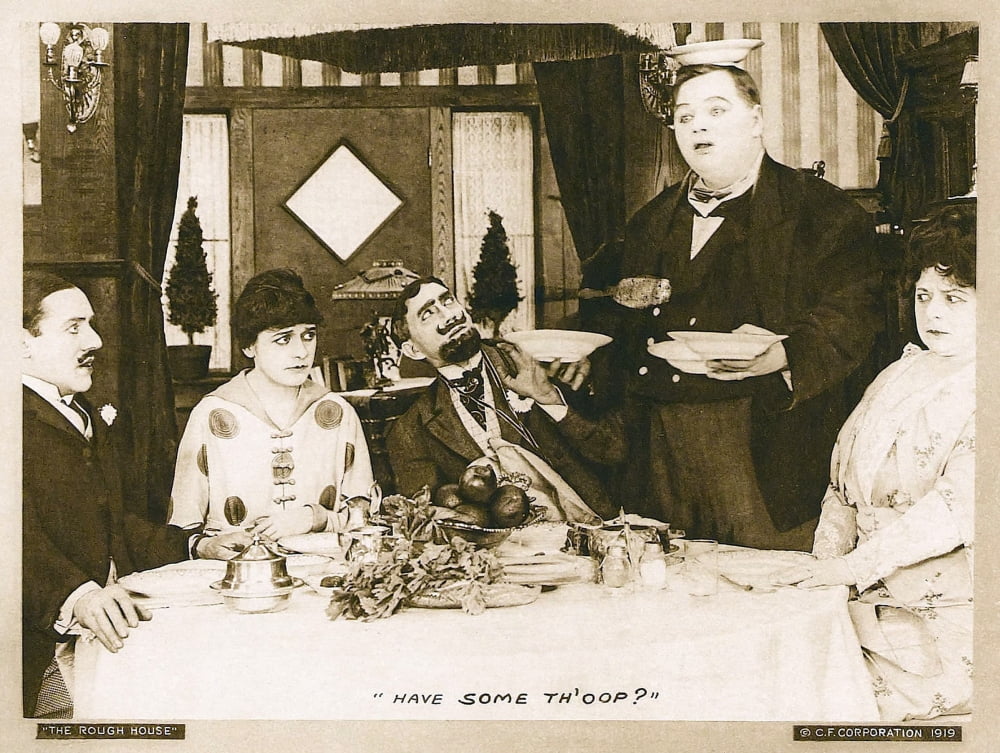 Keystone films were full of crooks, thieves, kidnappers, and other n'er-do-wells who had to be stopped during a dizzy, crosscutting chase sequence involving guns firing with puffs of smoke and inept cops trying to rush to the rescue. The Rough House ends with all of these things and more, rather like the short had suddenly wandered back into the Sennett realm. But it's still a blast. Sublimely, we get a whole sequence with Buster, Al and Joe Bordeaux in Keystone Kops mode. (Note one of my favorite things about this film: Buster's police helmet is clearly too big for him, and he is forever adjusting it or picking it up after it pops off his head! It cracks me up every time.)
There are apparently some historians who feel the "burning bed" sequence has Buster's fingerprints all over it. But it's clearly drawing on earlier Arbuckle Keystones with similar gags, such as Fatty's Plucky Pup (1915). Besides, if you ask me nothing seems less Buster-ish than a lazy character who slowly tries to put out a fire with several teacups of water and then wrestles clumsily with a garden hose. If this was a Buster film, I can see his character grabbing a teacup out of sheer panic only to instantly realize how silly that was, and throwing it in annoyance (and rushing to find a hose). But lazily strolling with little cups full of water? Um, that's Arbuckle humor, through and through.
If Buster did have a hand in Arbuckle's films this early on, I'd say it was likely to suggest gags, not direct an entire sequence. The scene involving Al attacking him with a broom certainly could've been his idea, since his family's vaudeville act was known for its gags involving brooms.
Speaking of "similar gags," The Rough House might be best known for an off-the-cuff moment where Roscoe sticks two bread rolls on the ends of forks and makes them "dance" to amuse the maid. This, of course, is a gag later made famous in Charlie Chaplin's The Gold Rush (1925). So the question is, who came up with the idea first? Arbuckle, or did Arbuckle see Chaplin playing around with rolls at lunch one day? Did someone lost to history come up with the gag, and they remembered it? We'll probably never know, but that doesn't stop me from speculating.
The Rough House is a great follow up to The Butcher Boy, and delivers a lot of the slapstick humor that audiences would've been familiar with at the time. But Arbuckle's Comique series was just getting started. There was loads of slapstick, satire, large-scale gags, and memorable scenes yet to come.
Tidbit: The sequence with Al, Buster and Joe as cops apparently used to be longer, and some scenes were shot of them running around the busy streets of New York City (hence why they're shown coming out of a subway station in the screengrab above–they apparently kept taking the wrong stations on the way to Mr. Rough's house!). I know one historian who has seen a print with this extended scene years ago, but it hasn't resurfaced since. And, strangely, it wasn't sought out for Lobster Films's new Buster Keaton shorts collection.
—
My most important source for Comique Month is James Neibaur's book Arbuckle and Keaton: Their 14 Film Collaborations, published by McFarland. I've also been benefiting from the excellent new Blu-ray set Buster Keaton: The Shorts Collection from Kino-Lorber, produced by Lobster Films.