Even casual classic comedy fans are familiar with the most famous scene from Charlie Chaplin's bittersweet Limelight (1951), where he's teamed with Buster Keaton onscreen for the first and only time. Playing old comedy partners reuniting for a comeback performance, they do a bit of charming, music hall-style slapstick that ends with Chaplin's character Calvero succumbing to a fatal injury.
Ever since they filmed those scenes in the early '50s, rumors have been flying that the arrogant Charlie Chaplin, witnessing humble genius Buster brilliantly churning out gag after gag far funnier than anything Chaplin ever dreamed of, jealously chopped it all out of the film. No one upstages the world's most famous comedian, by gum! So what's left are but hollow glimpses of Buster's mastery, so cruelly squashed by the man who…well, personally hired him to play a role in his deeply personal film.
Okay, guys, let's all be honest here–you've haven't actually watched the entire Limelight, have you? No, you just watched the 8-minute clip of Buster and Charlie on YouTube a few times and called it a day. Okay, fine, four of you have seen Limelight, but the rest of you–come now! At least give Chaplin's thoughtful film a chance (he wrote a 100,000 word novel about his characters just to prepare for the actual filming. No kidding).
Why am I making this assumption? Because once you've seen Limelight, the idea that Buster's character should've taken the spotlight in the "comeback" scene makes no sense. Absolutely no sense at all, my friends. 
Limelight is, of course, worthy of its own review, being one of the most touchingly autobiographical films Chaplin ever made (it would've been a brilliant end to his career, if he had stopped there). He'd been partly inspired by comedian Frank Tinney, whose unfortunate story was much like Calvero's in Limelight, and he also drew on memories of his father's alcoholism and his mother's mental illness.
The theme of Limelight is about an aging performer's fading career and sense of alienation from theatergoers–as Chaplin put it, "Calvero grew old and introspective and acquired a feeling of dignity and this divorced him from all intimacy with the audience." Philosophical musings on life in the theater and even on life itself are woven through the film's running time, culminating with Calvero's deep desire to reclaim the spotlight for one last time. Chaplin clearly infused his film with his own reflections on his decades of fame–you could almost say he infused it with bits of his own soul.
So obviously the character who appears for ten minutes and is known only as "Calvero's Partner" is supposed to be the true star of the show. Hold on, does that sound a little "off" to you?
The function of the scene is simply to show the two performers doing a funny sketch as part of Calvero's comeback; Calvero is finally regaining that spotlight he longed for with an old friend's support. Why Buster should suddenly be the focus here, as a few fans think he should be (because they've never watched Limelight) is a strange idea indeed.
So how did the rumors about the sketch start? Eleanor Keaton thought it originated with film collector Raymond Rohauer, who began a business partnership with Buster a couple years after Limelight was released. Tearing down Chaplin to somehow elevate Buster was, well, a Rohauer sort of thing to do. Quotes from Limelight art director Eugène Lourié and lead actress Claire Bloom also seemed to imply that Chaplin had been doing some selective editing. Lourié recalled watching the master comedians improvise gags on the set, to the crew's delight: "Chaplin would grumble. He would say, 'No, this is my scene.'" And Claire Bloom remembered, "Some of Keaton's gags may even have been a little too incandescent for Chaplin because, laugh as he did at the rushes in the screening room, Chaplin didn't see fit to allow them all into the final version of the film."
But perhaps we're spinning these recollections into something more damning than they were. After all, both comedians spent a lot of time working on their scenes and improvising various scenarios; not all the footage could be included. Jerry Epstein, Chaplin's assistant on the film, was very vocal that the rumors weren't true:
People have written over the years that Charlie cut out the best stuff of Buster Keaton. That's completely untrue, and I should know as I was with Charlie every day in the editing of the picture. He shot enough for ten films from just that sequence. He cut out some of Keaton's stuff but he also cut some of his own best gags. Narrative meant more than anything else, no matter how good any one gag was. He would never sacrifice anyone's performance. He looked for the best of everyone…It was Charlie, in the editing, that kept cutting back to Keaton with the music sheets falling off the piano.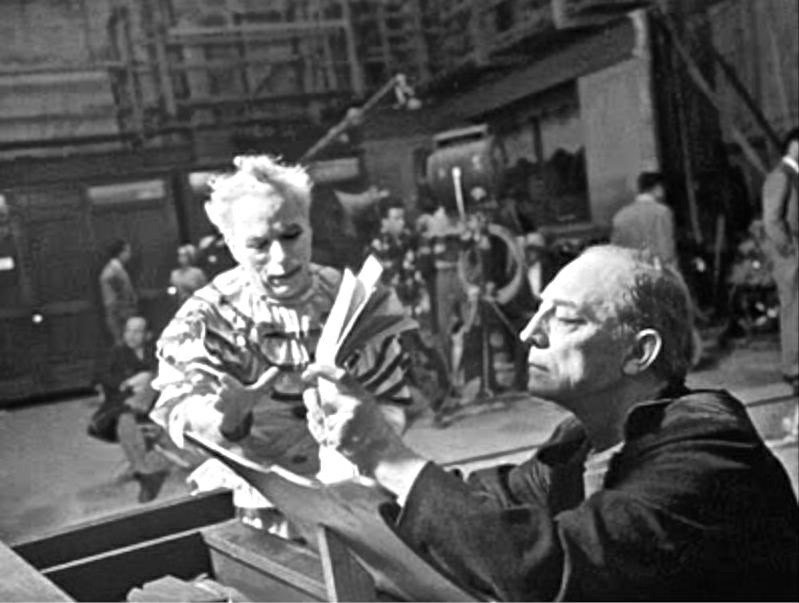 Sydney Chaplin, Charlie's son who played a role in Limelight, also maintained that his father didn't butcher Buster's scenes–and injected some common sense: "For Buster Keaton to suddenly be funny was not in the story. The story is that Calvero makes a comeback. It would have been inconsistent if Keaton or another actor had overpowered him."
If you ask me, there's also the question of what more really needed to be added to the sketch. It can basically be divided into three parts: first the comedians' attempts to play music are self-impeded (Calvero has his wonky leg and his partner fumbles with the sheet music), then the two are impeded by their instruments, and lastly, they finally get to furiously play music to the point of getting carried away. It's a perfectly cohesive piece, with both performers getting in good gags while Calvero still seems like the star. I'll add that fan insistence that Buster's way better in the scene than Chaplin seems…well, overly analytical (look, the sketch is delightful, but is it the most laugh-out-loud thing Buster's ever done? Methinks not).
So who else didn't believe the rumors? Buster himself, that's who. In the book Buster Keaton Remembered, Eleanor recalled:
Buster worked on the film for three weeks from just before Christmas 1951 through the second week of January 1952. There was an outline prepared by Chaplin, but the comedy was mostly improvised on the set…Raymond Rohauer, Buster's business partner, began the rumor that Chaplin cut out Buster's best scenes in the film…Buster did not think [the rumor] was true. He greatly enjoyed working with Chaplin on Limelight, which is considered historic in its teaming of the two great comic geniuses of film.
Ah yes, I see you back there, waving your hand around. "But what about the Martha Raye sketch?!" you shout, eyes shining with triumph. Now hold on, my friend–before you pour that congratulatory glass of champagne, let's go over some context for everyone else.
In 1956, a few years after Limelight was released, Buster appeared on The Martha Raye Show to do a comedy sketch with the comedienne. They decided to recreate the famous bit from Limelight, which they performed more or less the same way, but with a few added gags by Buster that put him more in the spotlight. Some fans feel that this must be the "original" version of Charlie and Buster's scene, or at least it gave him a chance to use some of the gags Chaplin supposedly chopped out (with great viciousness).
Since there's no outtakes that survive from Limelight, this is all speculative. The added gags could be from Limelight rehearsals. Or, you know, maybe Buster improvised a few new gags for The Martha Raye Show, since he was a guest star and wanted to "bring it" on the set. Is that not equally possible? So I don't think we can say that Martha Raye sketch proves anything one way or another–except for proving Buster's talents, of course (to be fair, all of his appearances do that).
So perhaps it's time to put these rumors to rest, get acquainted with Occam's razor, and simply relish the scene for what it is: one of the most historic moments in cinema and a priceless gift to comedy fans (courtesy of Chaplin, might I add). And you know, guys, I really do think it's time that you get comfy on your couch and actually watch Limelight!
—
Sources:
"Chaplin and Keaton–Two Friends in the Limelight." https://littlebitsofclassics.wordpress.com/2017/02/19/chaplin-and-keaton-two-friends-in-the-limelight/
Keaton, Eleanor and Vance, Jeffrey. Buster Keaton Remembered. New York: Henry N Abrams, Inc., 2001.
Robinson, David. Chaplin: His Life and Art. McGraw-Hill Publishing Company, 1985.
Vance, Jeffrey. Chaplin: Genius of the Cinema. New York: Henry M. Abrams, Inc., 2003.