While browsing through old film magazines online (how often have I said that), an unusual photo caught my eye–a young woman with intense eyes, peasant-like clothing and long, unkempt hair. Oh, and she was gripping an ax.
Not something you see in those polished magazines every day! I had to find out the story behind it, and what turned up was one of those "rags to riches" types of Hollywood tales–with a unique twist.
The young woman is Helen Mundy (sometimes spelled Munday), and she was the star of Stark Love (1927), Karl Brown's audacious experiment in a kind of pre-Italian neorealism (or, shall we say, "docufiction"). Inspired by influential documentaries like Nanook of the North (1922) and Moana (1926), Brown had decided to film a grand drama of the "primitive" folks of the Appalachians, using locals instead of actors. As he described his project to Amateur Movie Makers magazine, it would be "a vivid portrait of a people who never before had been adequately portrayed, either in story or in motion picture."
"Hillbilly" culture had long been a topic of fascination in early 20th century America, associated largely with "moonshine" and Hatfield-McCoy-style feuds. The Appalachian region, populated largely by the descendants of Scots-Irish settlers, was considered an untamed area whose residents still clung to the "old ways." Stereotypes abounded about "backwards" hillbillies, but there was also a bit of romanticist fascination with their rough-hewn homes and life close to the land.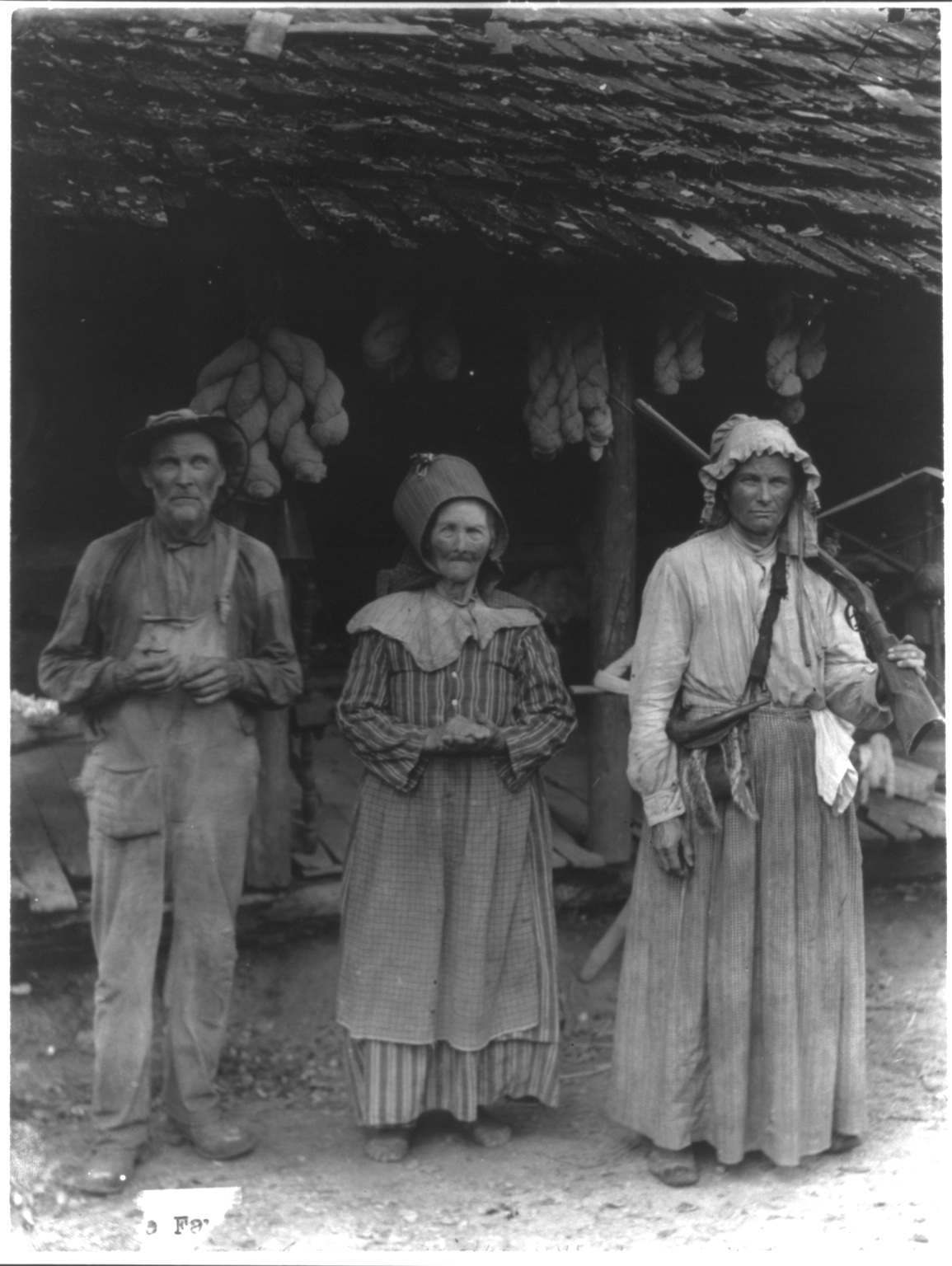 The silent era had a number of films with hillbilly themes, from early works like The Moonshiner (1904) and Girl of the Mountains (1913) to Arbuckle's Moonshine (1918) and Mary Pickford's Sparrows (1926). A popular filming location was Asheville, North Carolina, which provided access to the rugged Appalachians and was easy to get to by rail.
Brown said his goal for Stark Love was to show these mountain people "As they really are. As human beings, not caricatures…No feuds. No moonshining. No revenuers…" Although admittedly, he had little firsthand knowledge of Appalachian culture. He headed to Asheville and found a remote area in the Great Smokey Mountains to use as a filming location–so remote that his company had to carve their own road into the forest. Abandoned cabins were reconstructed to serve as sets. In reality, the residents of Appalachia weren't nearly that isolated, but Brown was attracted to the idea of a culture "far from civilization," as one of Stark Love's title cards would say.
A challenge was finding locals who'd agree to act in the film, especially locals with enough natural charisma to play leads (attractiveness was a factor too–as one magazine said, "One mustn't forget the box office"). Brown managed to find his two teenage leads in Knoxville, Tennessee. Quiet local athlete Forrest James fit the role of the gentle son Rob Warwick, and headstrong Helen Mundy was a perfect choice for the fiery Barbara Allen. Mundy in particular was given a wave of publicity, and the story goes she was spotted in a drug store by a talent scout. Much was made of this "regular girl" actually experiencing every girl's dream: being asked "How would you like to star in a picture?" and then whisked off to the exciting world of filmmaking.
Mundy wasn't quite as new to the entertainment industry as breathless writers wanted people to believe–she'd been in local theater since early childhood and had also been in George White's Scandals. But Stark Love was her first experience in front of the camera, and it was a memorable one for all concerned–both because of her strong performance, which stole the whole show, and her temperamental personality. Brown later said she was one of the most difficult people he'd ever worked with.
But all the drama paid off–critics raved over Mundy's performance. One reviewer wrote, "For all her youth, her eyes are like pools of lava about to pour out fire." She was heralded as a new find, soon to be put under contract to this or that major studio.
When we watch Stark Love today, it's clear that a strong lead was important–whatever Brown's intentions, it has a ring of "exploitation film" about it. Title cards explain that the story's set "Deep in the North Carolina hills, far from civilization," and declare: "In their inaccessible mountains these people remain undeveloped by culture and their laws of the wilderness are expressed in the cruel principle–MAN IS THE ABSOLUTE RULER, WOMAN IS THE WORKING SLAVE." (All caps, at that.) The main character is Rob Warwick, a youth from a large, rugged family who's unhappy with how his father treats his overworked mother. He learns to read, which leads him to dream of exploring the world beyond the hills. He's attracted to his neighbor's daughter Barbara, a tough and capable girl who's intrigued about Rob's ambitions.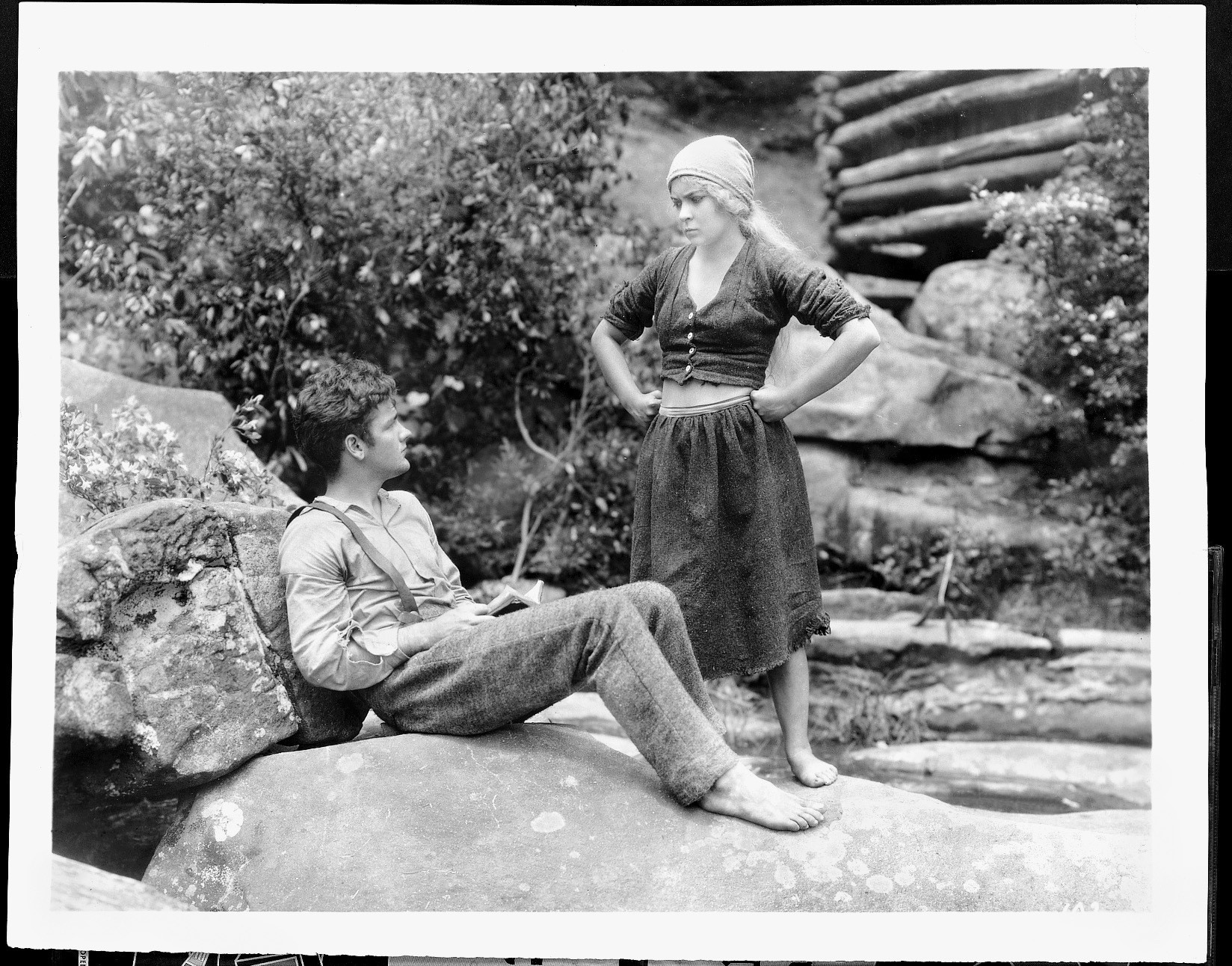 Much is made of the one-room, "smoke-blackened" cabins where the families live. We're told there's never any privacy, and in case the Deep Significance of this isn't fully sinking in, there's a scene where Barbara has to undress in front of the males in her family (we see her bare back). The movie also really, really wants us to notice that Rob's bed is right next to his parents'. (Why he couldn't just sleep up in the loft with his siblings is unclear, but alrighty then.) During the mountain folks' "funeral feast," a preacher comes to legalize "wild marriages." Of the couples that come forward to be properly married, one already has two children.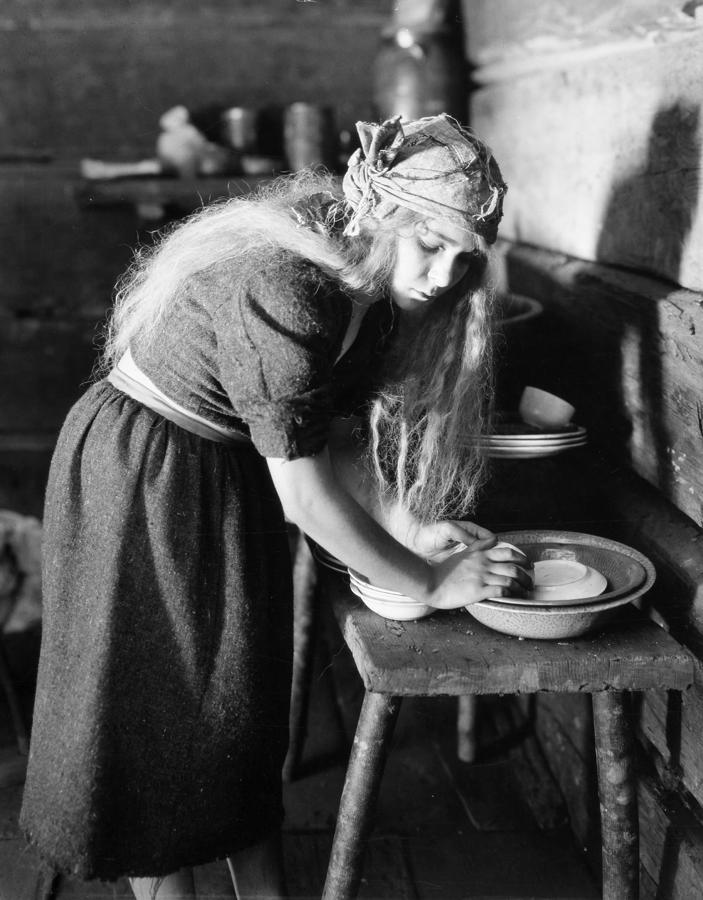 Reading contemporary articles about Stark Love, often described as having an "all-native cast," can be an eye-opener. The Educational Screen casually described:
Stark Love pictures a group of native whites in the Smokey Mountains of North Carolina who still preserve intact, untouched by civilization, the habits and customs of a savage race…They are born, live and die in windowless log cabins; families of ten or twelve get along quite comfortably in such dwellings; the women give birth to an average of a dozen children; married at fourteen or fifteen, they are prematurely killed by overwork and frequent child-bearings, there is no privacy in their huts…

Karl Brown has taken a mass of these intimate facts and woven them carefully into a master-cinema which reveals the life of a strange people in all the stark melodrama of their savage surroundings.
Brown himself discussed the film in various publications, such as this article in Amateur Movie Makers:
In going among a primitive people the producer finds that one of the most difficult tasks confronting him is casting. It required six weeks to cast Stark Love, and even then we were forced to get the boy and girl from nearby towns. Often we were blocked by religious opposition, and it is practically impossible to overcome this in a primitive people…

Even with our cast assembled our difficulties were not at an end…Their natural reserve is invariably characteristic of them. We soon discovered that ordinary directorial methods would avail us nothing…Often times we would rehearse one scene three and four hours, thus breaking down the inhibitions. This breaking down process was not unlike animal training.
Yikes.
All this isn't meant to brush aside the good qualities of Stark Love–the version I've seen was very blurry, but you could still tell the cinematography was beautiful. The story gripped me right away, and the grand climax at the end was well handled. A tense scene involving Barbara and an ax certainly ranks as one of the great dramatic scenes of the silent era, next to the closet scene from Broken Blossoms and the epic fight in Tol'able David. I hear Stark Love does survive in a much crisper print–thank heavens, because Mundy's star turn deserves to be studied in all its glory.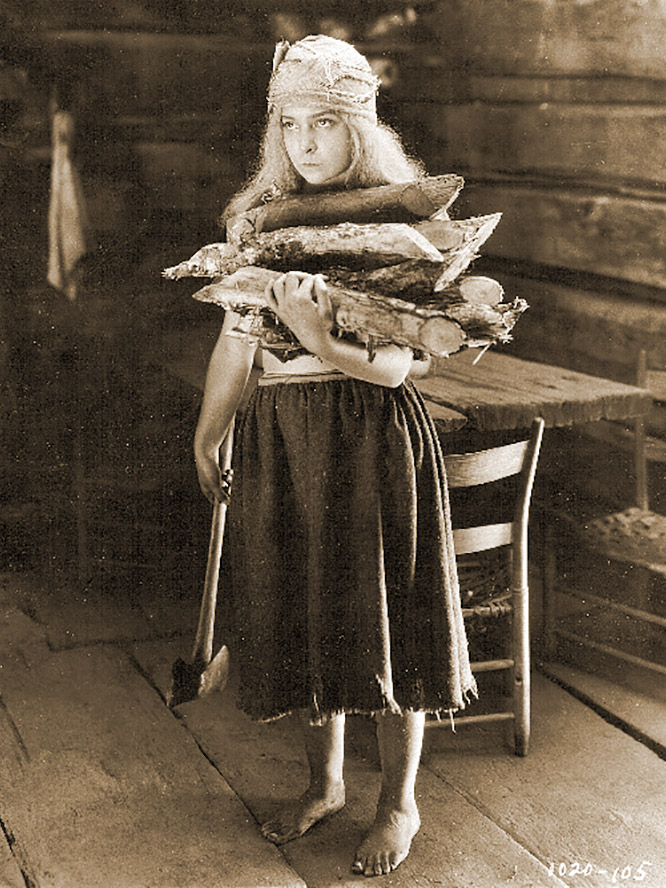 Still, it's hard not to compare the sensational Stark Love with warm, respectful dramas like Tol'able David or True Heart Susie—made by men who, unlike Brown, had grown up in the very environments they were depicting with such care.
Speaking of Mundy's performance, you might wonder what happened to her. Once Stark Love was released to much critical acclaim but a tepid box office, it was proclaimed throughout the land that Mundy had a five-year contract with Paramount–some sources say she was already cast in another film. As Motion Picture Magazine said, "Talk about your Cinderella stories!"
Having gotten a taste of filmmaking, a helping of fame, and having given the performance of a lifetime on her first try, Mundy decided to hightail it back to Tennessee. Whether she was let go from her contract or simply walked out on it is unclear. She did make personal appearances here and there, which lead to meeting orchestra leader Don Barringer. They would marry, raise four children together and settle in Schoolcraft, Michigan–a small town whose population is 1,500 today.
A journalist caught up with Mrs. Helen Barringer in 1948, and she reminisced about what it was like to walk away from Hollywood: "It was Christmas time and I was alone in New York. I just packed a bag and went home to Tennessee…I know it sounds crazy.
"…I never had time to think about going back to pictures. And now with my family, my friends, and my home here in Schoolcraft, I am quite content.
"But it was fun while it lasted."
—
Take a look at Stark Love below–the print isn't great, but I still enjoyed it. DVD copies of it float around here and there, but I don't know what their quality is like. If a screening of the beautiful archival print ever plays near you, run to the theater!
.–
Sources:
Brown, Karl. "Broadway Hails the Amateurs." Amateur Movie Makers, June 1927, page 9.
Prizer, Ed. "Stage, Movie Stardom Was Fun, But Home Is More Fun." Evening Independent, Massillon, Ohio, March 4, 1948, page 10.
Jackson, Robert. Fade In, Crossroads: A History of the Southern Cinema. New York: Oxford University Press, 2017.
Williamson, Jeremy Wayne. Hillbillyland: What the Movies Did to the Mountains and what the Mountains Did to the Movies. North Carolina: UNC Press Books, 1995.
https://www.nitrateville.com/viewtopic.php?f=1&t=11605