Largely forgotten today, the boyish Charles Ray was once a bright Hollywoodland light. The most prominent actor to specialize in gosh-and-golly "hick" characters–with much-lauded touches of subtlety and pathos–Ray helped make the rural melodrama a much-loved genre of its own. And he may also have been influential in ways we wouldn't guess today.
Born in Jacksonville, Illinois in 1891, Ray would largely grow up in Peoria before his family moved to a ranch in Needles, California. A small town even today, Needles was once a railroad crew tent town and was only incorporated in 1913. Out in the country he "learnt to ride, to rope and shoot–to live clean, think clean, and talk clean," as the fan magazines would later say. Eventually the Rays would move to Los Angeles, where Charles would finish high school.
As a teen, Ray got a job passing out hand bills advertising plays for a local theater. Climbing the ranks to becoming a water boy, then an usher, and then a ticket-taker, he decided the next step would be getting up on that stage itself. At age 15 he joined a stock company and would spend the next few years doing drama, comedy, song, dance–whatever the work demanded. By 1912, having gained lots of experience but not much income (his pay was about $3.00 per week), Ray heard there were lots of opportunities in moving pictures and decided to seek a new fortune.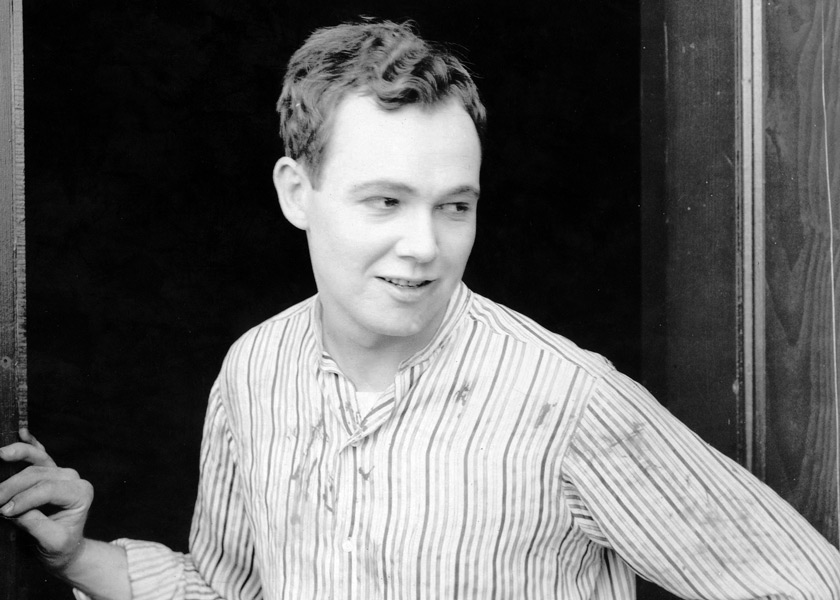 Joining the mighty Thomas Ince Film Studio near Santa Monica, Ray began acting in two-reel dramas. His dark eyes, smooth youthful face and athletic frame were well-suited for the camera and soon he was a juvenile lead. "Inceville" is famed today for its "assembly line" style of filmmaking that revolutionized the movie industry, and Ray would say he appeared a picture "every nine days." It must've been an exciting place, for fellow actors included hundreds of members of real Wild West shows and even a 200-member Sioux tribe, who installed their teepees on the company grounds. Ray mainly appeared in Westerns, Civil War stories, and–interestingly–a string of tales set in Puritan times. The Lost Dispatch, The Sinews of War, The Soul of the South (all 1913) and In the Cow Country (1914) were some of the evocative titles.
After appearing alongside Western superstar William S. Hart, Ray received a leading role in the Civil War feature The Coward (1915), which survives in beautiful quality. Costarring the Shakespeare-trained stage star Frank Keenan and fellow stage veteran Gertrude Claire, it tells the story of a proud Southern colonel who volunteers himself and his son for the war. To his horror and shame he discovers that the son is a coward. Crisply-filmed and evocative of old daguerreotypes, it showcases magnificent performances by the leads, especially Ray, whose subtlety and naturalness is still compelling today. Critics raved over him–Peter Milne wrote in Motion Picture News: "Charles Ray…gives a performance that is truly a revelation. His expressions, made so significant by close-ups, reveal with powerful sincerity his innermost feelings." The Coward propelled Ray to stardom, proving him to be the kind of actor who wasn't just appealing to audiences, but to critics, too.
After a few more supporting roles alongside actresses like Louise Glaum and Billie Burke, Ray began starring in his own films (again under the wing of the Ince studio). The particular formula of a Charles Ray film began with what Moving Picture World would call "his pet role": "…the unexpectedly successful country bumpkin, his own awkwardness bringing him fortune." His films had homespun titles like The Clodhopper (1917), String Beans (1918) and Homer Comes Home (1920), among many others. Perhaps taking cues from The Coward, his characters often contended with a tyrannical fathers casting them out into the world, and other times they dealt with awkward attempts to fit into college life. Whatever the case, in the end they had to fight back their own fear or self-doubt and find inner courage. Ray's unpretentious charm in these "weakling" roles and the rustic appeal of his films quickly made him one of the biggest stars of the 1910s. One Chicago exhibitor wrote to Exhibitor's Herald in 1918 with high praise: "Charles Ray is a popular boy…He is becoming adored as Bushman used to be."
Ray seems to have arrived at just the right time, filling a niche that had far-reaching appeal. The growth of American cities and the new era of electricity, telephones, automobiles and airplanes had made many Americans aware of how the "old oaken bucket" way of life was vanishing. Many adults, nostalgic for happy childhoods out on the family farm, found comfort and delight in Ray's characterizations. Many younger folks, faced with leaving the farm for exciting but uncertain futures in the growing cities, saw themselves in Ray's "weakling" characters. Urban audiences enjoyed the "quaintness" of his films and critics praised his acting. It also helped that he had quite a few "manly" skills too, as related by Motography: "In The Coward he proved himself a splendid character actor and intrepid horseman; in The Pinch Hitter he was hailed by critics as a comedian and by baseball men as a real base ball player; and now in The Clodhopper he demonstrates his ability as a dancer."
By 1920, Ray was on top of the world, enjoying success and the lavish lifestyle that went with it. He and his wife Clara spent money like it was going out of style, keeping a beautiful home in Beverly Hills that had gold doorknobs, a full staff of servants, and a fleet of fancy automobiles. Still, he apparently wanted to take his career to the next level. He seems to have had ambitions even during the early, two-reeler days of his film career, when apparently he wasn't above turning down lead roles in favor of more challenging character parts. "He worked hours over a 'make-up' that was used for a few seconds only, in a part far back in a corner," said Motion Picture Magazine in 1917. "He never complained, but was always keenly interested in everything he was asked to do." In 1920 he decided to start his own production company and bought a small studio on Sunset Boulevard.
Ray's most noteworthy independent film, The Old Swimmin' Hole (1921) (named after the James Whitcomb Riley poem), had the familiar rural setting and "rube" characters but added an experimental twist–no intertitles. It was the first feature-length American silent to try such a thing, and it attracted a lot of praise. The Exhibitor's Herald wrote: "This marks an advance in film making. [The intertitles'] absence is not realized for some time after the feature has proceeded, a certain indication that it has been skillfully welded together without them and their place supplied by good acting….It is a thoroughly artistic, thoroughly refreshing picture of things commonplace but dear to the heart of the whole American nation, and it is safe to prognosticate that this will be one of the Ray pictures longest remembered."
Despite the critical accolades, in the early 1920s Ray's fanbase seemed to drop off. Perhaps his formula was a little over-familiar, or maybe the rural melodrama as a whole was being overshadowed by the surge of "flapper" pictures (from 1922 onward, especially). Whatever the case, he would join United Artists and attempt to slow his output to just a couple "super productions" per year, following the lead of other big stars like Mary Pickford. His first super production was the period film The Courtship of Miles Standish (1923). He spared no expense, including building a full-sized replica of The Mayflower (which weighed 180 tons). Despite investing millions of his own savings, the picture flopped at the box office and Ray would never regain his former wealth. Despite a couple more attempts at starring roles, he also wouldn't regain his former level of fame. (Apparently, the Mayflower replica sat in a gulch near Sunset and Fountain for years, a testimony to a dwindling career.)
Ray is sometimes assumed to be an egomaniac by historians, and perhaps his wife Clara (who reveled in a life of luxury) contributed to his questionable business decisions as well. Yet for being such an "egomaniac" he did continue working steadily, uncomplaining about being billed below bigger stars like Marie Prevost in Getting Gertie's Garter (1928) or Leatrice Joy in Vanity (1927). By the 1930s he was starting to take bit parts and extra roles, saying: "I'm not trying to stage a comeback. I'm just looking for work." He and Clara would divorce in 1935, and in 1941 he would marry French actress Yvonne Guerin–sadly she would pass away only a year later. Supplementing acting jobs with writing, Ray kept busy until 1943, when he died after a weeks-long battle with an infection from an impacted wisdom tooth. He was only 52.
Ray's influence and legacy may go deeper than we 21st-century folks might assume. Historian Kevin Brownlow pointed out a number of similarities between the plots of The Coward and Buster Keaton's The General (1927), speculating that Keaton could've remembered Ray's film (members of his crew could have too, in this writer's opinion). Historian Anthony Balducci points out the many similarities between Ray's The Pinch Hitter (1917) and Harold Lloyd's The Freshman (1925). In general, Keaton and Lloyd's famed "little fellows," who often have to prove their courage, sure seem to have taken a few cues from Ray's endearing rube characters.
While his story is often used as an illustration of the fleeting nature of fame and an example of stars who get too big for their britches, Charles Ray's contributions to pop culture–especially the warm depiction of rural "home, sweet home"–shouldn't be overlooked. You could almost say that his talent was meant to shine in that very specific time and place.
—
Sources:
Everson, William K. American Silent Film. New York: Da Capo Press, 1998.
Koszarski, Richard. The Age of the Silent Feature Picture, 1915-1928. Berkeley and Los Angeles: University of California Press, 1990
Slide, Anthony. Silent Players: A Biographical and Autobiographical Study of 100 Silent Film Actors and Actresses. Lexington, Kentucky: University Press of Kentucky, 2002. (This had a strangely scathing portrayal of Charles–not my favorite article–but had the basic facts down.)
http://anthonybalducci.blogspot.com/2018/11/charles-ray-role-model-of-buster-keaton.html
http://imdb.com
http://lantern.mediahist.org
http://wikipedia.org
And I found the following article particularly helpful: https://obscurehollywood.net/charles-ray.html