It's one of the most famous scandals in Hollywood history: the 1921 "Arbuckle scandal" revolving around actress Virginia Rappe, who became ill under mysterious circumstances at Roscoe Arbuckle's Labor Day party in a San Francisco hotel and died a few days later. Arbuckle, one of the most beloved comedians in the world at the time, was accused of her murder, resulting in three sensational trials and mountains of hysterical press coverage. He was eventually acquitted, but the scandal has forever tinged both his name and the name of Rappe. Most people today have at least a faint idea of the scandal–usually the ugliest rumors, unfortunately. And it's definitely fascinated generations of film history fans, who've debated every detail of the case ever since.
And I should know, because I'm one of those film history fans. Admittedly I don't find the sordid details fun to read about, especially since Arbuckle's one of my favorite comedians. And there's something…inherently impractical about wanting a blow-by-blow timeline of the Labor Day party. Sure, we can piece together a pretty detailed picture from witness testimonies, but think back to the last party you've been to. Can you remember exactly what time you got there, who attended, when each person arrived and left? Can you remember exact conversations? What certain people were eating or how many drinks each person had? Heck, I have a hard time remembering exactly how my day went yesterday. And this is a party that happened an entire century ago. Need I add that we'll never know precisely what happened in room 1219 (where Rappe first became ill)? The only two people in the world who truly knew were Arbuckle and Rappe, and we only have Arbuckle's side of the story–no doubt heavily influenced by his attorneys.
Having said all that, it was still a very historically significant case, and worth looking into if only because the reputations of Arbuckle and Rappe have been dragged through the soggiest, most putrid of mud. I also wanted to share a theory that's been brewing in my mind that might help explain some of Arbuckle's behavior.
First, let's get some of the ugliest rumors out of the way:
No, Virginia Rappe was not raped by Roscoe Arbuckle. The doctors who attended to Virginia when she was sick–and the doctor who performed her autopsy–were very clear there were no physical signs of rape.
She also never accused him of rape when she was sick in room 1227 for several days, nor at the sanitarium where she eventually ended up.
I really hope it's obvious at this point that any act involving a "Coke bottle" was completely made up. Rumors about some sort of bottle being used as a particularly cruel weapon (a 1931 Time article mentioned a "beer bottle") started decades ago. The rumors gained steam after writer Leo Guild, who specialized in exploitation-style pulp fiction, wrote the cheap 1962 paperback The Fatty Arbuckle Case.
There was an incident involving ice–we'll get to that–but not as some sort of weapon.
Maude Delmont was apparently not a "notorious madame" or an extortionist. Not a whole lot is known about her in particular, other than she was married several times and worked as a "corsetier." Her testimony was the most sensational but also most unreliable. In my opinion she was likely an alcoholic.
Arbuckle was never on trial for rape, and while he was initially arrested for Rappe's murder the charge was changed to manslaughter after the preliminary hearings. That's right–he was never on trial for murder.
And now for one of the ugliest rumors of all: No, Virginia Rappe did not have venereal disease, never worked as a prostitute, and was not suffering from a botched abortion. It's possible that she was pregnant, however. Rappe was a former model, a clothing designer, and aspiring film actress. She did have a painful case of cystitis, or bladder inflammation (usually caused by a bladder or urinary tract infection) which she'd frequently suffered from in the past.
Some Brief Backgrounds
Roscoe Conkling Arbuckle was born March 24, 1887, in the little town of Smith Center, Kansas. The youngest of five children, he largely grew up in Santa Ana, California. His family was poor and his father frequently drunk and abusive–when he was home at all. As a child Arbuckle did odd jobs for money and spent more time at local vaudeville houses than in school. He managed to get a bit part in a play, which kickstarted his stage career. His mother would die when he was 12 and his father abandoned the family, forcing him to fend for himself. As he grew up Arbuckle became more and more involved in the theater, especially since he had a beautiful singing voice. By his late teens he was a star singer and appeared in burlesque revues. In the Byde-a-Wyle theater in Long Beach he met actress Minta Durfee, who became his wife, and in the early 1910s the couple got hired at Mack Sennett's Keystone Film Company. Arbuckle soon became one of its most popular performers and a major film star. In 1917 he was able start his own studio, Comique, and hired the former vaudevillian Buster Keaton. When the '20s dawned Arbuckle made the leap from short comedies to feature films at Paramount and filmed them at a breakneck pace. In 1921 the 34-year-old celebrity had just completed three features when he decided to vacation at the prestigious Hotel St. Francis in San Francisco with his friends Fred Fishback and Lowell Sherman.
Virginia Caroline Rapp was born July 7, 1891 in Chicago, the only child of a single mother. Orphaned when she was eleven, she was largely raised by a grandmother and an "adopted aunt." A beautiful, energetic girl, when she was a teen she started working as a model and changed her last name to "Rappe" (pronounced Rap-pay). She was mentioned in newspaper articles as early as 1908, and by the early 1910s had a thriving modelling career. In 1914 she also started designing her own clothes, marketing some of the them at the 1915 World's Fair. Syndicated articles talked about her latest creations, especially the "peace hat" she designed in 1915 in favor of the U.S. staying out of WWI (it was shaped like dove wings). In 1916 Rappe decided to move to Los Angeles and try and make it in films. She wound up in features like Paradise Garden (1917) and several Fox comedy shorts, but never made a big splash. Rappe was engaged several times, but by 1918 was dating film director Henry "Pathe" Lehrman. She wound up in San Francisco for the Labor Day weekend of 1921 when her film publicist Alfresh Semnacher invited her to come with him and his friend Maude Delmont (she had never met Delmont before).
An Obligatory Breakdown of the Labor Day Party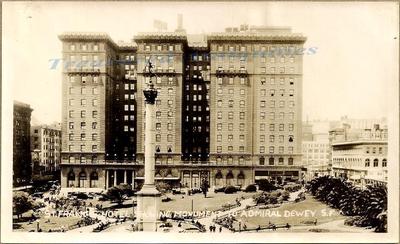 Yup, it's that time. I tried to be thorough while writing this and rely on good sources. If you've read about it before the details may be familiar, but heck, let's go through it again:
-Late afternoon on Saturday, September 3, Arbuckle, Fishback and Sherman arrive at the Hotel St. Francis in Arbuckle's extravagant purple Pierce-Arrow touring car (they had driven up from L.A.). His secretary had reserved three rooms at the top of the leftmost tower: room 1219 (with a south-facing window and bathroom), 1220 (with one south window and one east window) and 1221 (with two east-facing windows and one north, and one bathroom). They were connected by doors, forming a suite. I've seen one source that says there were double doors between rooms, for fire safety. Arbuckle and Fishback shared 1219 (it had two beds) while Sherman slept in 1221, with 1220 being used as a lounge and party space.
-The evening of Sunday the 4th, Rappe, Semnacher and Delmont check into the nearby Palace Hotel. Travelling clothes salesman Ira Fortlouis, a friend of Fishback's who was planning on meeting with him on Labor Day, was staying at the same hotel. That same evening Arbuckle and friends partied at the fancy Tait-Zinkand Cafe, a block from the St. Francis. Sherman met chorus girl Alice Blake and invited her to stop by their suite the next day for drinks.
-The morning of Labor Day Fortlouis spots Rappe and friends on his way to meet Fishback. Thinking she'd be a good model for the clothes he sells, he finds out her name. He meets with Fishback at 11 a.m. in Arbuckle's suite. Arbuckle and Sherman had both slept in and were still in pajamas and robes. Fortlouis mentions Rappe and Fishback has a note sent to her at the Palace, asking if she'd like to join them. She agrees and arrives at noon, telling her friends "if the party is a bloomer I'll be back in twenty minutes." She ends up enjoying herself and phones Delmont, who soon comes up. Alice Blake arrives around 1 p.m., and about half an hour later so does her friend Zey Prevost, a fellow chorus girl. There's no food yet but there's gin, whiskey, soda, and orange juice.
-Arbuckle orders a Victrola sent up so the room could have some music. Fishback leaves around 1:30 to look at seals he wanted to photograph for a film and Fortlouis leaves soon afterwards. Arbuckle's friend Mae Taube arrives and is none too pleased to find a bunch of guests there, nearly all of them drinking (Prevost later claimed she didn't drink). Taube agrees to return at 3 p.m. to go on a promised ride in Arbuckle's Pierce-Arrow. Semnacher arrives to pick up Rappe and Delmont but they don't want to leave. He does Alice Blake a favor by driving her to a rehearsal. She soon returns to the party since the rehearsal was cancelled. Food is sent up to the suite, and a deliveryman drops off more bottles of alcohol (probably since Arbuckle had initially been planning an evening party). Delmont complains about being hot and Sherman suggests she put on some pajamas. He gets some for her out of the dresser in 1221 and leaves as she changes into them. Delmont had been drinking heavily this whole time, all in all she had around "eight or ten whiskeys" and some gin.
-A little before 3 p.m. Rappe attempts to use the bathroom in 1221 but it's occupied by Delmont and Sherman. She goes to the bathroom in 1219 instead. While she's still in 1219, Arbuckle comes in, later saying it was in order to finally change into street clothes. He locks the door. About ten minutes go by. Arbuckle says he opened the door to inform everyone Rappe had fallen sick, Prevost and Delmont later claimed Delmont started kicking at the door and that's when he opened it. At any rate, Arbuckle tells the guests that Rappe is sick, and Delmont, Prevost and Blake enter to see Rappe lying on one of 1219's beds in a ton of pain and tearing at her clothes. Everyone assumes she was merely drunk and suffering from too much alcohol.
-The women move Rappe to the other bed since the first one was wet, Arbuckle reenters with Fishback (who had returned). Rappe is moaning and yelling in pain, supposedly Arbuckle says "Shut up, I'll throw her out the window if she doesn't stop yelling." (Later Arbuckle claimed he said "Shut up or I'll throw you out the window" to Delmont.) Arbuckle sees Rappe ripping at her sleeve and helps her take her arm out of it. He leaves and the women undress Rappe (who's starting to lose consciousness) and Fishback helps them carry her into the bathroom and into a tub of cold water (an old-fashioned remedy, probably meant to sober her up and soothe her pain). After a short time in the tub Fishback carries her back to the bed; she begins vomiting around this point. Arbuckle decides Rappe needs her own room and starts making arrangements. According to Arbuckle Delmont started rubbing Rappe with pieces of ice. Allegedly, Arbuckle put some ice on Virginia's crotch ("on" being the nicer version), saying "This will make her come to." (It doesn't.) He leaves the room again.
-Mae Taube arrived, and soon called the front desk. Assistant manager Harry Boyle comes up. Delmont was sleeping at least for a short while on the second bed in 1219 around this time. The new room is ready for Rappe, so Arbuckle and Delmont put a robe on her and Arbuckle carries her out into the hall and most of the way to room 1227, handing her to Boyle. Boyle puts her in 1227's bed and calls the hotel doctor. The doctor assumes she had too much alcohol. Back in 1220, the party continues, everyone assuming Rappe wasn't suffering from anything too serious. Delmont goes back and forth between 1227 and 1220, seeing how Rappe is doing. A second hotel physician comes to check on her and gives her morphine injections and an enema. Delmont and the party guests allegedly discuss taking Rappe to the hospital but decide against it because of "notoriety." The physician recommends Rappe go to the hospital but allegedly Delmont wants her to continue to be treated in the hotel room. Semnacher visits Rappe several times, and when she was most coherent they agreed that she could only leave with him for Los Angeles the next morning if she felt well enough.
-The party apparently continues throughout the afternoon, with Arbuckle allegedly leaving around dinnertime. The next day, Tuesday the 6th, Arbuckle, Fishback and Sherman check out of the St. Francis and take a steamship back to a Los Angeles port (the Pierce-Arrow is loaded on board). Rappe stays in 1227 until Thursday the 8th, her condition getting increasingly worse. She was seen by three nurses and three doctors during this time, was given morphine for pain as well as catherization and enemas. On the 8th she's moved to the Wakefield sanitarium, about six blocks from the St. Francis. Sadly, at 1:30 p.m. on the 9th, Rappe passes away.
-September 10 an autopsy is performed on Rappe. They discover the cause of her death: a ruptured bladder, with an eight of an inch hole in the outer wall and a corresponding 3/4 inch tear in the inside wall, and the accompanying peritonitis.
Arguments In Court
What exactly happened to Rappe in room 1219 is unclear. At the time, the state argued that Arbuckle had attempted to rape her while they were alone in 1219 together. It was alleged that Rappe's bladder ruptured after he threw her on the bed and jumped on her, and she went into shock. After managing to revive her with water, he opened the door to 1220 to tell the guests she was sick. Defense argued that Arbuckle had initially gone into 1219 to change clothes when he found Rappe sick in the bathroom. He helped hold her when she vomited, gave her some water, helped her get to one of the beds and went back to the bathroom. He came out to find her rolling on the floor in pain, pulled her up and back onto the bed, then went and informed the rest of the party she was sick.
Analyzing Arbuckle's Role In The Case
As we know, after three trials and parades of various witnesses, Arbuckle was acquitted and the jury even wrote him an unprecedented apology (partly for the benefit of the press). But that hasn't stopped questions, rumors and legends about what happened in room 1219 from persisting ever since. Several books have been written on the case, most that are closer to fiction than reality (such as The Day the Laughter Stopped by David Yallop), usually presenting different versions of what "really happened." The latest one, Greg Merritt's Room 1219, is the best so far at digging through the facts, but his theory that consensual foreplay lead to Rappe's bladder rupturing seems a stretch to me. The "consensual" part is noteworthy, as it does seem to explain at least some of what happened (like Rappe never accusing Arbuckle of anything in particular). But the unquestioned idea that one person's weight is enough to rupture another person's bladder still seems…off.
Like everyone, I have a few thoughts about the case, and I've tried to consider it from all angles (and leaving my silent comedy-loving bias out of it). I've noticed, for instance, that while most silent film fans agree that Arbuckle was innocent of trying to harm Rappe, not that many people seem to buy the story he gave in court, assuming it was cooked up by his lawyers. But hold on–why do we assume everything in his story was fabricated?
I definitely agree the story was tweaked to make Arbuckle look as good as possible, and that attorneys took advantage of certain things. For instance, there's the infamous "Shut up, I'll throw her out the window if she doesn't stop yelling" quote from Arbuckle–if true, it sounds like pretty cruel behavior towards Rappe when she was in extreme pain. In the version Arbuckle told in court, however, he claimed he told Maude Delmont to "shut up, or I'll throw you out the window." Consider that Delmont was a pretty unreliable witness, didn't testify in the trials, and had gotten really drunk on "eight or ten whiskeys" at the party. Convenient!
But while Arbuckle's version of events was probably sanitized, the gist of his story does make sense to me when I consider his behavior both during and after the party. Let's look at things from his perspective, the perspective of a world-renowned star in early Hollywood…a position that, while privileged, was also fraught with landmines. Being rich and famous back then, as now, meant you were constantly hounded for money, constantly on the alert for over-zealous fans, and constantly aware of the vicious press, eager to jump on any unfortunate or embarrassing incident. By the 1920s especially, con artists and other criminal types had made beelines to Hollywood. You had to be careful about who to trust. How many people were friendly to you just to get a favor? Or just to advance their own careers? How many people would like you for you, and not just the facade that graced the screen? It was a world where you had to be savvy, and probably pretty cynical.
So here we have Arbuckle on Labor Day, host of an impromptu party of people he largely didn't know (he knew Rappe at least somewhat). Let's assume for the time being that his basic story is true. He finds the actress who had been acting perfectly normal–drinking, dancing, and generally having a great time–just minutes before collapsed in his bathroom and groaning. Likely surprised, he sees she has to vomit and help her out. Ah ha, she drank too much and got sick. He gives her a couple glasses of water and helps her to a bed. After being in the bathroom for a moment he comes back and she's rolled onto the floor, moaning in pain. He has a hard time getting hold of her to pull her back onto the bed. By this point maybe he's feeling a bit peeved. She was just fine earlier, isn't she carrying on more than necessary? Is she really that sick from a few drinks?
He let's everyone in the lounge area know Rappe's sick. By now Rappe is yelling in pain and tearing at her clothes as everyone flutters around, trying to figure out what's wrong and how to help. Everyone assumes she's had too much to drink–maybe painful gas, too? Arbuckle assumes Rappe's exaggerating her pain for attention, and can't believe she would carry on this much. Would other guests at the hotel hear her? Is she trying to be heard? Witnesses remember Rappe saying "he hurt me" or "Roscoe hurt me." He responds, "Aw, shut up. I'll throw her out the window if she doesn't stop yelling." Zey Prevost objects and (according to her) he answers, "Aw, she's carrying on." As Rappe continues to moan and yell in pain the guests try remedies like cold baths and rubbing her with ice. Arbuckle tries putting it on her groin–another old remedy for reviving someone. Nothing works and Rappe starts vomiting again. Hmm, maybe she's drunker than anyone realized and she needs her own room and a doctor. Taking her to a hospital could attract notoriety, something that everyone would've considered with Arbuckle's level of celebrity. Arrangements are made, Rappe is being attended to in her own room, and everyone continues with the party.
So if we look at the known facts of the case from the perspective of someone who just assumed the girl had too much to drink and suspected she was being overdramatic or "carrying on" for attention, his irritated "throw her out the window" comment makes more sense, as does the infamous "ice incident" which was, in fact, an old remedy for reviving someone who was drunk or fainting. (Believe it or not, Buster Keaton claimed he was the one who told Arbuckle about it and wanted to testify on his friend's behalf. The attorneys talked him out of it.) Arbuckle may not have been as kind or gentle toward Rappe as the defense at his trial tried to argue, but maybe he wasn't particularly villainous either. Reacting with confusion and annoyance like many humans–especially famous humans–would in that situation, yes.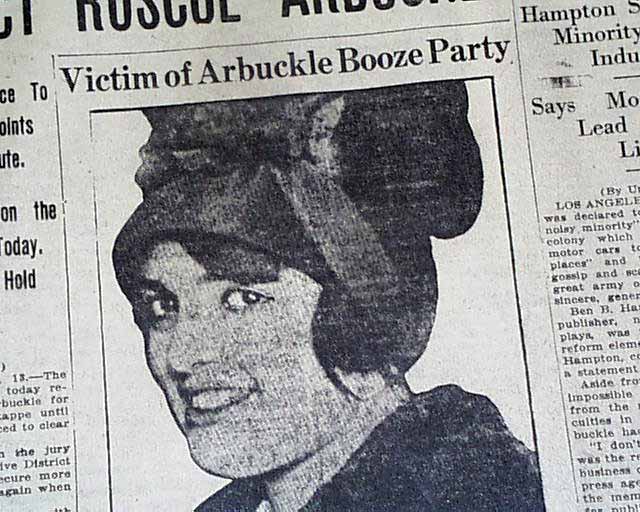 So that is my own hunch about the case. An impossible-to-prove hunch. But you might ask: What about the unfortunately maligned Virginia Rappe, and her perspective? How the heck did her bladder rupture, if not for someone–and why not Arbuckle?–somehow injuring her? Could cystitis really cause a bladder to burst? Aren't there still a lot of questions we should go through?
Well, my friends, that is for my next and final post on the centenary of this unfortunate scandal. Yes, that is a cliffhanger. Stay tuned!
—
Historian Joan Myers did a wonderful job researching the Arbuckle case and, especially, the life and career of Virginia Rappe. She has since stepped away from the project and has given her research to a trusted fellow historian. Samples of what she found can be read here:
https://www.vickicallahan.com/interviews/interview-with-joan-myers-the-search-for-virginia-rappe-in-film-history/
https://www.feminismthreepointzero.com/?page_id=33
https://www.altfg.com/film/fatty-arbuckle-virginia-rappe/
Other Sources:
Merritt, Greg. Room 1219: The Life of Fatty Arbuckle, the Mysterious Death of Virginia Rappe, and the Scandal that Changed Hollywood. Chicago: Chicago Review Press Incorporated, 2013.
Keaton, Buster, with Samuels, Charles. My Wonderful World of Slapstick. New York: Doubleday & Co., 1960.