One of the most famous quotes about the Jazz Age comes from F. Scott Fitzgerald himself–and no doubt you've heard of it: "I was the spark that lit up flaming youth, and Colleen Moore was the torch. What little things we are to have caused all that trouble." But did you ever wonder where he wrote that quote?
According to one scholar, it was inscribed by Fitzgerald himself in a miniature volume of This Side of Paradise for the tiny library of Ms. Moore's famed, beautiful, $500,000 "fairy castle" dollhouse. And that not only gives you a little taste of the success and popularity of this spirited actress, but also of her girlish, whimsical nature that so appealed to countless audiences back in the silent days.
She was born Kathleen Morrison to an Irish Catholic family in Port Huron, Michigan, likely in the year 1899 (although she would insist it was 1902). The Morrisons would move frequently, from Georgia to Pennsylvania to Florida, and they would occasionally stay with Kathleen's aunts, who doted on her and her younger brother Cleeve. The outgoing little girl had a strong imagination and loved to tell fairytale stories to anyone willing to be her audience. She also loved dolls and dollhouse furniture–passions that would stay with her into adulthood–and would make up little plays with the dolls as "actors."
Perhaps the most important event of Kathleen's childhood was the lucky day she and her mother went to see a very popular new play–Peter Pan. Absolutely mesmerized, she became so carried away by the story that when the famous scene arrived of Peter Pan turning to the audience and asking children to raise their hands if they believed in fairies (as Moore recalled in her biography), Kathleen stood on her chair waving her hands frantically, shrieking "I believe in fairies, I really do!!"
The laughter from the audience both surprised and delighted her–this was much more satisfying than reciting stories to her tiny audiences at home. And thus began her dream of becoming an actress.
Throughout her girlhood Kathleen's passion for acting grew steadily and she and Cleeve frequently put on their own plays for the neighborhood children, using a piano packing crate as a stage. When she discovered movies Kathleen went to the theaters whenever she could and became a devoted reader of fan magazines. She began to imagine herself up on that screen that she watched so rapturously, or to picture her portrait gracing the cover of a magazine.
These could have been just pipe dreams, mirroring similar dreams by countless teen girls across the nation, if it weren't for Kathleen's aunt Liberty and uncle Walter. Walter was a prominent editor at a Chicago newspaper and director D.W. Griffith apparently owed him a favor for helping get The Birth of a Nation past the city's censors. Liberty talked Walter into contacting Griffith. When the great director talked with Walter over the phone he apparently groaned, "Not a niece!" (Trading favors so star-struck daughters and nieces could be in motion pictures wasn't uncommon.)
Kathleen did a screen test at Chicago's Essanay studios to ensure that her eyes photographed properly (she had one blue eye and one brown). The test deemed satisfactory, she and her mother and grandmother were soon on a train travelling cross-country to fabulous Hollywoodland itself. Kathleen rapturously read and re-read her six-month contract with Griffith's Triangle-Fine Arts studio until her grandmother finally took it away from her.
She left home as Kathleen Morrison, but in sunny, movie studio-dotted Hollywood she was Colleen Moore, a name her family had thought up for her. Her first role at Griffith's studio was as the love interest of the talented Robert Harron in The Bad Boy (1917). She was then paired with him again in An Old Fashioned Young Man (1917). At first she was a bit nervous acting in front of a camera, but she studied the rushes and quickly learned how to improve. Although her contract was only for six months, hardworking, high-energy Colleen had no intention of returning home after it was up.
She went on to work for several studios, including Selig, Fox, Universal, and Christie, slowly building a reputation and fanbase as she acted alongside popular stars like Charles Ray. With her slender, petite frame, she tended to play girlish heroines and love interests. This was all well and good, but she began to feel that she hadn't discovered the "persona" that would make her a true star. She later said in her biography:
I just wasn't the accepted–and acceptable–model for a sweet young thing in the throes of her first love. The necessary curls I could manage, the same way Mary Pickford and the others did, with time and effort. But no amount of either could make my five-foot-five boyish figure into a curvy, petite five-foot-two or transform the sauciness of my freckled face with turned-up nose into the demure perfection of a Mary Pickford.
By the early 1920s, Colleen (and the rest of the globe) was beginning to notice flapper culture, especially once Cleeve began introducing her to his "modern" girlfriends from college. She recalled, "They were smart and sophisticated, with an air of independence about them, and so casual about their looks and clothes and manners as to be almost slapdash…I don't know if I realized…that they represented the wave of the future, but I do know I was drawn to them. "
In 1922 flappers were officially part of the national conversation, and flapper movies were a familiar new trend. That same year one perceptive interviewer decided to ask Colleen: "Are you a flapper?"
She poised, bird-like, in thought. "Well, I don't roll my tockies, I don't swear–much, I do not smoke cigarettes or a pipe or anything. I don't drink cocktails, and you know that mother won't let me bob my hair, so I guess I don't qualify. Why do you ask?

"Because the world is becoming flapper mad–male and female…And it is hinted in movie circles that the flapper on the screen is getting a little on the nerves of the critics. The old-fashioned girl is coming back, they say."

"That's good!" ejaculated Colleen…"I don't get very flappy parts in the pictures, and my success depends on the kind of parts I play. I've left the flapping to other and more successful flappers."
It's true that her screen parts weren't particularly "flappy" at the time, but as history knows, that would soon change. In 1923, having signed a contract with First National, Colleen became intrigued by Warner Fabian's best-selling novel Flaming Youth. She was certain the part of heroine Pat Fentriss was perfect for her and she lobbied the production company to get the part. She was so set on it she told her fiancé, producer John McCormick, to buy the rights to the novel as a wedding present. He did, they married in 1923, and that same year the feature Flaming Youth was released. Moore recalled: "Never had I been so happy in a movie role before. I loved every scene. After six years of treacle, it was heaven to be given a little spice."
The film itself got mixed reviews, but Colleen's performance was widely praised and her presence turned Flaming Youth into a smash hit. It also debuted her new look–a Dutch boy-style bob cut by her mother. The bob became her signature, widely imitated by young ladies across the nation. Colleen later recalled, with some humility: "They copied my clothes. No longer did a girl have to be beautiful to be sought after. Any plain Jane could become a flapper. No wonder they grabbed me to their hearts and made me their movie idol."
With the success of Flaming Youth, flapper flicks were now officially big business. Colleen herself would oblige with light comedy films like The Perfect Flapper (1924), We Moderns (1925) and Why Be Good? (1929). Her spunky flappers tended to put on a show of being "modern" but were virtuous girls at heart.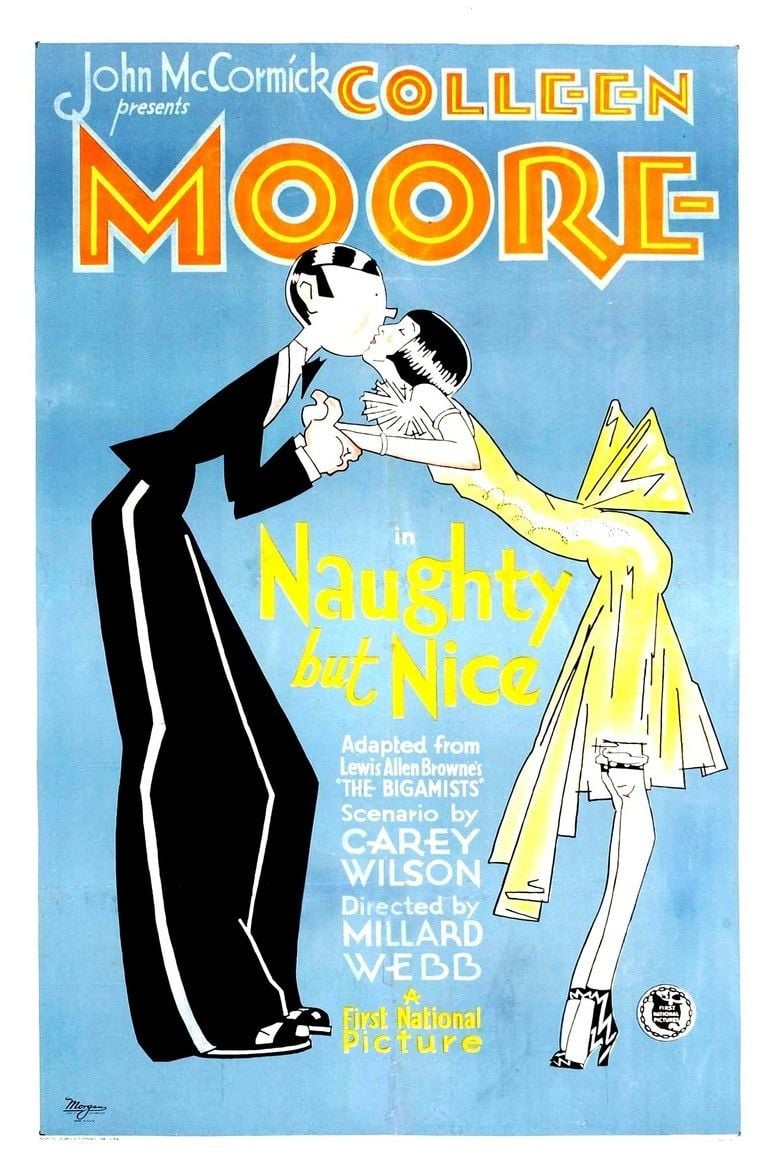 She also specialized in popular stories about working girls "making good," such as Irene (1926) and Orchids and Ermine (1927)–the latter featuring a very early film appearance by 7-year-old Mickey Rooney! One of her biggest hits was Lilac Time (1928), which co-starred an up-and-coming actor named Gary Cooper.
With a thriving screen career and a beautiful new home in Bel-Air, successful almost beyond her wildest girlhood dreams, Colleen had much to be proud of. Not all was perfect behind the scenes, unfortunately. Her husband John was an alcoholic who would go on regular drinking binges and occasionally cause drama with First National. She also suspected that he was more in love with the Colleen Moore of the screen than the woman herself.
When talkies arrived, Colleen took a break from the screen–perhaps having in mind what she once told a interviewer for Motion Picture Magazine: "To stay [in film] too long is such a tragedy. You know, I often think that is what is so lovely about Marguerite Clarke. She left when she was at the top, on the crest. We keep on remembering her as always young and gay and lovely." In 1930 she would divorce John, unable to take his drinking any longer.
In 1932 she remarried, to a stockbroker named Albert P. Scott (which was fitting considering Colleen was wise with her money and invested much of it in the stock market). The marriage only lasted two years, and ended not long before Colleen's retirement from the screen. She made only four talkies, including The Scarlet Letter (1934). None were big hits, so she apparently decided she'd "had a good run" in Hollywood and left it at that.
A woman of many interests, she kept herself busy in retirement. Her pet project, which she began in 1928 and kept adding to until her death, was her fabulous "Fairy Castle" dollhouse. As she was always passionate about dolls, she and her father had decided to design a huge, beautiful dollhouse to end all huge, beautiful dollhouses. It had nine square feet and was built and furnished by professional carpenters and interior designers. An intricate work of art, it featured thirteen fairytale-themed rooms complete with gorgeous miniature furniture, hand-painted murals and teeny paintings, and even a tiny library with miniature books signed by famous writers of the day. No expense was spared–real gold, diamonds, and other trimmings were used to make it as beautiful as possible. Today, Colleen's dollhouse has its own exhibit in Chicago's Museum of Science and Industry, and is seen by 1.5 millions visitors a year.
In 1937, Colleen married widower Homer Hargrave, helping to raise his two children (she sadly never had any of her own). They were content together until his death in 1964. During the '60s she also wrote two books–Silent Star, her autobiography, and How Women Can Make Money in the Stock Market–and formed a TV production company.
She also took steps to preserve the silent films that had meant so much to her, although with unhappy results. She had initially sent her nitrate prints to the Museum of Modern Art in New York City to be properly preserved, but tragically, a they were misplaced by a custodian and left unprotected for many years. She would eventually learn, to her grief, that many of them had decomposed.
In 1982 Colleen would marry for the last time, to Paul Maginot. She would pass away in 1988 from cancer. The New York Times paid tribute to her impact on pop culture: "…She put her stamp on American social history, creating in dozens of films the image of the wide-eyed, insouciant flapper with her bobbed hair and short skirts…Miss Moore was at the vanguard of fashion's first revolution of the 20th century as skirts rose above the knee, bosoms vanished and waistlines slid down to the hips."
Today, Colleen Moore has become somewhat overshadowed by other iconic flappers, such as Clara Bow and Louise Brooks. But she was the original Hollywood flapper, a megastar who is truly inspirational. For young Colleen once had a dream shared by countless other young woman during the 1910s–and through her own hard work, confidence, and enthusiasm, she achieved it.
For more about Colleen, feel free to check out my reviews of Ella Cinders (1926), Synthetic Sin (1929) and Why Be Good? (1929)!
—
Sources:
Gassaway, Gordon. "With a Dash of Green." Motion Picture Magazine, June 1922.
Hall, Gladys and Fletcher, Adele Whitley. "We Interview Colleen Moore." Motion Picture Magazine, February 1927.
Fowler, Gene. "Colleen Moore, Star of 'Flapper' Films, Dies at 85." New York Times, January 26, 1988.
Codori, Jeff. Colleen Moore: A Biography of the Silent Film Star. Jefferson, North Carolina: McFarland, 2012.
Massa, Steve. Slapstick Divas: The Women of Silent Comedy. Albany, Georgia: BearManor Media, 2017.
Moore, Colleen. Silent Star. New York: Doubleday, 1968.
http://glamourdaze.com/2017/04/colleen-moore-on-being-a-flapper-1922.html
https://home2hollywood.wordpress.com/michigan/colleen-moore/
http://www.imdb.com/name/nm0601067/?ref_=fn_al_nm_1
https://lantern.mediahist.org
https://en.wikipedia.org/wiki/Colleen_Moore