While it sometimes seems like only yesterday when I started Silent-ology, today marks seven whole years since I first hit "Publish"! Seven years–and 460 posts exactly! Add that to the few dozen articles I've written for Classic Movie Hub, articles for the likes of Silent Film Quarterly and The Keaton Chronicle and other such works, and we're looking at over 500 pieces of silent film love. Half a thousand, if you will (it sounds cool) averaging around 1250 words. Not too bad of an archive!
But I never would've built this archive in the first place if it wasn't for–you! Yes you, fellow silent film lover, who is kind enough stop by and read my pieces and maybe leave a comment or two. Whether you're a long-time reader or someone popping in for the first time today, I couldn't be more grateful for you!
Here, have some champagne: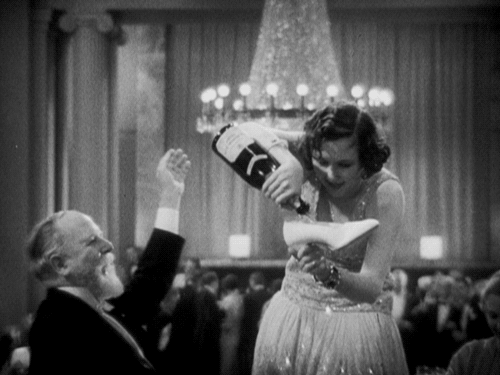 So like always, let's do a review of the past year! It was a challenging 365 days, to put it lightly, and I gotta say it's sure nice to have a project like Silent-ology to rely on for a bit of purposeful distraction. Here are my Top Five Most-Read Posts Published in 2020:
Folks are generally familiar with the handsome matinee idols of the '20s, like Gilbert or Valentino, but who were some of the hotties of the Edwardian era? I wrote a version of this piece first for Classic Movie Hub and then decided Silent-ology readers would enjoy it too. And they sure did–can't imagine why! *wink*
A star whose hunky good looks and natural charisma are at home in any era, "Wally" had a thriving career that came to a famously unhappy end. I was very pleased that this piece was chosen as the Classic Movie Blog Association's "Best Profile Of A Classic Movie Performer Or Filmmaker" of 2020! And I was equally pleased that readers appreciated it, too.
We all knew the news would come someday, but it was still heartbreaking to hear that Diana had passed away at age 101. She was the world's very last silent film star, the last living link to that remarkable era and Silent-ology of course had to pay tribute to her memory.
Sometimes old, out-of-print, or otherwise obscure books can hold some real treasures. In this case, a book called The Legend of Charlie Chaplin had a Buster interview that I swear I haven't seen anywhere else. What to do but to share it? Looks like lots of readers found it every bit as interesting as I did, making it Silent-ology's #2 post of 2020!
Of all of 2020's hits, this one was the biggest–and the most bittersweet. When I heard that Buster and Eleanor's little "ranch house" in Woodland Hills had been demolished–which came as a total surprise to me, having always assumed it had enough basic hominess and mid-century character to stick around–I decided the event couldn't go unnoticed. It was good to see the warm response from Buster fans and mourn the loss together.
I'd like to again give a shoutout to Angie Hougan, the Buster fan who shared photos she took of the demolishing, and to Steve Stubbs, whose retouched photo of Buster and Eleanor standing in front of the house really made the entire piece.
As per tradition, here's the list of Top 5 2020 Posts That Could Use More Love. These are posts that flew a little under the radar when they were first posted, but I still believe in them. Feel free to check them out!
When covid started spreading and governments decided to lock everything down, there was a flurry of events and festivals moving to online streaming and plenty of suggestions for things to do at home. Here's Silent-ology's contribution, which got a tad lost in the crowd. But the basic idea of an at-home film festival is really fun to me, so let's pass this around again!
Because you can never read too much about Elinor Glyn.
Okay, it's a two-hour, insanely blatant Soviet propaganda piece revolving around the riveting adventures of a peasant woman starting a collective farm. Your typical popcorn flick, it is not. But all that heavy-handed propaganda makes for fascinating (and disturbing) study, and the incredible cinematography really helps. Being highly interested in the history of the USSR, I easily could've made this piece twice as long.
I feel like I managed to attend the KSFF just in the nick of time–shortly before all the lockdowns happened! It was my first time there, too. Since it was such a delightful event and really deserves to be better known, I'm passing around this post again. Oh, and did I mention that the festival's free?
This article did moderately well, but I'm including it because everyone could stand to keep hearing about Rose Melville. Her character's impact on 20th c. pop culture was equivalent to today's, oh, Dora the Explorer or even Peppa Pig.
Before we get to my personal favorite posts of the past year, what else was Silent-ology was up to in 2020? Aside from the blessed KSFF pretty much every film festival on the planet was cancelled or moved online, and I didn't get to go on another Hollywood trip. On the bright side, my monthly "Silents are Golden" column for Classic Movie Hub has been going very well–many thanks if you've been checking it out!–and in March I hosted the Sixth Annual Buster Keaton Blogathon, which the International Buster Keaton Society graciously agreed to sponsor. The banners looked pretty spiffy:
I also had two theme months. February was:
Because nothing goes better with winter than Russian silents, if you ask me. It took an awful lot of research to put this month together–I could've extended it to an entire year. But I'm proud of the results!
And of course we had to bring back this theme month in August. Classic!
Alrighty, let's take a look at the Top 5 2020 Posts I'm Particularly Proud Of:
I still get a slight headache thinking of the sheer amount of info I waded through to write this piece. Let's just say the history of early 20th c. Russia was…dense. You basically had to pare down a massive list of Completely Essential Information to the Most Key Completely Essential Information. Challenging as it was to put together, I'm pleased with how it turned out.
Who's Joe Bordeaux? Well, most people don't know–but if you like silent comedies, you've probably seen him more than once. One of many bit players who pops up in countless shorts, I took a liking to Joe awhile back and thought I'd try and piece together his story. Bit players were the backbone of Hollywood, so it was a pleasure to give one of them a bit of the spotlight.
Can you have a favorite propaganda film? If so, this one's mine for sure. More poetic than most Soviet propaganda and magnificently filmed, Earth has even made it to "Top 10 Films of All Time" lists for. I took my time with this one.
As I mentioned, this piece was very well received and I'm glad I put it out there. Hopefully Buster and Eleanor are too!
You'll forgive me if I can't help myself from giving this the top spot! Getting to contribute a chapter to the very first book on the comic Kops was a dream come true, and the book itself is just jam packed with fun information. I'd be recommending it no matter what!
Lastly, what is Silent-ology's all-time most-read post? For the second year in a row, it's:
How To Throw An AUTHENTIC Roaring Twenties Party
While not many people got to take advantage of this article's tips, due to the last year and all, I hope you all keep it in mind for future 1920s-themed parties!
Well, my friends, Silent-ology has made it to 2021! I'm dying to go back to traveling and attending film festivals–heck, just to go back to actual movie theaters–and I'm sure you are too. Let's cross our fingers that this year will be the real start of the new Twenties.
—